Ashby Ponds' Restaurants Reflect the Community's Commitment to Creativity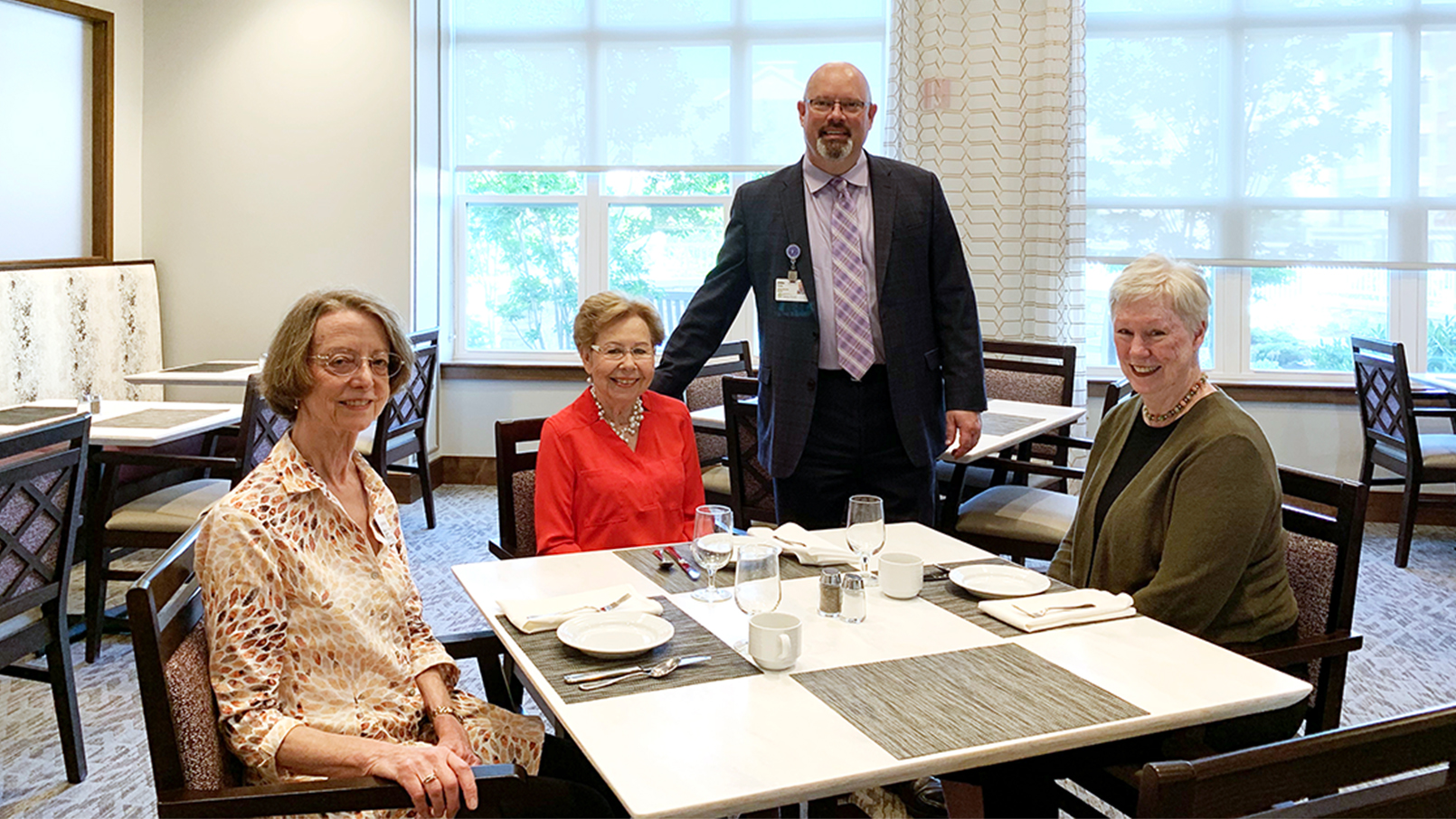 Restaurants at Ashby Ponds, an Erickson Senior Living community in Ashburn, Va., are a highlight of the community's worry-free lifestyle, notes resident Cecelia Lazzaro. "Ashby Ponds offers great food variety that is attractively presented in multiple well-designed, modern restaurants."
Cecelia and her fellow residents enjoy an extraordinary experience each time they dine at one of Ashby Ponds' eight on-campus restaurants - thanks to customized menus, meals created with the freshest ingredients, and opportunities to socialize with neighbors, family, and friends.
The community's Signature Dining program, which emphasizes preparing fresh, made-to-order meals, is what draws residents in for local flavors or fresh takes on classic dishes.
The Signature Dining program also allows the community's culinary professionals to showcase their talents, says John Porter, director of dining services. "It provides our culinary team with the opportunity to offer high-quality dishes and service," he says. "By cooking meals as they are requested, our chefs are able to better satisfy residents' tastes and accommodate any dietary needs."
The nutrition information for all entrées served can be found in the Net Nutrition section of My Erickson®, an app for community members accessible on any smart device. "The updated, accurate information on Net Nutrition is key," says Cecelia. "With sodium and carb counts for each dish, I am able to make informed decisions and stay within my dietary restrictions."
Ashby Ponds residents, like Janet Gordon, appreciate the careful attention and skill directed to their daily menu. "We're all about community," says Janet, who currently serves as chair of the dining services committee. "Plans are often made weeks in advance to get together with friends for a meal. I enjoy dining at Ashby Ponds for the variety of food, which is served by our delightful student servers, and sharing in good conversation with my friends."
"I believe that dining is something our residents should look forward to each day," adds Porter. "Our chefs continually provide creative menu options that reflect the unique tastes and needs of our residents."
Something for everyone
And with a number of restaurants to choose from, there's almost no limit to the dishes you'll discover. Residents Mary Alice and Frank Babka are big fans of Ashby Ponds' expansive menus.
"Frank and I enjoy the range of food offered," says Mary Alice. "We recently dined at the new Skyline Grille - it had a delicious variety of choices. At Ashby Ponds, there is such flexibility, whether it's choosing a restaurant, taking meals to be enjoyed at home, or inviting family and friends to accompany you at meals."
Recently, the community welcomed a new addition to its array of dining venues - The Potomac. Favorite entrées include roasted pork tenderloin with sherry pineapple, Maryland blue crab cakes, and tomato and garlic shrimp linguine.
"We hosted an early-access, exclusive priority list lunch there," says Sales Director Holly Henderson. "Members were able to sample The Potomac's menu items before the restaurant was open to residents. Eliciting many rave reviews from that day onward, The Potomac continues to be a hot spot - thanks to the delicious food, dedicated staff, and beautiful wine bar, which is perfect for a predinner gathering."
The culinary team collaborates closely with the resident-led dining services committee to ensure that more than 100 diverse menu options are offered daily.
"John [Porter] and his team listen to and learn from residents' feedback," Cecelia notes. "Dining committee members are a key component to their success in keeping residents happy and well informed."
"As a committee, we meet with dining management every month in an effort to understand their perspective and help get the word out to residents about new offerings or changes," adds Louise Evertt, who participates in the dining services committee. "It is also a chance for us to present resident requests."
Taste and see
To taste Ashby Ponds' flavorful dining options for yourself, Henderson recommends reserving a spot at one of the community's monthly informational luncheons. "Our luncheons are a great way for guests to enjoy many of the same menu items our residents choose from daily," she says.
"Our dining program is ranked number one at Ashby Ponds," says Janet. "It's something that everyone takes part in. Dining together is a wonderful way to meet new friends, and our dining staff will go out of their way to make your experience a positive one. All you have to do is ask."
Invest in your future self at Ashby Ponds. From top-notch amenities to affordable, maintenance-free apartment homes, you are sure to live your retirement to the fullest. Request more information today!
Back