Ashby Ponds' Resident-Led Drama Club Offers a Popular Creative Outlet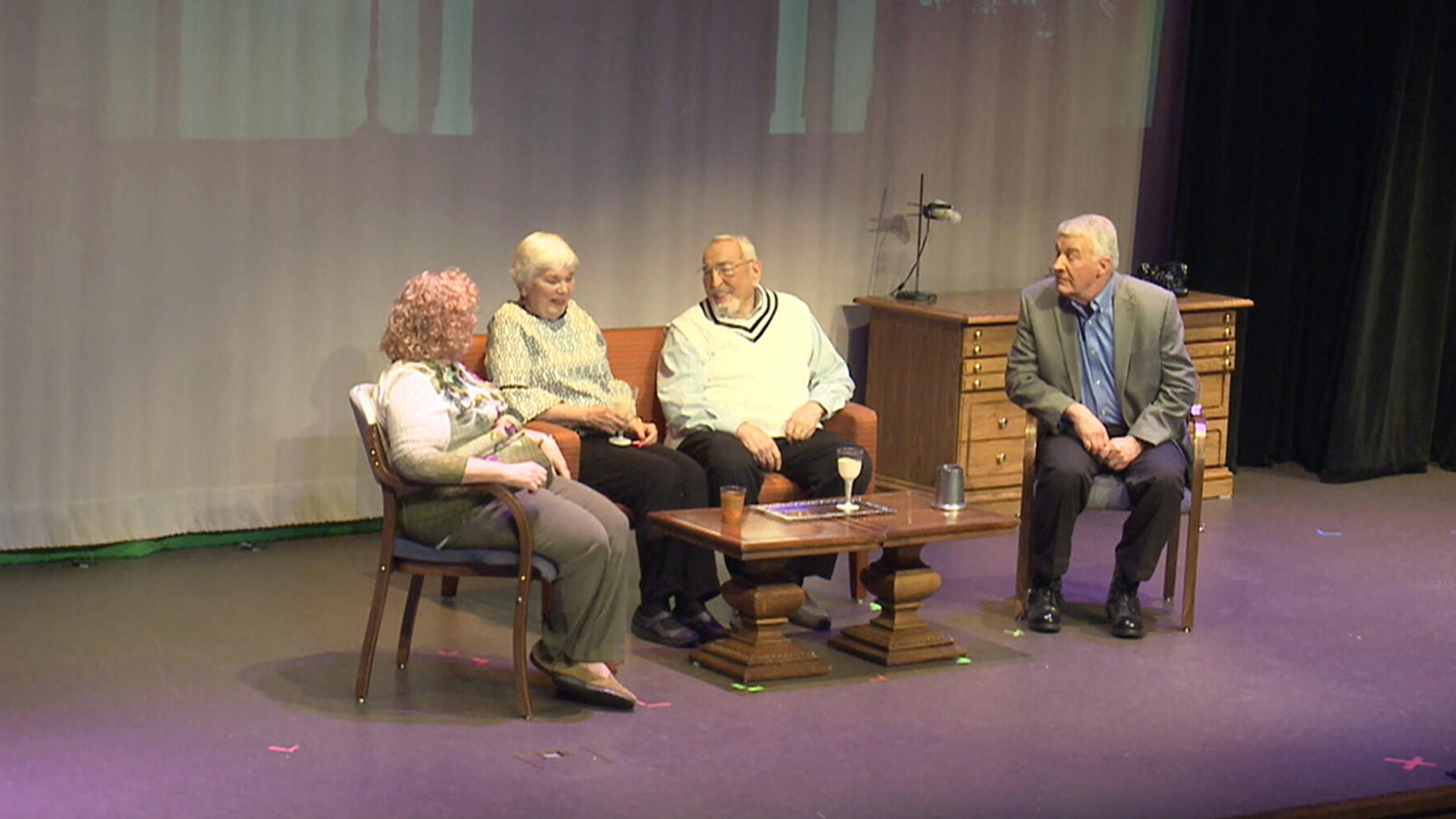 Striding across the stage at Ashby Ponds, an Erickson Senior Living community in Ashburn, Va., is the 92-member drama club. The resident-led group recently performed two one-act plays at the Great Oak Theater: Death of a Dead Guy and Just Desserts.
These plays are part of an ambitious theater season that also includes the production of a full-scale musical in the fall.
"The goal of the Ashby Ponds drama club is to provide residents interested in theater the opportunity to express their interests, work in those areas, and entertain fellow residents," says Al Brown, the club's president.
'A place for you'
Representing a gamut of skills, including acting, directing, playwriting, producing, set construction, sewing, makeup, and advertising, the drama club welcomes anyone interested in utilizing their theater-driven talents.
The organization operates at a very professional level. "Our club is made up of a five-member board of directors and various committees, including play selection, membership, publicity, tickets, and programs," Al says. "In order to be successful, we require many different talents." In fact, 48 non-stage club members worked together to help execute last fall's production of Guys and Dolls Jr.
"There are so many parts to a performance," says club member Elaine Keener. "Whatever you like to do, there is a place for you in the drama club."
Expanding horizons
For Elaine, the drama club fostered new creative avenues.
"With the exception of a church retreat performance, this was my first acting experience," she says. "I am an artist who, prior to my 2017 move to Ashby Ponds, was simply impressed with the art studio. I thought I would spend my time painting with neighbors. But I tell my friends, 'I am an actress now.' I love doing the shows. I enjoy the fellowship with the cast and crew. It is just plain fun."
Resident Rob Stotz, who wrote and directed Just Desserts, was another theater neophyte who found a new hobby in the drama club.
"Other than a minor part in a high school play, I had no experience with theater prior to moving to Ashby Ponds," he says. "For me, the best part about the drama club is being part of a team with a common goal."
Al also notes that the club is a popular way to explore interests that many did not have time for prior to retirement.
Brenda Pronto was another resident who had never stepped foot on stage until her move to Ashby Ponds in 2012. Since then, she's directed and produced several plays, and just this past spring, she decided to try her hand at acting by portraying the con artist Toots in Death of a Dead Guy.
"I always thought it would be fun to be involved in putting on a play, but I did not have the time to commit," she says. "However, once I retired and moved to Ashby Ponds, the drama club was the first club I joined. It's been ten years and I'm still enjoying myself. Like most drama club members, I've learned so much by participating in all aspects of play production."
Rekindling a spark
For resident Herb Ware, who portrayed Bertram in Death of a Dead Guy, the drama club represented an opportunity to return to theater.
"I performed in two one-act plays during my sophomore year at Virginia Tech. In high school, I played the minister in Arsenic and Old Lace," recalls Herb. That production is also where he met Libby, his wife of 65 years. "Our first date was at the cast party after the performance of Arsenic and Old Lace. Once we moved to Ashby Ponds, my wife encouraged me to get back into acting for sentimental reasons."
Arms wide open
In addition to spring and fall productions, the drama club meets monthly at Farmwell Hall to host workshops on aspects of theatrical production. Recently, the group welcomed a lighting specialist from the Kennedy Center to discuss sound and technology, and a local actor from the Sterling Playmakers offered the audience performance tips.
As performances continue to grow in popularity, the drama club encourages new residents to join in their efforts. "The two leads in Guys and Dolls Jr. joined us shortly after moving in," adds Al. "Each new member strengthens our productions, and it's a great way to meet new people."
Brenda agrees. "The thing I like most about being in the drama club is the friendships I've developed and the camaraderie among everyone," she says. "I also love the pride you feel, not just for yourself, but for your fellow members when you've finished a play." 
To learn more about affordable, independent senior living at Ashby Ponds, request your free brochure to get the scoop on amenities, floor plans, and so much more.
Back