Ashby Ponds' Karate Club Introduces New Beginners' Class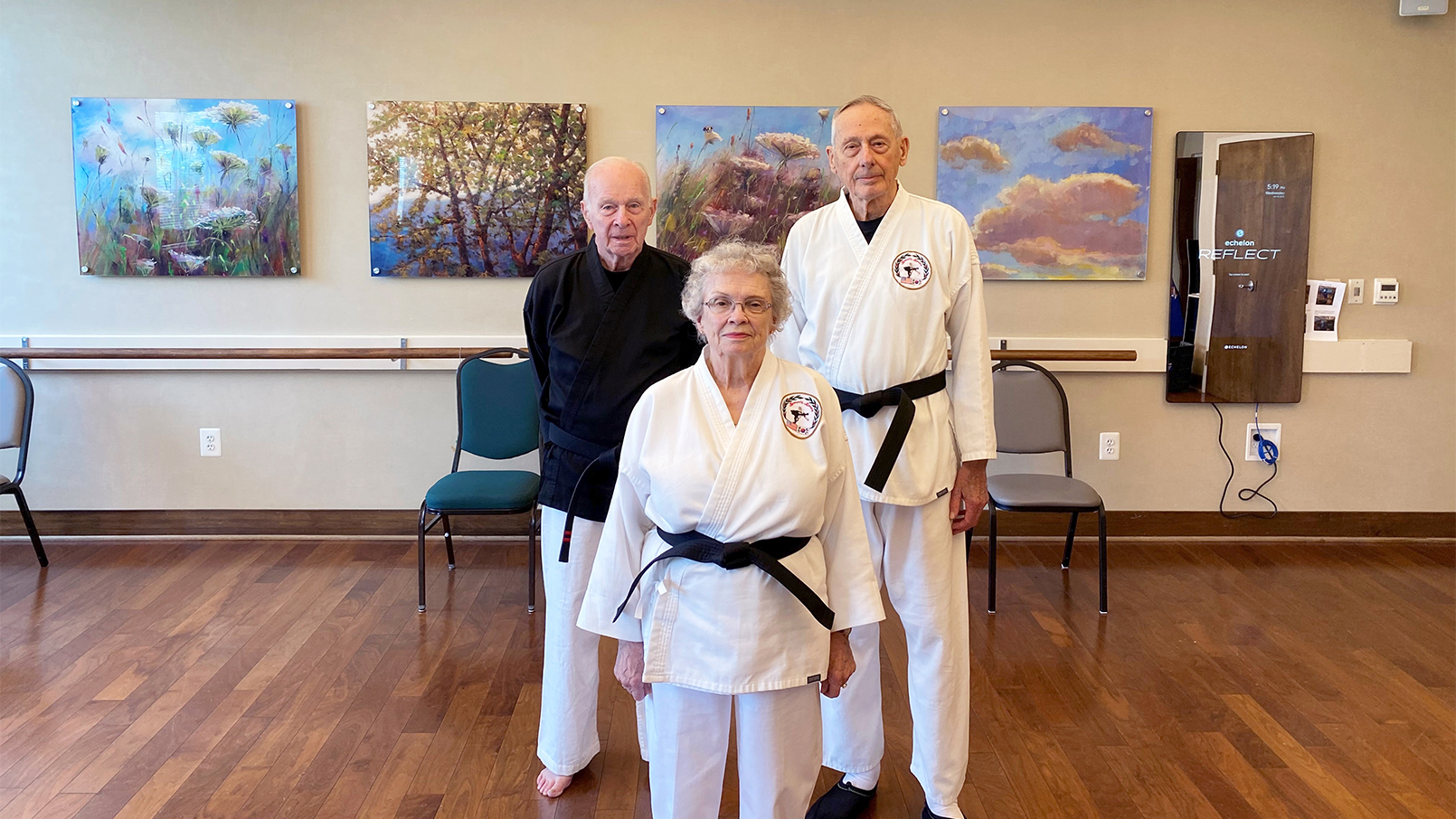 According to Championship Martial Arts, "Martial arts provide significant benefits to seniors, including sustaining mental health, making friends and fostering community, and building physical fitness."
Since April 2015, a dedicated group of residents at Ashby Ponds, an Erickson Senior Living community in Ashburn, Va., has reaped these benefits as members of the karate club. Resident and second degree black belt Roger Webb leads the community's karate classes, which combine memory skills, fitness, and balance.
"We recently celebrated our seventh anniversary of studying karate together," says Roger. "I think that's a significant accomplishment."
Sharing his passion
Roger discovered a passion for martial arts following his retirement. "When I retired, I started to explore a variety of physical activities," he recalls. "I primarily spent my time long-distance hiking and race walking, but I found those to be lonely activities. I then saw an offering for a karate class for families at the Fairfax County Recreation Center. I thought that would be a good way to challenge myself."
Ever since that class, Roger has spent many satisfied hours in the dojo. "I'm now in my 17th year of karate, and I taught for several years before moving to Ashby Ponds. I think I'm a good teacher because I'm patient and enjoy working with beginners."
Roger's students at Ashby Ponds agree. No matter where they are in their karate studies, each student credits his tireless efforts and patience for their success.
"I enjoy the physical and mental challenges the most, plus the camaraderie among the participants of our weekly sessions," says resident Al Beyer. "These factors are enhanced by Roger's teaching style, which is skilled and focused, yet easygoing and friendly. He is an incredibly patient, kind, and understanding sensei whose commitment to karate and his students is boundless."
"We are fortunate to have a teacher like Roger. He tailors his serious discipline to the capabilities of older students like myself," says resident Bob Weber.
Beginner to black belt
The Ashby Ponds karate club meets every Wednesday and Friday in the Willow Crossing fitness center, which Roger refers to as his dojo.
"Learning karate provides an opportunity to exercise while working on memory," says Roger. "Memory plays an important part in karate. You must learn various forms, and be tested on them, in order to move forward. The students learn front, side, and round kicks, all while moving around the floor on one foot. I've seen much improvement in their balance. We also emphasize discipline. We bow in at the start of class and bow out at the end - as a way to recognize each other and everyone's efforts."
As a result of the students' dedication, Al, along with classmates Jean Balcom and Chiyoko Norman - three of Roger's first karate students at Ashby Ponds - received their black belts in December. Testing consisted of demonstrating proficiency in different forms, each of increasing complexity: five stances, five kicks, and four sparring movements.
Not easy, but attainable
"The fact that it took us seven years to achieve this level attests to it not being easy, but it is attainable!" says Al. "The biggest benefits of practicing karate come from the physical and mental challenges. I find my stamina, balance, and ability to focus on the task at hand have been, and continue to be, strengthened."
Expanding the reach
The success of these students, combined with the karate club's reputation for fun and camaraderie, recently led to the creation of a second karate class, specifically designed for new students.
"All of my black belt students have been with me since our club began," says Roger. "I felt that the best way to encourage new students to join was to add a new class where students would not feel intimidated by the more advanced members."
Bob, a member of the new beginners' class, has quickly discovered the benefits of karate. "As a professional musician in my younger years, I learned the value of practicing a physical skill until it becomes muscle memory," says Bob. "Through the concentration and mental discipline required to master the karate forms, Roger's class helps to keep the mind sharp, the body fluid, and the mind and body working together as a well-oiled machine."
All are welcome
With a dedicated group of new students, Roger hopes the community's interest in karate will continue to grow. 
"I always keep our 'dojo' door open," he says. "In doing so, other residents stop by to look, either intrigued by our class or drawn in by our laughs. I encourage anyone who is interested to stop in and watch or try a few movements. We always support each other in a friendly, noncompetitive environment."
To learn more about affordable, independent senior living at Ashby Ponds, request your free brochure to get the scoop on amenities, floor plans, and so much more.
Back