Ashby Ponds Invests in New Resources to Support Personal Well-Being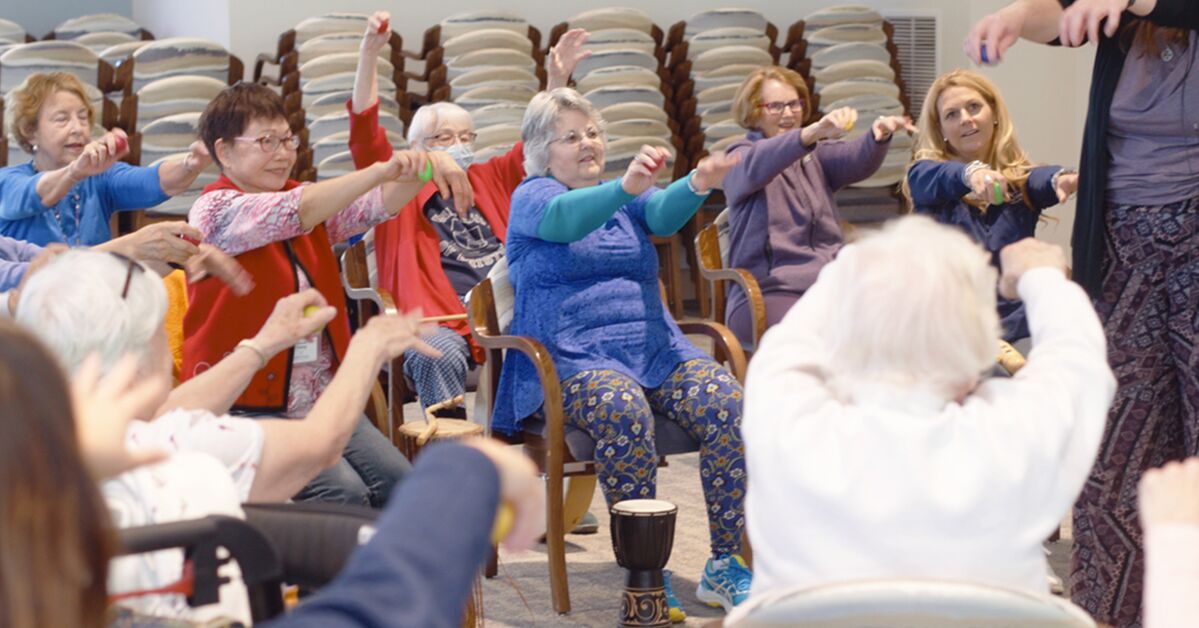 Ashby Ponds, an Erickson Senior Living community in Ashburn, Va., is committed to helping residents achieve their wellness goals. With a variety of on-site amenities and resources designed to support physical, mental, and spiritual well-being, residents are finding it easier than ever to care for their overall health.
"Health and well-being have always been a focus at Ashby Ponds," says resident Kim Finan, who volunteers on the health and wellness committee. "Recently, new initiatives were introduced to encourage residents to pursue - or continue - active lifestyles."
Dedicated to well-being
This year, Erickson Senior Living provided a multimillion-dollar investment, through its Well-Being Fund, to support the addition of enhanced health and well-being programs and services to residents.
Incorporating findings from the company's research partnership with Harvard University and the Benson Henry Institute (BHI) for Mind Body Medicine at Massachusetts General Hospital, these additions are designed to enhance the physical, emotional, and social well-being of residents.
In 2021, residents at selected Erickson Senior Living communities participated in the Embrace Well-Being and Flourish study, which used the BHI's SMART (Stress Management and Resilience Training) curriculum to provide them with practical strategies for managing stress and improving resiliency.
Results of the study showed statistically significant changes, including increases in resilience, coping, and positive emotions, while decreases in distress and social isolation were seen.
Seeing the investment
Residents at all Erickson Senior Living communities now have greater access to tools and strategies that support resilience and overall health and well-being. Examples include Wellbeats, a new fitness app which allows residents to participate in on-demand and live exercise, yoga, and meditation classes from any location.
At Ashby Ponds, residents also enjoy new, state-of-the-art equipment at their fitness and aquatic centers.
"Now, our two fitness centers offer a full range of modern equipment. It's interactive! I can tour Vancouver while using the treadmill. Next to me, my husband might be 'racing' on a bicycle track," says Kim. "And the golf simulator is a game changer. Golfers can now improve their game by playing indoors during inclement weather."
But if solo workouts aren't your thing, no need to worry - Ashby Ponds has you covered. Group workout classes and sports, such as pickleball, cornhole, and table tennis, are managed by trained fitness staff.
Working together with community members, the resident life team devised more creative, holistic ways to utilize the Well-Being Fund, as well.
"The Well-Being Fund is such a gift," says Holly Henderson, Ashby Ponds' sales director, "and I'm proud of the many ways our community has invested in fun, unique activities for our residents."
"One of the first things we did was hold a communitywide, two-day wellness retreat," says Faith Edwards, director of resident life. Attendees participated in activities like gentle yoga, a drum circle, an art class, and meditation sessions.
"The retreat was a wonderful opportunity to socialize, laugh, and try new activities in a judgment-free environment. My husband and I both really loved the drum circle, despite the fact that he is musical and I am not," says Kim, with a laugh. "We could see this as a new club at Ashby Ponds!"
Getting outdoors
Ashby Ponds staff also utilized the Well-Being Fund to bolster outdoor amenities and events, such as the dog park and the popular Concerts On The Green live music series.
In addition, the resident life team and the health and wellness committee collaborated to create signage for walking trails around the 132-acre campus.
The idea for the walking trails' signage was suggested by one of the community's nurse practitioners, who works at the on-site medical center that is staffed by full-time, board-certified health care professionals.
"She wanted to prescribe walking to some of her patients!" explains Kim. "The idea evolved into a series of outdoor walking trails, complete with maps at the start of each trail and distance markers along the paths. It resembles a county park with hiking trails."
In addition to the new resources designed to promote physical and social wellness, Ashby Ponds' pastoral ministries staff continue to foster spiritual wellness by offering services and gatherings for people of many faith backgrounds. 
For those wishing to concentrate on mindfulness, the community offers a series of 30-minute stress relief classes focusing on breathing, meditation, and movement to promote relaxation.
"The recent investment into the health and wellness of our community members is part of a long tradition of serving the needs of both our current and future residents," says Henderson. "It's been an exciting year at Ashby Ponds, and we can't wait to see what's next!"
Invest in your future self at Ashby Ponds. From top-notch amenities to affordable, maintenance-free apartment homes, you are sure to live your retirement to the fullest. Request more information today!
Back