Ashby Ponds Hosts First Grand Camp to Rave Reviews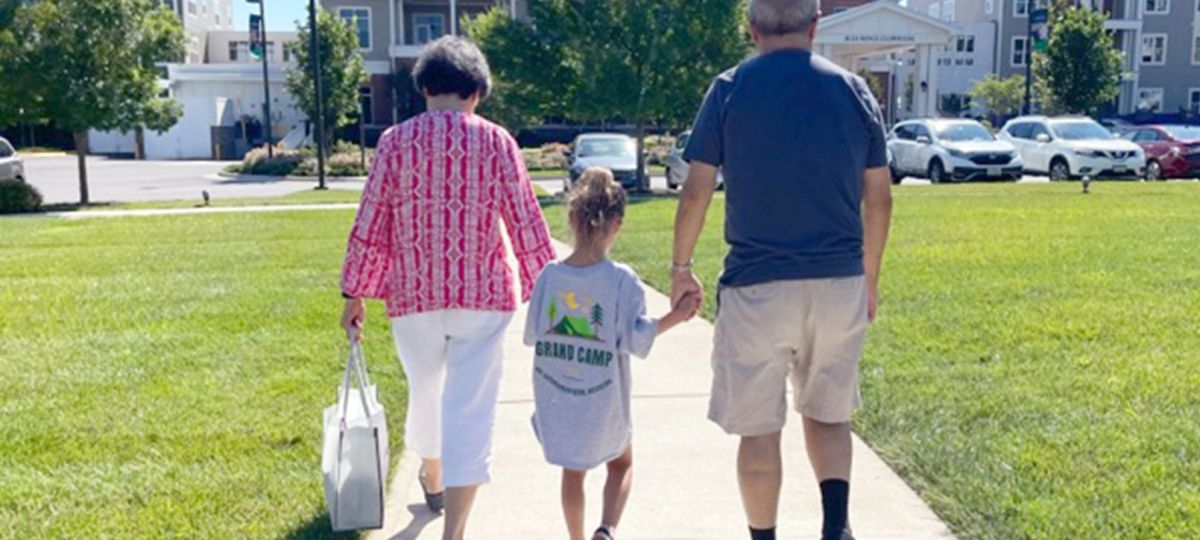 Ashby Ponds, an Erickson Senior Living community in Ashburn, Va., recently hosted its first intergenerational weekend, lovingly called Grand Camp.
Thirty children, from ages 4 to 12, visited Ashby Ponds' campus for two days of creative adventures, including outdoor lawn games, an escape room, birdhouse painting, live music, "minute to win it" challenges, storytelling, and more. Each child also received a swag bag filled with an Ashby Ponds pool towel, a Grand Camp T-shirt, and vouchers to use at eight on-site restaurants.
"We are thrilled with the success of our first Grand Camp," says Faith Edwards, director of resident life. "We received such positive feedback, not only from our guests and their grandparents, but from our resident volunteers who loved being a part of the fun. We can't wait to do it again next year!"
Something for everyone
Jackie and Henry Wray, who moved to Ashby Ponds in 2021, invited their four grandchildren - all of whom enjoy visiting the community on a regular basis - to participate in the fun-filled events.
"There were a wide variety of activities allowing them all to participate," says Jackie. "The older children, Nicholas (13) and Katie (11), slept over the night before, and the two younger ones, Colin (6) and Natalie (3), arrived on Saturday morning with their parents."
Looking at Saturday's calendar of events, little ones began their day with story time. "It was wonderful," says Jackie. "Residents read the stories, and they were all such great storytellers."
"We then took the children over to the activities on the [Great Oak] lawn," says Henry. "They played dodgeball and bocce and had a great time running around. The highlight was a contest that involved teams of kids, where one wore a plastic cap on their head covered in shaving cream. The partner threw Cheetos at the cap, trying to get them to stick."
Later, the older Wray grandchildren participated in an original escape room and learned how to play pickleball from a group of residents. "The escape room was really clever," says Henry. "The children had to find clues, which lead to other clues, and then a key to ultimately escape from the room."
At the end of their busy day, the Wray family went swimming and enjoyed dinner together.
"It was really nice to have dinner together - the two of us, the four grandchildren, and our two children and their spouses," says Jackie. "The staff were terrific, always enthusiastic and engaged with the kids, calling them each by name. It was a lovely weekend."
An international adventure
For Ashby Ponds resident Doris Ling, Grand Camp meant a visit from her six-year-old granddaughter Aimee, who lives in London.
"She normally visits in the summer with my youngest daughter, but when she found out about Grand Camp, they changed their flight so they could attend," says Doris. "They stayed in a guest suite and had a wonderful time. Aimee did not want to miss any of the activities!"
The variety of events throughout the weekend allowed Aimee to try some new games and activities.
"She never played bingo before, so she loved that. The winners received large chocolate bars," she says. "Aimee also loved the Cheetos game, volunteering to wear the cap. She also painted a birdhouse and made greeting cards. In fact, she was so busy that she didn't want to stop for lunch. She just wanted to go, go, go!"
At the conclusion of their busy Saturday, Doris and Aimee joined other families for dinner and a movie. On Sunday, everyone enjoyed a feast of donuts.
"The staff made everything so fun for the kids," says Doris. "Aimee had so much fun on Saturday that she couldn't even get up in time for the donuts."
First sleepover
For Fran O'Connor, Grand Camp afforded her the opportunity to host her two grandsons, Baker (8) and Holmes (6), at her Ashby Ponds apartment home for the first time.
"They live close, in Vienna, Va., but this was the first time they spent the night with me," she says. "They were very excited about it!"
Fran's son and daughter-in-law dropped the boys off at Ashby Ponds on Friday night. Together, they enjoyed the on-campus concert by Uncle Davin, a local children's performer who sings, dances, and plays a number of instruments.
Thinking the boys would sleep in after such a fun evening, Fran was surprised to see the boys up early, ready for the day's adventures.
"They were busy," says Fran. "They loved painting birdhouses and taking pickleball lessons. After lunch, they swam and played bingo. They did it all! It was an absolute success. The next morning, I made them breakfast, but all they could do was talk about the donuts."
Looking ahead
When asked about next year's Grand Camp, Fran says that her grandsons are eager to stay at Ashby Ponds again. "It was a great experience for both the grandparents and the grandkids," says Fran. "We are all excited to do it again next year!"
"Aimee's already talking about next year's camp," agrees Doris.
To learn more about affordable, independent senior living at Ashby Ponds, request your free brochure to get the scoop on amenities, floor plans, and so much more.
Back