Adventure Awaits at Ashby Ponds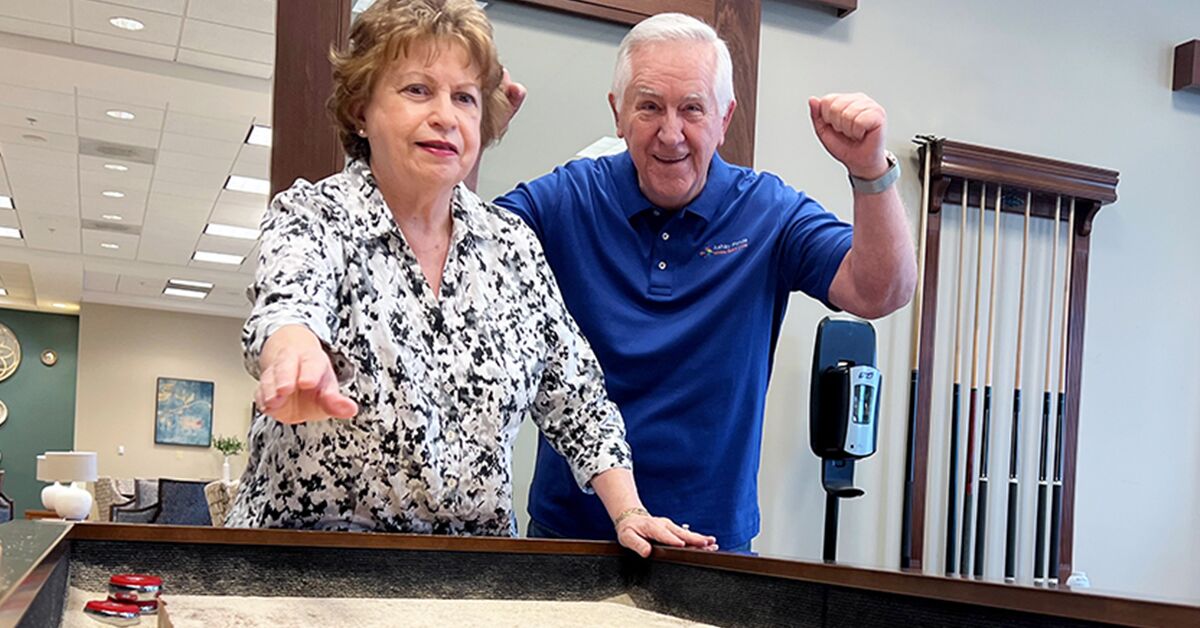 "When I first thought of our move to Ashby Ponds, I envisioned myself sitting in a recliner enjoying a nice glass of wine," says Larry Eiben, who moved to the Erickson Senior Living community in Ashburn, Va., with his wife Judy. "But I was wrong, in the best way!"
Moving from their house in Lake of the Woods, Va., the Eibens were welcomed into a lively, active community that sits on 132 acres within blossoming Loudoun County.
"There are so many things to do, both at Ashby Ponds and within the local community, and you just want to be a part of it all," he says. "Our move has provided us with many new adventures."
Adventure is the perfect word to describe the activities and trips that Larry and Judy have enjoyed since moving to Ashby Ponds three years ago.
Activities galore
"One of the first things we did was participate in the Senior Olympics," says Larry. "We play bocce, cornhole, shuffleboard, and Wii Bowling together. When we lived at Lake of the Woods, Judy and I did our own thing, so it's been nice joining forces to play these sports."
And recently, Larry began taking pickleball lessons with the community's popular pickleball club.
"We are lucky to have a beautiful new pickleball court on campus," he says. "Pickleball has really caught on here. We have more than 100 players!"
Opportunities to explore their interests and hobbies on campus caught their eye, as well. Judy, who likes studying genealogy, joined a class - with 40-plus neighbors - to learn more about her family history.  Larry, on the suggestion of a neighbor, joined a ceramics class.
"It's something I never thought I would do, but I really enjoy it," he says.
The Eibens also appreciate the variety of entertainment on campus.
"Our drama club is terrific," says Larry. "They put on two shows a year at Ashby Ponds' Great Oak Theater. They recently performed Fiddler on the Roof and did a wonderful job. Several local performers also come to Ashby Ponds to perform."
An unbeatable location
Ashby Ponds' enviable location in Loudoun County, Va., is convenient for off-site excursions, as well. Larry and Judy, for example, sign up for local trips that are organized by staff members.
"They make it so convenient for us, driving us and picking us up. We have seen Cinderella in Winchester, Va., Hamilton at the Kennedy Center, and some local Christmas shows. One was even performed by the U.S. Army in Washington, D.C.," notes Larry. "Some trips include visits to upscale restaurants for lunch and dinner. The dinner theater in Fredericksburg, Va., was really neat."
The Eibens also plan their own off-campus trips.
"We routinely head over to One Loudoun," he says. "Having premier shopping and dining options located less than two miles from Ashby Ponds is great. We have eight terrific restaurants and movie screenings here, but sometimes it's nice to go out and experience the local offerings."
As an Ashby Ponds ambassador who connects with prospective residents, Larry often finds himself answering questions about the local area.
"Ashby Ponds is in the ideal location!" he says. "You can be anywhere you need to go - whether it's an appointment, a restaurant, or a particular store - within 10 to 15 minutes with minimal traffic. It's amazing how easy we get around, living here."
'So much to love'
Moving to Ashby Ponds also brought the couple closer to their daughter Laura, who lives with her husband and four sons less than 10 minutes away. Larry and Judy also have a son who lives in Richmond.
"They visit us pretty often! We'll reserve one of the game rooms, for free, to host a family get-together," says Larry. "We also cater in or pick up food while everyone enjoys the billiards table, dartboards, and shuffleboard. There's lots for the grandkids to do."
With family nearby and an array of activities to join, both on and off site, Larry and Judy are making the most of their retirement among friends new and old.
"There is so much to love about living here," says Larry. "But, hands down, the best part is the people. We've met wonderful friends, either by inviting someone to eat dinner with us or by joining a club or group. We all look out for each other, like family."
To learn more about affordable, independent senior living at Ashby Ponds, request your free brochure to get the scoop on amenities, floor plans, and so much more.
Back