Windsor Run's Welcome Wagon Helps New Residents Feel Right at Home
By Kelly Shue
May 18, 2022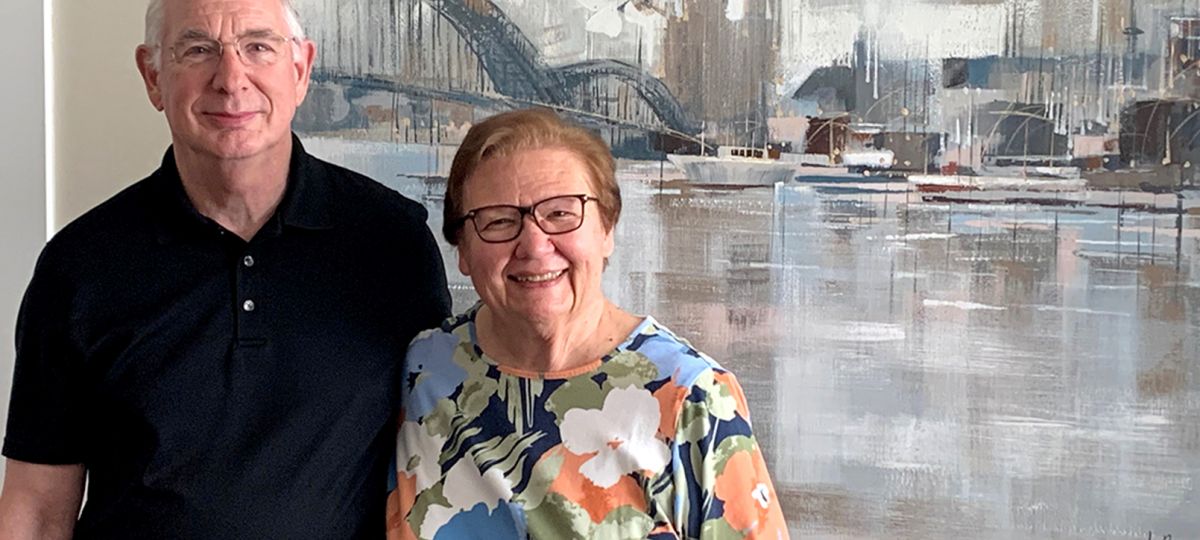 "Our life at Windsor Run is five-star," says Carolyn Snyder. "My husband Don and I enjoy outstanding opportunities to socialize. All of the on-campus activities contribute to our worry-free lifestyle. You can be as involved, or as uninvolved, as you want. There is never pressure, but so much to do if you desire."
Carolyn and Don moved to Windsor Run, an Erickson Senior Living community in Matthews, N.C., in 2019. Prior to the move, the couple joined the priority list to reserve their space, providing them with access to community events and information. "Windsor Run was the first place we explored," says Carolyn. "On our first visit, we immediately felt very, very comfortable. Both staff members and residents were open and friendly. It just felt right."
In an effort to ensure that they were making the best decision, the Snyders conducted their due diligence, visiting several other local retirement communities.
"But we just didn't get the same feeling," notes Carolyn. "So, we took advantage of visiting Windsor Run for a variety of events, including luncheons and apartment home tours. The home tours were especially helpful. In fact, we liked so many, it was difficult to choose."
After several visits, they selected an extra-large, two-bedroom, two-bath home featuring a sunroom opening onto a screened-in patio.
"It is beautiful and meets our needs wonderfully," says Carolyn. "Once it became available, we seized the opportunity, moving even sooner than we originally planned."
Unknowingly moving to Windsor Run only months before pandemic, the Snyders believe the timing was perfect.
Making introductions
"Socializing with new friends and neighbors was our number one reason for moving," says Carolyn. "From the first day, we began meeting our neighbors and making new friends."
Each night, the couple dined at The Grove, Windsor Run's premier restaurant, sitting with new neighbors, learning about their lives, and sharing stories.
"The Grove was our first social point of contact," says Carolyn. "As Don and I met people, I wrote their names on a list. It was amazing. In less than a month, I had over 100 people on the list. It was truly phenomenal, better than we ever hoped it would be."
Focus on fitness
In addition, the couple began attending strength and balance classes at the fitness center and joined the Great Books club.
"We are continually impressed by the number and variety of activities available to us," says Carolyn, as well as the wide range of amenities.
Less than a month after their move, Carolyn and Don were introduced to an extensive array of holiday activities. Working in concert, the staff and residents on the activities committee plan special gatherings for a wide variety of holidays and special occasions throughout the year.
"Our goal is to ensure that if a celebration has personal, cultural, or religious significance to our residents, that we provide opportunities to celebrate and share," says Michael Browne, Windsor Run's community resource coordinator.
"All the activities and programs are wonderful," says Carolyn. "We are so busy, more than we ever expected."
It was then that the couple decided to join the activities committee, and from that point, their world grew even bigger. "One of the things the committee needed was help organizing and decorating," says Carolyn. "Help was needed not just for the holidays but for events and speakers and we agreed to help."
Livening up the campus
Even when social distancing efforts were in effect last spring, the Snyders looked for ways to liven up the campus for their neighbors.
"We moved flower arrangements from The Grove to the hallways, filling them with fresh flowers," says Carolyn. 
For Memorial Day, Independence Day, and Labor Day, the Snyders helped decorate the community with American flags.
For Thanksgiving and Christmas, they decorated common areas with both personal items and decorations purchased locally.
"We both had so much fun bringing cheer to our neighbors," says Carolyn.
"So many have given us great feedback. They enjoy what we have done and that makes us feel good. Don and I continually remark on the great group of people living at Windsor Run. They are so hopeful, friendly, and enthusiastic. We are making more connections than we ever imagined. Every day is exciting."
To learn more about affordable, independent senior living at Windsor Run, request your free brochure to get the scoop on amenities, floor plans, and so much more.
Back