Windsor Run Veterans' Group Provides Support and Camaraderie
By Kelly Shue
August 8, 2023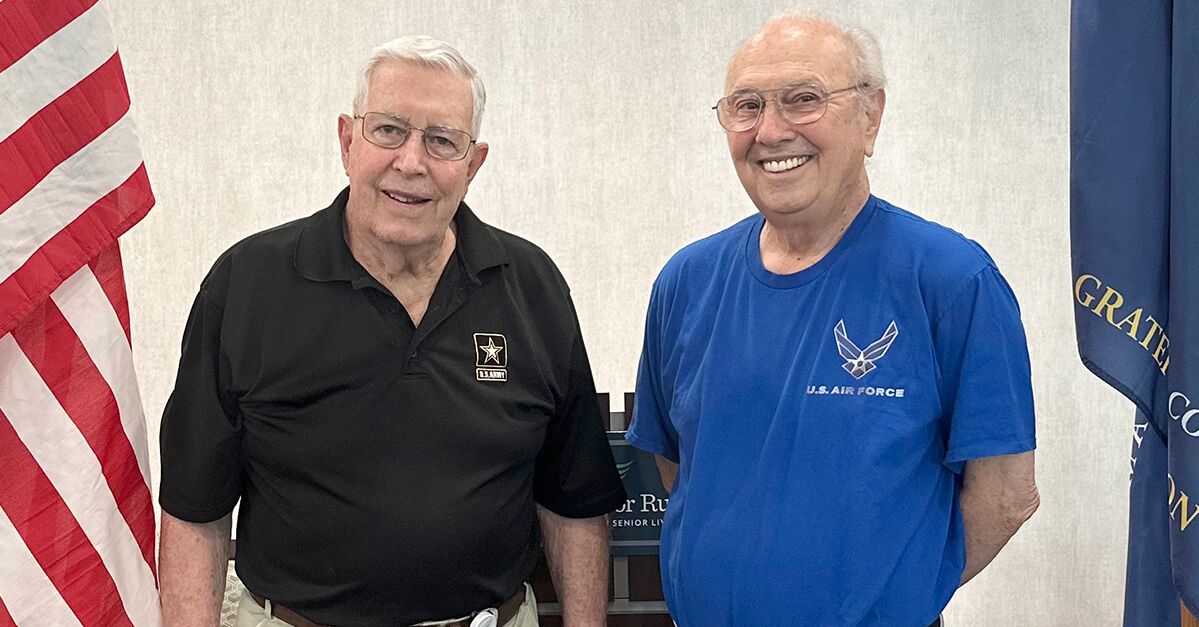 Residing at Windsor Run, an Erickson Senior Living community in Matthews, N.C., are more than eighty brave men and women who are proud to have served their country as far back as World War II.
Many of them gather monthly, thanks to the community's active veterans' group led by residents R. Barry Thomas and Charles "Charlie" Pormann.
"The best part about our group is sharing camaraderie with others," says Charlie, who served four years of active duty in the Air Force. "There is an instant bond that happens that I have not found anywhere else."
Shared experiences
Shortly after Windsor Run opened five years ago, Resident Services Coordinator Becky Dinello began organizing informal meetings to help veterans connect.
"As our population grew, so did the number of veterans on campus," Dinello recalls. "I thought it was important to increase opportunities for them to meet each other and share experiences."
After attending meetings for two years, Barry and Charlie took charge by formally establishing the group and a creating a schedule of monthly events.  
"All veterans are welcome," explains Barry, a retired lieutenant colonel and West Point graduate.
"Our attendees participate in discussions about current events focusing on military news, events, or veterans' affairs. Last year, we shared short presentations about historic wartime events in North Carolina. We covered most of the Revolutionary and Civil War battles, especially those close to Charlotte, so folks can go and visit the parks."
Barry and Charlie say they are always on the lookout for new topics that will interest and engage group members.
"Recently, we've been getting two or three veterans to stand up and describe their military experiences," says Barry. "This gives the rest of us some insight and understanding into where they were and what they did. Most of our veterans are from the Korean War and Cold War timeframe. We've seen a growing number of both Vietnam and female veterans in our group."
The group also recently introduced veteran-related activities into the meetings.
"We invited a woman who trains support dogs, many of which go to veterans," adds Barry. "She spoke to us about the training and the impact these dogs have on the lives of veterans. We'd love to have more of these types of speakers!"
Campus-wide efforts
Charlie maintains an ever-changing roster, as more veterans continue to move to Windsor Run to embrace a worry-free lifestyle.
Together, group members created Veteran Books showcasing each veteran's military background, one for each residence building on campus.
"For Independence Day, Memorial Day, and Veteran's Day, we put the books out in each building so residents can recognize the veterans living around them," says Barry.
This Independence Day, the group has also planned a flag ceremony, where flags from the six branches of the U.S. military will be raised on campus. The flags will be placed in handcrafted flag stands donated by the Woodchucks, Windsor Run's resident woodworking club.
Staff members participate
Veterans among Windsor Run staff are also involved in commemorating the day.  Sales Associate Jeff Brown, who served in the Navy, is excited for the day's festivities.
"Walking around Windsor Run and seeing a veteran wearing a sweatshirt or hat for their command or battalion is really neat," he says. "I take a lot of pride in that. I make it a point to go out of my way and thank them for their service, which always leads to a wonderful conversation."
For Windsor Run veterans, the ability to connect with fellow veterans is a great benefit of living and working together.
"Prior to working at Windsor Run, I used the GI Bill to attend school while also caring for veterans. I worked for an organization that provided nonmedical companionship," says Brown. "I spent my time learning their stories. It was such a meaningful experience. I'm so grateful that I'm able to connect with fellow veterans here, as well."
"Spending time together is a gift," agrees Charlie. "We all have a common history, so it's easy to bond with others. We think about and appreciate those who did not come home-sometimes, it's a little heavy on our hearts. But, the more we show respect for our veterans, the more we are able to enjoy the freedom we have today."
To learn more about senior living at Windsor Run, request your free brochure to get the scoop on amenities, floor plans, and so much more.
Back