Windsor Run Residents Find Key to a Healthy, Happy Life
Kelly Shue
October 26, 2022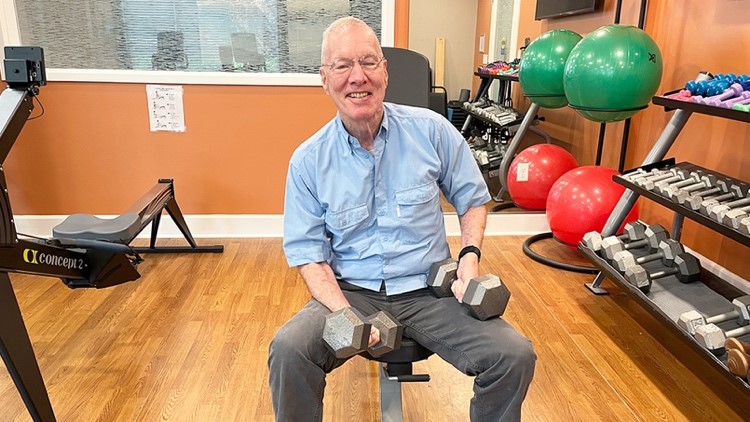 Even before moving to Windsor Run, an Erickson Senior Living community in Matthews, N.C., Vic Dickey enjoyed regular workouts designed to enhance his strength. But thanks to the amenities and resources available to him at Windsor Run, he's been able to take his fitness routine to the next level in his four years at the community.
"I believe I am better able to meet my fitness goals since moving to Windsor Run," Vic says. "The best way we can help ourselves, as we age, is to 'bend' the aging curve by working on our strength. Doing so can make a phenomenal difference in our balance, bones, and resistance to disease."
In addition to working with an 18 kg kettle ball in his apartment home, Vic visits the on-campus fitness center regularly.
Support for fitness
Windsor Run, committed to supporting each resident's quality of life, provides a variety of convenient amenities and resources that contribute to physical, mental, and spiritual well-being.
For many Windsor Run residents, personal well-being begins with exercise and regularly scheduled doctor visits. With the fitness center and the on-site medical center just a stroll down the hall, reaching wellness goals has never been easier.
"Our executive director, George Comfort, sets an example for all of us who live here," Vic notes. "He does a phenomenal workout on the rowing ergometer. That's so good for people to see, as it illustrates how fitness is supported at Windsor Run, on all levels."
As a certified instructor with Silver Sneakers, a health and fitness program for older adults, Vic appreciates the dedication of Windsor Run's fitness staff. "The staff here are great," he says. "The biggest benefit is that they work with older people all the time, so they understand the nuances of creating safe yet effective workouts."
Convenient care
Windsor Run's medical center, staffed with two board-certified, full-time physicians, specializes in senior health.
"The medical center is fabulous," says Ken Rasheff, who lives at Windsor Run with his wife Judy. "The doctors are great. It's a big relief to have a wonderful medical team right here in our community."
"Physical health is just one aspect of wellness supported by staff here," says Resident Services Manager Maria Reyes. "The spiritual growth of residents is important to us, too."
Windsor Run's vibrant faith community is comprised of numerous religious and spiritual backgrounds. A variety of faith services, Bible studies, and ministry opportunities are available to residents on a weekly basis.
"Windsor Run is one of the most open, accepting communities I've ever been a part of," says resident Joyce Lewellyn, who is a member of the Interdenominational Christian Fellowship. "The staff helps us greatly by providing meeting spaces, setting up rooms, and sharing information. It's such a blessing. And no matter what your faith, there are so many opportunities to serve."
Dedicated to well-being
This year, Erickson Senior Living recently provided a multimillion-dollar investment, through its Well-Being Fund, to further support the addition of health and well-being programs and services to residents.
Incorporating findings from the company's research partnership with Harvard University and the Benson Henry Institute (BHI) for Mind Body Medicine at Massachusetts General Hospital, these additions are designed to enhance physical, emotional, and social well-being.
Residents at all Erickson Senior Living communities now have greater access to tools and strategies that support resilience and overall health and well-being. Examples include Wellbeats, a new fitness app which allows residents to participate in on-demand and live exercise, yoga, and meditation classes from any location.
At Windsor Run, residents also enjoy access to state-of-the-art NuStep and Matrix elliptical machines, recumbent bikes, and treadmills, as well as Echelon bikes, rowers, and Reflect fitness mirrors.
For those who prefer spending time outdoors, the Well-Being Fund also provided the community with updated outdoor amenities, such as new meditation spaces, a new bocce court, and an enlarged dog park.
Jumping right in
Looking forward to the New Year, residents are eager to take advantage of the enhanced amenities and activities that will help them reach their personal wellness goals.
"My advice is don't wait too long before deciding to join a community like Windsor Run," says Ken. "You can have as busy or as quiet of a life as you want. We are so happy that we are able to jump right in and enjoy so many things!"
Invest in your future self at Windsor Run. From top-notch amenities to affordable, maintenance-free apartment homes, you are sure to live your retirement to the fullest. Request more information today!
Back