Windsor Run Residents Enjoy the Freedom to Live a Fulfilling Retirement
By Kelly Shue
June 21, 2022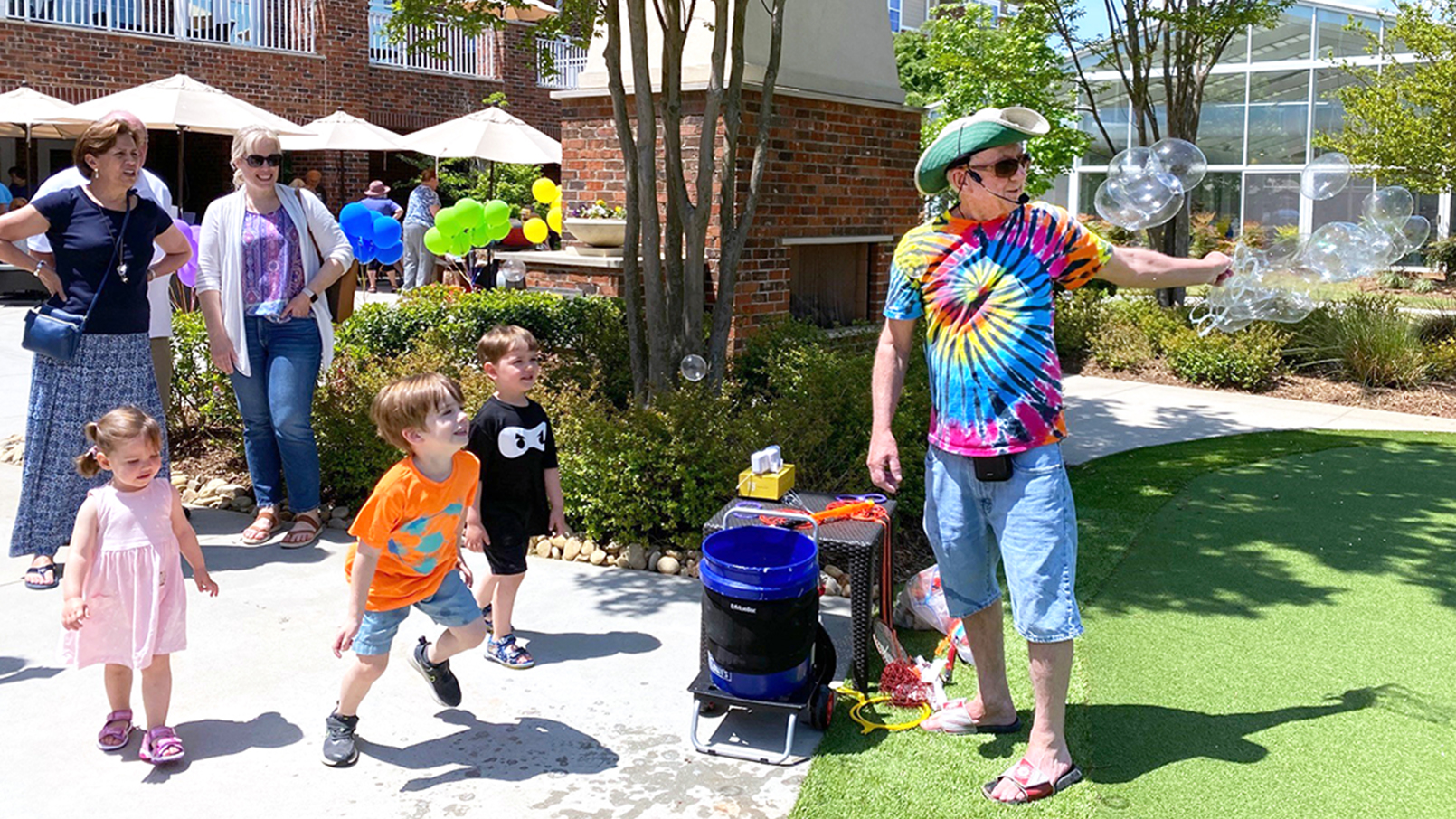 Residents at Windsor Run, an Erickson Senior Living community in Matthews, N.C., enjoy a range of amenities, a variety of social activities including concerts and seasonal events, and numerous opportunities to explore and share their passions with neighbors.
After moving to Windsor Run last December, Paul Wohlfeil and his wife Nancy immediately began reaping the benefits of their vibrant community. No longer worrying about the maintenance and upkeep of their Charlotte-area home, the couple gained the freedom to participate in clubs, host parties, and introduce new activities to their neighbors.
Fortuitous ride
After retiring from Illinois' state government 16 years ago, Paul knew he was ready to escape the notoriously harsh winters and move to a milder climate. He and Nancy moved to Charlotte in hopes of finding warmer weather and new opportunities.
Later, they began looking into senior living communities. "It was something we wanted to do for ourselves and also for our four children. We knew it would give us all peace of mind," he says.
As their five-month search began, the couple visited a number of communities in the area, keeping a careful inventory of what they found. "We looked at several places," says Paul. "Many were older - not as modern as we wanted. And most did not offer continuous care. That was a concern."
Then, almost six months into their search, the couple reserved an Uber ride home from church.
"We were talking with our driver about our search for a senior living community," recalls Paul. "The driver asked, 'Have you been to Windsor Run? That's where I live.' That comment changed the direction of our search. Up until that point, we were looking primarily in the city of Charlotte."
Perfect fit
Once the couple visited Windsor Run, they knew they had found their new home. The continuing care options on campus were a huge draw for the Wohlfeils. As a continuing care retirement community, Windsor Run provides resources that encourage residents to care for their physical, mental, and spiritual health - now and in the future - resulting in a fulfilling retirement.  
With the help of the sales team, the Wohlfeils selected their apartment home - the two-bedroom, two-bath Flannery floor plan. They sold their home, auctioned items they no longer needed, and moved - stress-free - to the popular community.
Range of activities
Thanks to Windsor Run's maintenance-free lifestyle and wide variety of activities, the couple quickly claimed the independence to pursue their many interests.
"As soon as we arrived, we wanted to be as active as we could," says Paul. "We discovered that there is no end to the things you can do here. Nancy joined book clubs, and I go biking and swimming."
Paul, who enjoyed a 25-year professional career in photography, even started a photography club. "The response has been terrific," he says. "More than 20 people showed up at our first meeting. I scheduled a sports photographer to speak at our resident senior forum, and I'm also planning on an exhibition of club members' photos as well as a photo contest at the end of the year."
Because of the community's welcoming environment, Paul says that meeting people has never been easier.
"Everyone is so friendly," says Paul. "We haven't met anyone who doesn't have a positive attitude. One month after our move, Nancy celebrated her birthday. We invited all the new neighbors we had dined with during our first month. It was a great party."
And in late March, Paul threw a Caribbean-themed birthday party for himself. "We invited all the people we've met and celebrated with rum punch, cake, and Caribbean music."
The Wohlfeils also enjoy attending larger campus events and parties.
"There was a wonderful celebration on New Year's Eve," says Paul. "We also marched in the Mardi Gras parade and attended the grand opening of the new café. Windsor Run also provides shuttles for a variety of local trips. We never have difficulty filling our calendar."
Unique talent
Currently, Paul is planning to share his creative use of bubbles with residents at Piedmont Overlook, Windsor Run's continuing care neighborhood.
"For the last 35 years, I've been doing bubble shows," he says. "It started with a bubble machine I bought for my four-year-old son. He eventually lost interest, but it sparked something in me. When I travel, I take the bubble equipment with me. I've created bubbles on the Eiffel Tower, at the Panama Canal, and in Russia. I can do 15 to 20 different bubble designs, including bubbles inside a frame, pyramid bubbles, and those that look like caterpillars and donuts."
For years, Paul shared his bubble artistry at church festivals and elementary schools - and now he looks forward to sharing it with his neighbors.
"I really love that I can be who I am and do what I love at Windsor Run," he says. "This really is an exciting place to live."
Invest in your future at Windsor Run. From top-notch amenities and activities to affordable, maintenance-free apartment homes, you'll enjoy living your retirement to the fullest. Request more information today!
Back