Windsor Run Healthcare Careers Provide Flexibility and Numerous Benefits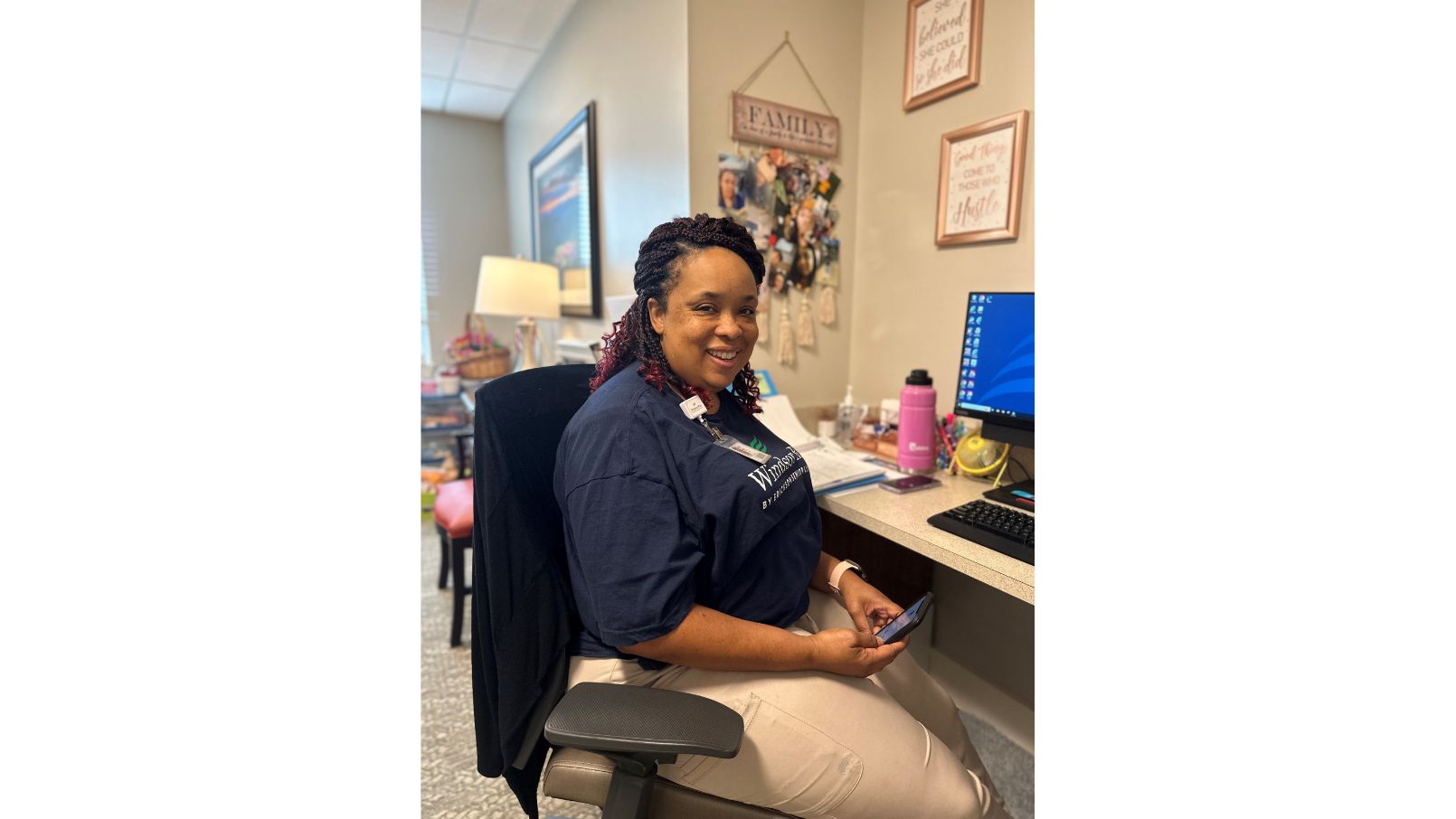 Feeling burnt out and ready for a change, Misty Byrd left a management position as the director of memory care at a local nursing facility, for an exciting and more rewarding career at Windsor Run, an Erickson Senior Living-managed community in Matthews, NC.
A leader in the senior housing industry, Windsor Run is the employer of choice for health care professionals eager to make a difference in the lives of residents, while enjoying competitive benefits and management support; unique training opportunities; and a sought-after work-life balance.
"One of my former coworkers also left the facility, accepting the Director of Nursing position at Piedmont Overlook [Windsor Run's continuing care neighborhood]," says Misty. "She encouraged me to apply."
In August 2021, Misty accepted a position as a medication aide at Windsor Run.
"I was looking for a position with a more flexible, predictable schedule," she says. "I now enjoy more time at home with my family in addition to other great benefits, including competitive pay, which is more than I received in my former management position."
Windsor Run is considered a top workplace thanks to providing employees with a work environment encouraging professional growth. This positive work culture has resulted in the promotion of numerous health care team members into new and exciting roles.
A testament to her hard work and commitment to residents, Misty was promoted to Health Services Scheduler/Medical Records Coordinator this past April.
"Witnessing career success achieved by our health care team members is a direct reflection of the limitless growth and advancement opportunities here at Windsor Run," says Sonya Cunningham, director of human resources. "With career tracks in nursing, clinical management, resident care and more, Windsor Run offers more than a job. We offer meaningful career and professional growth opportunities, focusing on work life balance and a vibrant work experience."  
In addition to career growth opportunities, Misty enjoys the support she receives from Windsor Run's management team and her supervisors. 
 
"Both management and my supervisors are great," she says. "Everyone is willing to help and most importantly, listen. My team really showed their support when I lost my step mom in September 2021 and my dad a month later. The management team went above and beyond making sure I had everything I needed including time away from work, food, even flowers. That really meant a lot especially as a new employee. I felt as if they had known me for years because of all the compassion they showed toward me."
Along with the numerous tangible benefits of her healthcare career at Windsor Run, Misty enjoys her daily interactions with community members.  
"The residents are the best part of my job," she says. "I love, love, love caring for people. I really enjoy chatting with the residents because they pay attention to everything. Each morning three residents always want to see what I'm wearing and pay me compliments. They are wonderful."
To explore exciting careers in healthcare and beyond at Windsor Run, visit www.EricksonSeniorLiving.com/careers.
Back