Windsor Run Celebrates the First Five Years
By Kelly Shue
May 11, 2023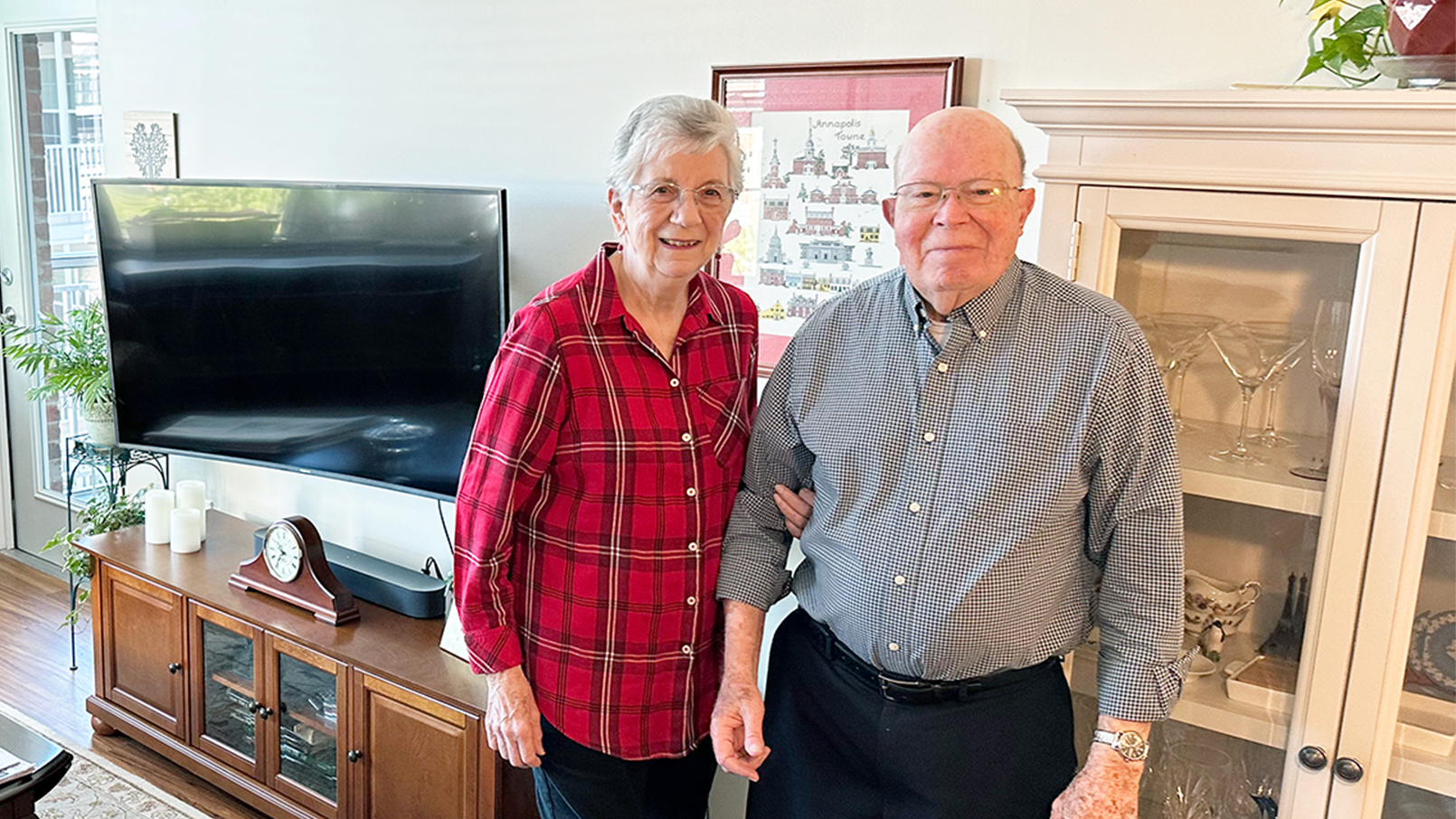 On May 10, 2018, Pat Bell addressed the crowd at Windsor Run's grand opening celebration, excited to be a "pioneer" - one of the first residents to move into the Erickson Senior Living community in Matthews, N.C. 
Five years later, Pat is thrilled to say to that life at Windsor Run is even better than she had hoped.
"I'm so happy with my decision to move to Windsor Run," Pat says. "I feel safe and very well cared for here. Windsor Run is a warm community, and it's a wonderful home! I've made friends with people I wish I had known all my life, and I enjoy a wide range of activities."
As the community celebrates its 5th anniversary, Executive Director George Comfort says that he's grateful to Pat and all of the other pioneer residents and employees. 
"They laid the foundation for Windsor Run to blossom into a caring, mission-oriented community for seniors in the Charlotte area," he notes. 
Becoming a pioneer
Pat and her husband John raised their three boys - John, David, and Michael - in Charlotte. Unfortunately, John passed away after 51 joyous years of marriage.
"I tried staying in our house, but I was lonely and realized that the maintenance and repairs were becoming too much," she recalls. "One day, on the way home from church with friends, they told me they were thinking of moving to Windsor Run."
That next week, Pat called the sales office and scheduled an appointment. 
"The rest is history," she says. "Very quickly, I made the decision to move!"
Lots to do!
Soon after settling into her apartment home, Pat got involved in activities that make up the fabric of Windsor Run's community life. 
Eager to share her love for Windsor Run with others, Pat serves as a resident ambassador, meeting and chatting with prospective residents that visit campus. 
She also enjoys going on local trips arranged by the activities committee; strolling through the beautiful 60-acre campus, including a new walking trail; playing cards and bingo; and eating dinner with friends. 
"There's value in having the opportunity to join as many activities as you want. I appreciate the independence it gives me!" she says. "And it's amazing how quickly you make new friends in doing so. 
I've met wonderful people that, had I not moved here, I wouldn't have met."
Pat's sons are equally happy, seeing their mother thrive in her new home.
"They are very content with my decision," she says. "They have peace of mind, knowing that I am cared for at Windsor Run."
In fact, her eldest son John, who lives in Charlotte, is able to personally appreciate Windsor Run's vibrant lifestyle. He regularly performs at the community as a member of the local barbershop quartet. 
"He's made friends with some of my friends!" Pat says, with a laugh. 
A fresh start, together
Janet and Ray Malarkey, also pioneer residents of Windsor Run, share the same sentiment.
"You make friends fast," says Ray, who is currently serving as treasurer of the garden club. "Everyone is so nice! We've gathered many friends over the last few years. We've found that having meals together at the onsite restaurants is a great way to make connections."
Janet, a member of the ever-popular knitting club, adds, "I believe our move was the best decision for us. It has been a wonderful experience - surpassing what we expected! The last five years have gone by quickly, in a good way. We are really happy here."
The Malarkeys also visit the fitness center - one of many amenities that are accessible to all residents via climate-controlled walkways. 
When Janet and Ray aren't out and about, participating in activities or spending time with neighbors, you'll most likely find them in their spacious two-bedroom, two-bath apartment home. 
"It's so nice to come home and spend time together," says Janet. "Our apartment home has a lovely balcony overlooking Windsor Run. It's a peaceful place to relax after a busy day."
'Don't wait'
Pioneer residents like Pat, Janet, and Raymond have loved watching their community grow - just as much as they love offering helpful advice to those considering a move to Windsor Run.
"Don't wait too long!" notes Pat. "Give yourself time to enjoy all that Windsor Run has to offer. I wanted to move as early as possible so I could enjoy the rest of my life, rather than worrying about the rest of my life."
Ray adds, "Moving to Windsor Run opened the door to so many new people and experiences. We are excited about what the next five years - and beyond - have in store!"
To learn more about affordable, independent senior living at Windsor Run, request your free brochure to get the scoop on amenities, floor plans, and so much more.
Back