Residents Enjoy Spending Time in and Around Windsor Run
By Kelly Shue
October 13, 2023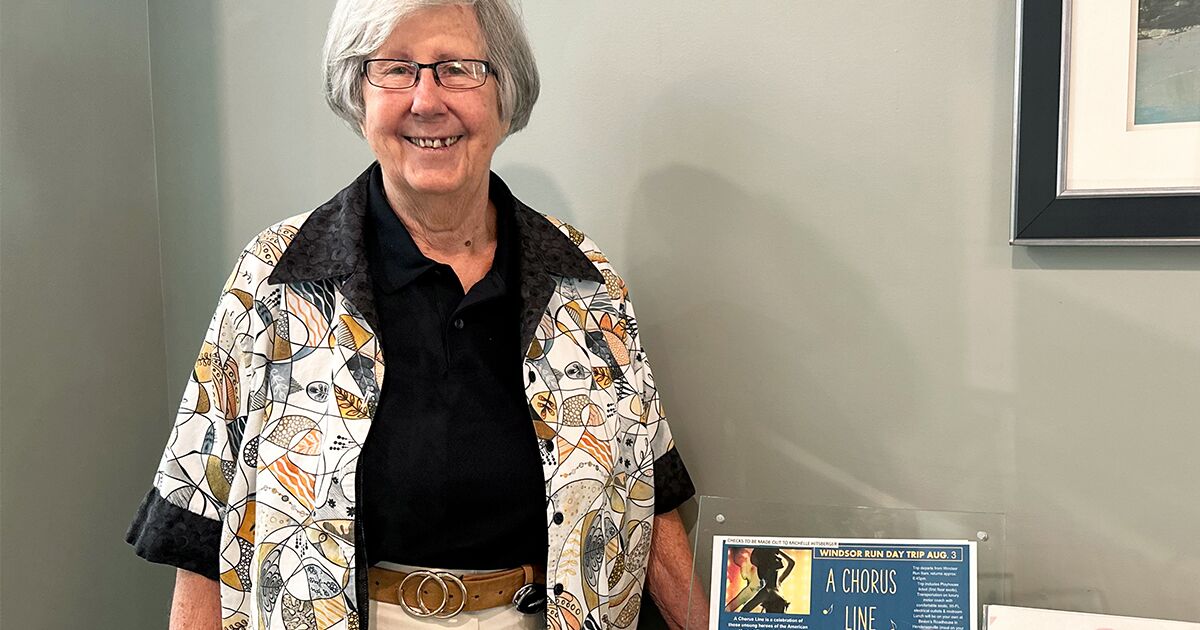 For Joy and Fred Rives, living at Windsor Run, an Erickson Senior Living community in Matthews, N.C., provides the perfect balance. The couple participates in an array of on-campus activities while maintaining relationships with friends and family in the greater Charlotte area.
"We lived nearby, in a lovely bedroom community in Fort Mill, S.C., for almost 25 years," says Joy. "We are very comfortable going back and forth between Windsor Run and our favorite local spots."
Like all Erickson Senior Living communities, Windsor Run offers the best of both worlds--local volunteer and cultural events paired with exciting on-campus happenings that keep residents like the Rives active and engaged.
The journey home
Before their July 2018 move, the Rives explored a number of senior living options within the greater Charlotte area.
"We conducted our due diligence, looking at about eight different communities," says Joy. "The first time we saw Windsor Run, it was still under construction. The fact that it was new was a big selling point."
She adds, "We also liked the fact that everything is under one roof. Many of the other communities we looked at required you to go outside to get from building to building. Windsor Run really stood out to us."
As one of Windsor Run's first residents, Joy immediately began looking for ways to contribute to the community, both on and off campus--and she hasn't stopped since.
"Before moving here, we spent 20 years volunteering at a local hospital. It was important to us to continue volunteering at Windsor Run," she says. "For the first three years we lived here, we volunteered at the nearby Atrium Pineville Hospital."
Community ties
On campus, Joy serves her neighbors as a member of the Resident Activity and Events Committee.
"Together, we plan as many activities as we can for the community," she says. "We are a very busy group, working to bring in performers from the surrounding area."
Windsor Run's location, just 15 miles from downtown Charlotte, gives the committee a vast network of top-notch, professional performers to choose from.
"We've been fortunate to enjoy performances by a violinist and flutist from the Charlotte Symphony Orchestra," she says. "Other popular performers include Hollow Oak, a bluegrass band; Reflections, a ten-member big band playing '40s and '50s music; and Cowboy Don Davis, who sings country-western songs."
She adds, "We also help Windsor Run's staff plan and host campus-wide events. For Independence Day, we organized a big buffet and games, and we invited a resident to showcase his balloon art."
Close to family
Joy also contributes to Windsor Run's popular bingo group and serves on the trips committee, helping select, plan, and promote a variety of trips to near and far destinations.
"In August, we took a trip to a playhouse in the mountains to see A Chorus Line," she says. "One of our longer trips is already planned--we're going to Myrtle Beach for a few nights to see some Christmas shows. And for residents who aren't familiar with the area, we plan trips around Charlotte for lunch. They're a lot of fun and a great way to meet people!"
"It's so easy for residents to access local events and activities, including sporting events, arts and entertainment programs, and retail and dining options," notes Sales Director Ryan Barkley. "There's no shortage of ways to get involved!"
While the Rives appreciate all there is to do on and off campus, the community's proximity to family and friends means the most.
"We travel to see former neighbors, regularly meeting for dinner engagements. And Barbara and Katherine, our two daughters, are extremely pleased that Windsor Run was our first choice. We visit them often," says Joy. "It's also wonderful that our granddaughter Allison lives in Mount Holly, N.C., just 30 miles away, so we see her quite a bit too."
'A great decision' 
Erickson Senior Living communities like Windsor Run are redefining retirement living by offering residents an unparalleled lifestyle that combines convenience, opportunity, and the joy of being a part of something greater.
"I can't believe we've lived at Windsor Run for five years now!" says Joy. "Moving here was a great decision--one that allows us to enjoy every aspect of our lives, both on this beautiful campus and within the community."
To learn more about the benefits of moving to a maintenance-free community, request more information today.
Back