Fullwood Ridge Opening Soon at Windsor Run
By Kelly Shue
September 14, 2023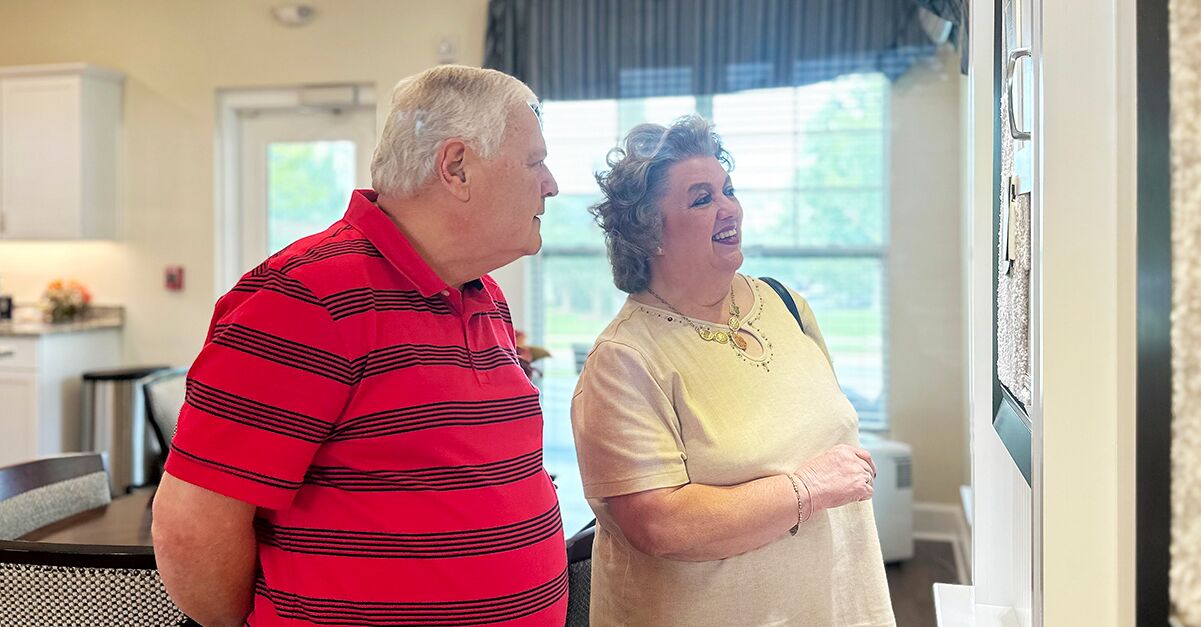 Excitement is building at Windsor Run, the Erickson Senior Living community in Matthews, N.C., as current residents get ready to welcome more than 100 new neighbors with the opening of Fullwood Ridge.
Charlotte, N.C., natives David and Robin Bigham are thrilled to be among the first to move into the community's fifth residence building. "The whole campus is beautiful," says David.
"The buildings and the apartment homes are attractive and the interiors are very nice. The amenities, including the pool, fitness center, public areas, and restaurants, are all top quality. And most importantly, all of the residents we've talked with are happy here!"
A fortuitous visit
The Bighams' journey to Windsor Run began last year with a visit to the community.
"David was totally on board when we scheduled our first visit," says Robin. "But I was still a little hesitant. I'm 67 and David is 72, and I thought, 'Are we ready for this?' After touring the campus and meeting the staff, my mind was made up. I left the visit saying, 'Sign me up--I'm ready to go.' It happened that quickly!"
The couple quickly shared the good news with their children, Andrew and Meredith.
"They were the first people we told," says David. "They are very happy for us. They want what we want."
"We didn't want to get to a point where our children have to tell us it's time to move. We really didn't want to put that on them," adds Robin. "Once we saw Windsor Run, we knew we were ready to go."
Location is key
Windsor Run's location was another draw, as it's conveniently located near both of their children.
"Regardless of whether we had family here or not, the location is wonderful--plenty of shopping and close proximity to I-485," explains Robin.
The Bighams appreciate the camaraderie of moving to a residence building where everyone is new.
"Every time we visit Windsor Run, we meet new residents," says Robin. "We are creating special bonds with the other Fullwood Ridge reservists. We are on this journey together, and that's such a good feeling."
Many reservists, including the Bighams, also took advantage of the wide range of realty and moving resources that Windsor Run provides to support incoming residents.
A worry-free process
Windsor Run's Planning and Moving Consultant Andrea Fitzgibbons visited David and Robin in their old house to help them determine what items they wanted to bring to their new home.
"It's one of many ways we feel supported by Windsor Run as we prepare for our move," says Robin.
"Andrea also put us in touch with a real estate agent who came to our house and gave us her expert input. All of the resources helped create a positive environment for making such a big decision. And we can't say enough good things about the staff! We are impressed each time we visit."
"Based on our experience," adds David, "our best advice is to plan ahead and take advantage of all the meetings and suggestions offered by the Windsor Run team. They provide a step-by-step guide, along with introductions to movers and real estate agents, designed to lay the groundwork for your move."
Looking ahead
"We're upbeat and positive, ready to enjoy this new chapter," says Robin. "I'm so glad we can let go of our house. I thought it would be hard, but instead, we are looking forward to all that's ahead."
"I love to swim, so the indoor pool caught my eye right off the bat," says David. "I'm also impressed with the variety of clubs. I love to take pictures, so I am interested in joining the photography club."
Robin, a member of the choir at nearby Matthews Methodist Church, looks forward to additional opportunities to share her love of singing and music.  
And once they move in, the Bighams will continue to make new friends while pursuing their hobbies and interests.
"We'll have even more opportunities to do that when Windsor Run's sixth residence building, Crestdale Court, opens early next year!" says Robin.
To learn more about senior living at Windsor Run, request your free brochure to get the scoop on amenities, floor plans, and so much more.
Back