Fullwood Ridge and Crestdale Court, New Residence Buildings at Windsor Run, to Open in 2023
By Kelly Shue
September 19, 2022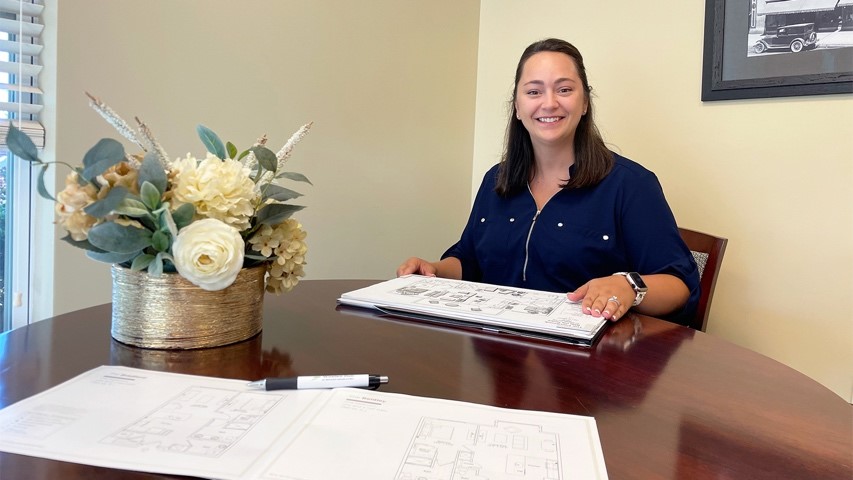 Due to the unprecedented demand for the active lifestyle at Windsor Run, an Erickson Senior Living community in Matthews, N.C., the construction of two new residence buildings--Fullwood Ridge and Crestdale Court--was recently announced. The buildings are projected to open in the summer and fall of 2023.
"This is an exciting year at Windsor Run," says Sales Director Ryan Barkley. "The number of people visiting our campus--and consequently joining the priority list--demonstrates that this new construction is right on time."
Many prospective residents are interested in the brand-new construction, he notes. "When we introduced White Oak Terrace in late 2021, the apartment homes sold out just weeks after announcing construction. We anticipate the same for our two new additions."
Ken and Judy Rasheff, who moved into White Oak Terrace this past March, are extremely satisfied with their choice.
"We are very happy with our decision to move to Windsor Run," says Ken. "Not only have we met wonderful people, but we enjoy a wide variety of activities and a beautiful new home."
Space for living
Together, Fullwood Ridge and Crestdale Court will provide 188 new apartment homes, featuring open layouts and contemporary finishes; modernized kitchens, with granite countertops and stainless-steel appliances; full-size, side-by-side washers and dryers; walk-in closets; and custom flooring and light fixtures. Many of the apartment homes will also include much-sought-after screened-in porches.
"When we're planning each new residence building, we evolve our offerings to reflect the feedback of current and future residents," says Barkley. "As a result, Fullwood Ridge and Crestdale Court will feature our most popular one- and two-bedroom floor plan designs, plus seven brand-new designs. We also offer an array of interior design selections to ensure we can satisfy a range of personal styles."
At the top of the bestseller list is the two-bedroom, two-bath Hawthorne; large one-bedroom, one-and-a-half-bath Cary; large one-bedroom, one-and-a-half-bath Cary; two-bedroom, two-bath Norman, boasting a bright and airy screened-in porch; and the extra-large two-bedroom, two-and-a-half-bath Waverly, featuring a den and an eat-in kitchen nook.
Amenities and activities
During construction, an all-purpose fitness area (that can also serve as a pickleball court), two new restaurants, and an outdoor bocce court will be added to the already extensive list of amenities available to residents. 
For Ken and Judy, these amenities are the best part of their move to Windsor Run.
"Judy loves the pool and the water exercise classes, and I joined the chess and gardening clubs," says Ken. "There are on-site musical programs, various off-campus trips, really good food, and a great pair of bartenders. The activities coordinators are wonderful here. We just mention something we're interested in, and they come back with suggestions as to what can be done. Plus, we quickly made many good friends."
As with all new construction, first notice was recently extended to priority list members by priority date--before the announcement to the general public will be released.
More people are currently joining Windsor Run's priority list than ever before. And with the community's occupancy hovering at a record-shattering 99%, joining the priority list is the only way to guarantee a future apartment home.
"It's a win-win option for anyone planning for their retirement," says Barkley. "The priority list acts as a waiting list and provides some peace of mind--you get right of first refusal for any apartment home that becomes available."
While planning their move, Ken and Judy knew that being on the priority list would help secure their future--and provide them with plenty of time so they could prepare for their eventual transition with no stress.
"We joined the priority list after a visit in September 2021," says Ken. "Our timing was really good. The apartment home we chose became ours very quickly."
Priority list perks
Members also receive invites to exclusive events, designed to introduce future residents to life at Windsor Run and provide opportunities to meet and form friendships with soon-to-be neighbors.
Priority list membership also grants access to Personal Moving Consultant Andrea Fitzgibbons and a variety of resources available through Erickson Realty and Moving Services, including home visits, recommended real estate agents, downsizing experts, clean-out services, packers, and movers.
"Anyone who wants to sell their house and move to Windsor Run should be able to do so easily and with as little stress as possible," says Fitzgibbons. "It's my goal to make the move to Windsor Run uncomplicated and seamless."
With demand for Windsor Run at an all-time high--and construction quickly proceeding on the newest residence buildings--Fitzgibbons and Barkley suggest scheduling a visit to the community this fall.
"There is never any pressure," says Barkley. "It's just a wonderful opportunity to learn more about our community and, if you desire, join our priority list."
To learn more about affordable, independent senior living at Windsor Run, request your free brochure to get the scoop on amenities, floor plans, and so much more.
Back