Enjoying the Opportunity to Socialize at Windsor Run
Kelly Shue
January 10, 2023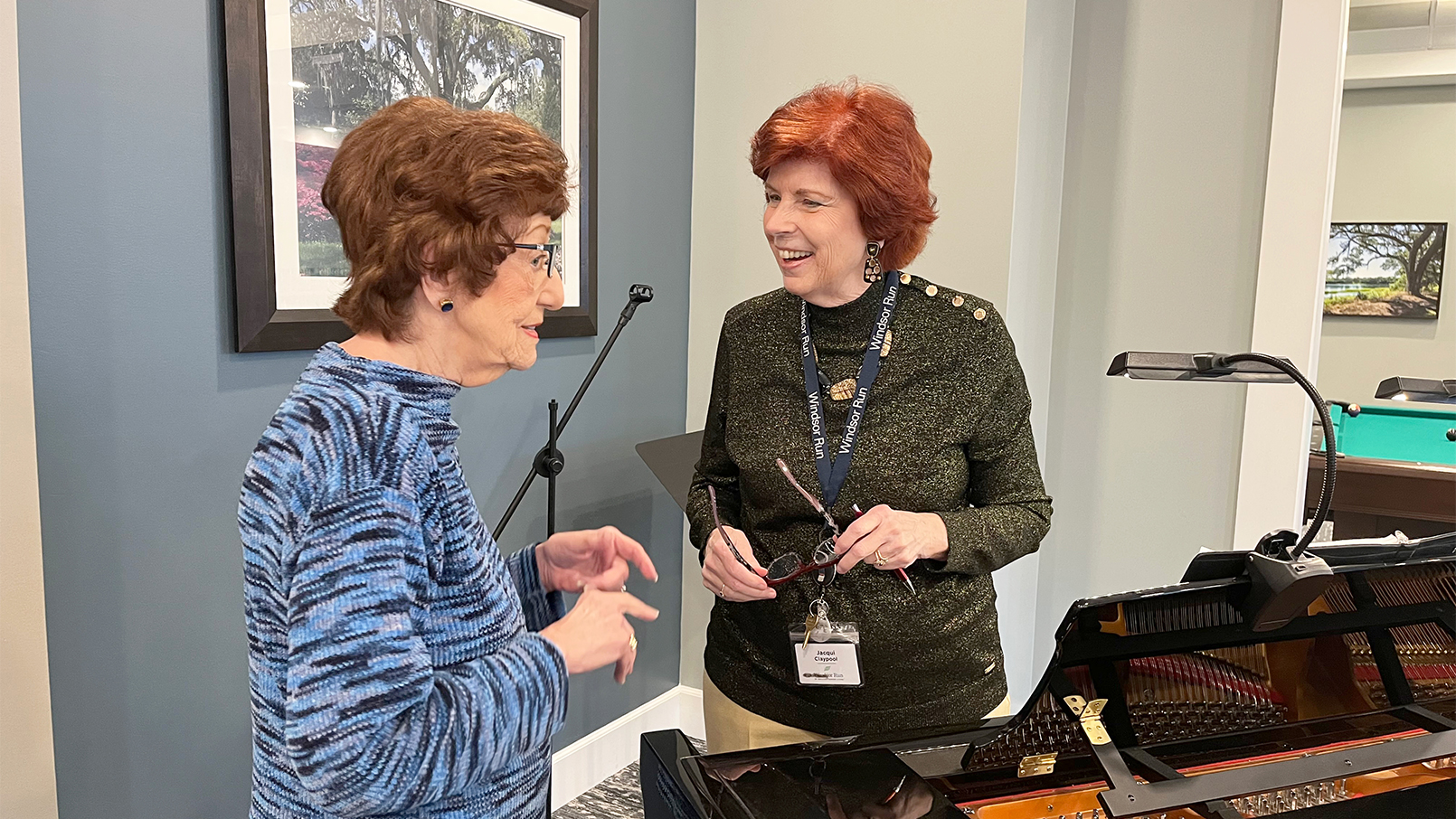 According to a recent article in Psychology Today, doctors report that, as you age, socializing not only fights feelings of loneliness, it sharpens memory and cognitive skills, increases happiness and well-being, and can even help foster longevity.
Becky Dinello, resident services coordinator at Windsor Run, has witnessed the implementation of these benefits first hand at the Erickson Senior Living community in Matthews, N.C.
"Windsor Run is made up of interesting, accomplished residents, eager to meet new people and form important social connections," says Dinello. "They thrive off of their friendships, which are fostered through clubs, activities, and day-to-day interactions."
Connecting with others
Among these residents are Bill and Jacqui Claypool, who moved to the vibrant community in October 2021. 
"We were excited to live among our peers and fill our calendar with new activities," says Bill. "In our previous neighborhood, we lived among families of mixed ages. Although we knew everyone, we did not socialize with all of them."
Because the Claypools were among the first to move into White Oak Terrace, they had the unique opportunity of moving in with lots of other new residents.
"Suddenly, there were 100 new people and plenty of opportunities to form groups with folks," says Jacqui. "We focused on getting involved, even organizing a 'meet and greet' for our neighbors on the third floor. It was a great way to instantly meet many new people."
"Having enjoyable social connections is an important, yet often overlooked, aspect of personal health and well-being," says Dr. Matt Narrett, chief medical officer at Erickson Senior Living. "From a robust calendar of events and dozens of clubs to sharing a meal together with friends, our communities are designed to maximize social engagement opportunities."
Taking the initiative
Shortly after the couple arrived at Windsor Run, they attended the annual activities fair, which introduced them to nearly 100 clubs and groups across campus.
"We enjoyed the chance to see it all and talk with residents who were involved in the activities we were interested in," says Bill.
Soon enough, the Claypools were immersed in a range of campus activities. Bill pursues athletic endeavors, including visiting the fitness center and playing with the popular chair volleyball club. Jacqui writes for the resident newsletter, The Pulse, participates in monthly hymn singing, and plays piano at church services on Sunday night.
"The Claypools are a wonderful example of a couple who takes full advantage of the many activities on campus," says Dinello. "From setting up social functions with their neighbors to participating in clubs and special events, they enrich not only their lives, but those of the people around them."
The Claypools especially enjoy spending time with another couple, Lowell and Macy Keel.
"During our time on the priority list, we encouraged the Keels to come and visit," says Bill. "As a result, they decided to move too. In fact, they moved in before we did! We now have brunch together every Sunday, frequently meet for lunch, and attend church together."
Support system
And while keeping up with their busy calendar of activities, the Claypools also appreciate the support system they've developed, in large part, from the social connections they've made.
"We are both healthy, but no one knows what the future holds," says Bill. "I wanted to be sure we were at a community where if something happened to me, Jacqui would already have friends--a social system in place. That's the best part of being in a community like this. When thinking about the timing of our move, I knew it was better to be three years early than one month too late."
Moving to Windsor Run has helped the couple make new friends, whom they believe they would not have met otherwise. Writing for the community paper, Jacqui frequently meets with and interviews neighbors.
"I recently spoke with a neighbor who was born in Siberia," she says. "You just don't find that where we lived before. There are so many people here with interesting backgrounds and stories to tell."
"It is wonderful to live in a community surrounded by neighbors with such different backgrounds and experiences," says Bill. "There are so many interesting people to talk with and learn from. We are very happy here."
Invest in your future at Windsor Run. From top-notch amenities and activities to affordable, maintenance-free apartment homes, you'll enjoy living your retirement to the fullest. Request more information today!
Back