Design Your Dream Dwelling at Windsor Run
By Kelly Shue
April 18, 2023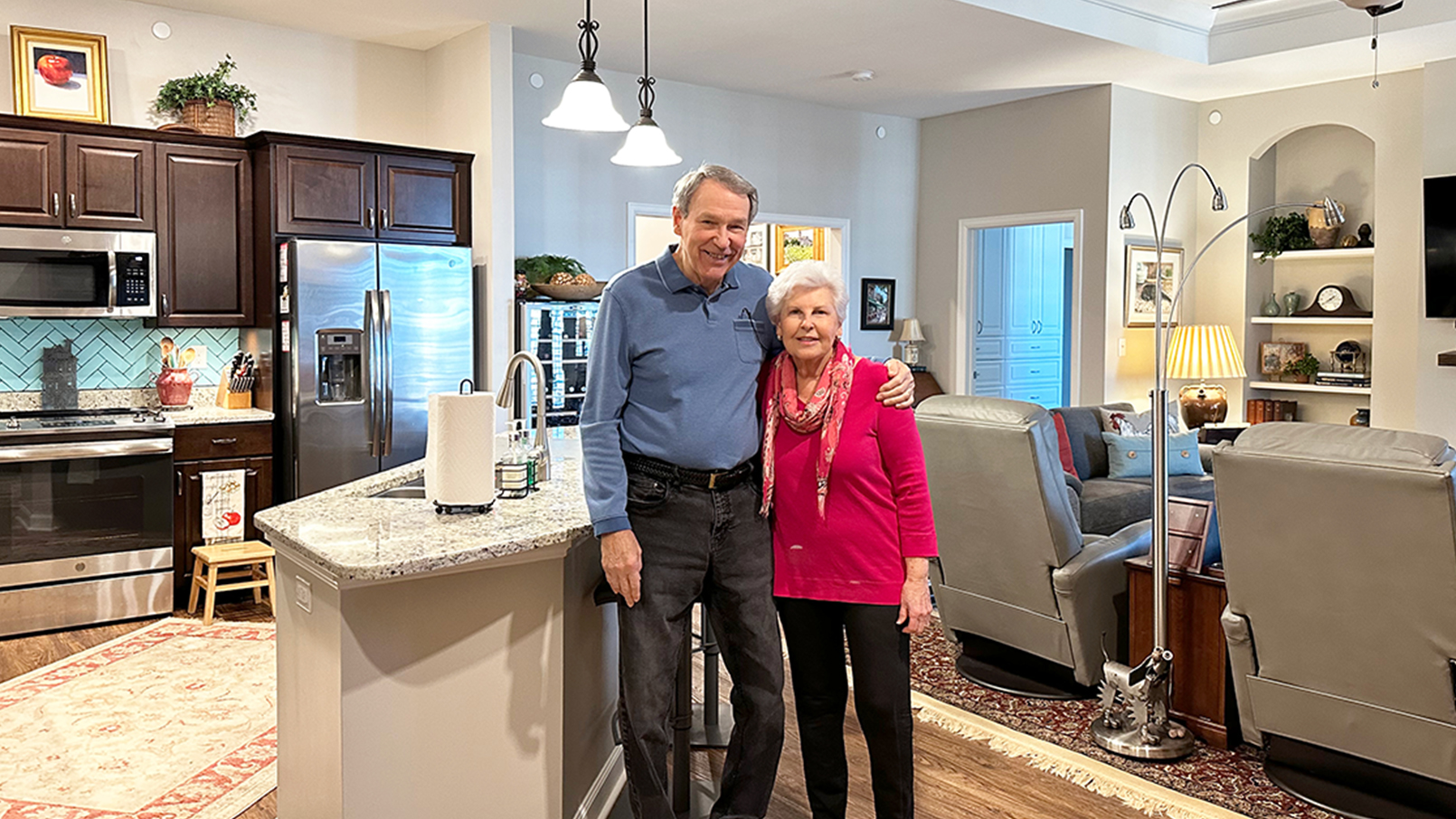 Windsor Run, an Erickson Senior Living community in Matthews, N.C., offers a wide range of apartment home styles and sizes to suit every preference and budget.
What current and future residents value just as much is the opportunity to customize these apartment homes.
Whether creating an office, art studio, or guest room out of a second bedroom, or simply adding personal touches like crown molding and window treatments, the sky's the limit when it comes to making a Windsor Run apartment home your own.
"We help residents make updates the same way they would have in their previous houses," says Sales Director Ryan Barkley. "The project could be as small as changing a paint color, or as large as adding a new wall or built-in cabinet."
An open concept
After an extensive review of the continuing care communities in the Charlotte area, Jim and Peggy Simmons knew they would make the most out of their retirement years at Windsor Run.
Looking for a spacious apartment home, the couple decided on a Wellington, a two-bedroom, two-bath floor plan design.
"We were leaving a 4,700-square-foot town house, so we knew that we would be making an adjustment when it came to living space," says Jim, "but we were pleasantly surprised to find that we didn't need nearly as much space as we thought we did!"
Choosing the Wellington model in part because of its beautiful dining room, the couple wanted to enhance the space by opening it up to adjacent areas.
"The dining room had glass doors that swung open. We wanted the space to flow differently, so we opted to have the doors removed," explains Peggy. "Windsor Run offered wonderful resources as we worked together to customize our apartment home to best meet our needs."
Custom closets
Next on their list of desired customizations was the hallway leading to the second bathroom.
"Between the second bedroom and bathroom was a door and hallway," says Peggy. "On either side of the hallway were two small closets. We chose to have the door to the bathroom [from the bedroom] closed off, creating one large closet out of the dedicated hallway space."
The couple worked with Windsor Run's preferred vendor, Closets by Design, to make this vision a reality.
"Closets by Design were wonderful to work with," she says. "We also had a large built-in, with doors and drawers like an armoire, installed in the primary bedroom, giving us extra storage space there too."
Functional spaces
Wanting a dedicated space to work and explore their hobbies, the Simmons knew they would make good use of their large second bedroom.
"We did not make any customizations to the room - it's perfect as it is," says Jim. "We use the room as an office, craft room, and sewing room. It is large enough for two desks, giving us each our own office space. There is also a daybed in there that we can use to host overnight guests."
As an artist, Peggy finds the space to be perfect for working on her pieces, as the main living areas of their abode can remain paint splatter free. 
Now, comfortable in their new surroundings, Peggy meets with fellow artists on a regular basis.
"We established an open studio, on Mondays, for Windsor Run residents who are interested in art," she says. "Anyone is welcome to come! We paint together, share ideas, and give critiques - if asked. It's a great spot to go and meet other artists."
"Windsor Run offers many amenities that we enjoy," notes Jim, who serves on the Resident Dining Committee and visits the fitness center every day.
Truly at home
Having lived in the Charlotte area for many years, the Simmons maintain plenty of friendships outside of the community and enjoy spending time with their daughter and two granddaughters, who live just 15 minutes away.
"They visit us often," says Jim. "We celebrated Christmas together and had plenty of space here. Our apartment home is perfect for entertaining visiting family."
At Erickson Senior Living communities, retirees like Jim and Peggy appreciate the opportunity for a fresh start - and the ability to create a beautiful space where they can live the carefree retirement they've always imagined.
"When we moved, we were able to bring the pieces that are important to us - both furniture and sentimental items," says Jim. "These cherished belongings help us feel at home, in our new home."
Invest in your future self at Windsor Run. From top-notch amenities to affordable, maintenance-free apartment homes, you are sure to live your retirement to the fullest. Request more information today!
Back