Chefs Serve Up Delicious Fare at Windsor Run's Restaurants
by Kelly Shue
August 31, 2022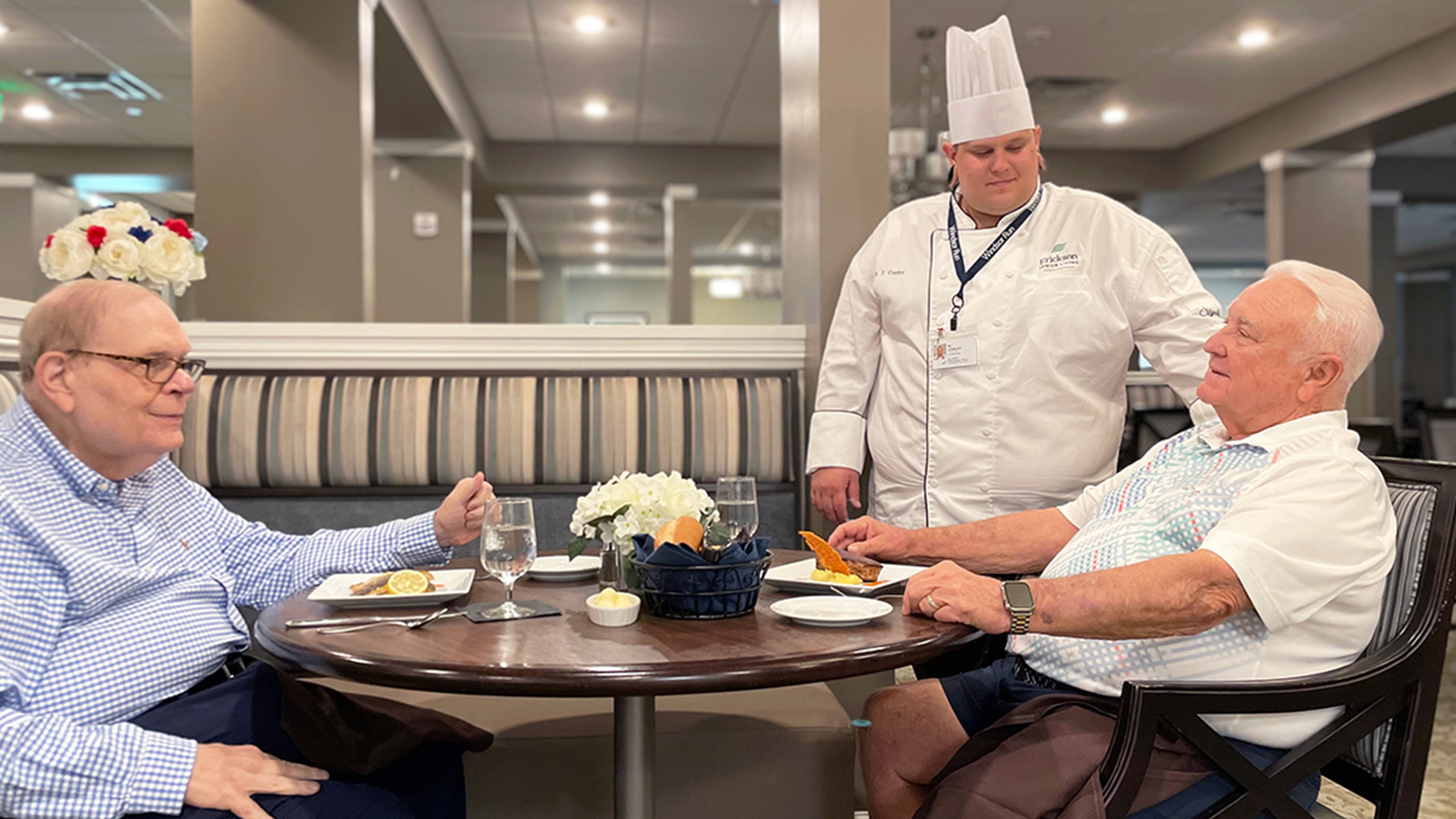 For residents at Windsor Run, an Erickson Senior Living community in Matthews, N.C., dining at any of the lively on-site restaurants is an unbeatable culinary pleasure.
"My wife Shila and I think our dining experience at Windsor Run is exceptional," says resident Richard Baer. "You can tell that everyone--from the management, to the kitchen staff, to the wonderful wait staff--ensures our evening dinner is a special and delicious meal, every day."
Variety is on the menu
Residents at Windsor Run enjoy more than 30 different menu options, as well as a number of chef's specials, at each of the community's four distinct restaurants.
The Grove features pasta, beef, poultry, and seafood selections, while the Woodside Café offers short-order favorites like juicy burgers, fresh salads, and deli-style wraps. Tavern 1879 is a casual bar and bistro, whereas Willows--Windsor Run's newest restaurant--serves small plate options and entrée favorites, including crab-stuffed river trout and saffron-infused tomato seafood stew.
Thanks to Windsor Run's Signature Dining program, which emphasizes preparing cooked-to-order dishes, residents enjoy delicious meals and extraordinary service each time they dine. The community's talented chefs are known for creating a multitude of healthy, appetizing dishes that meet the unique dietary needs of all residents.
"Thanks to Charlotte's rich culinary market, Windsor Run is fortunate to have an expert dining staff," says Director of Dining Kelly McGrath. "For instance, many of our cooks were previously chefs in local restaurants. Because of our experienced staff, we are able to consistently deliver high-end meals. Executive Chef RJ Corley ensures that our restaurants exceed expectations."
Chef Corley ensures that his culinary team responds to the wishes of the diverse community. "Our priority is the residents' dining experience," he says. "Each day, the team and I push ourselves to provide our residents with the freshest ingredients and seasonal menu items that reflect their tastes and preferences."
Powerful partnership
In addition to daily specials, Corley updates all restaurant menus on a monthly basis to provide even more variety. These decisions are often made based on resident feedback and availability of ingredients.
"We encourage residents to bring requests, and they do," says McGrath. "Many times, the suggestions reflect the cultures of places all over the world--where residents have lived, worked, and traveled. Menu creation is always a fun, interactive process."
The culinary team collaborates with the dining committee of the Resident Advisory Council--a board that acts as a voice for community members, regarding their satisfaction and comfort--to craft new menu options.
"I'm also always available to talk with residents. I encourage them to either fill out a comment card or send me an email," says Corley. "I want our residents to be excited about the food choices available to them."
Nutrition information for all entrées served can be found in the Net Nutrition section of My Erickson®, an app accessible to residents via a smart device, which is particularly helpful for residents following dietary restrictions or guidelines.
Lots of enjoyable choices
"I am allergic to shellfish, but with multiple entrées to choose from, I have had no problem finding a meal to enjoy," says resident Jim Simmons. "The staff is very responsive to all requests. The blackened trout with creole sauce is my favorite. It is as good as any fish found at an upscale restaurant in Charlotte."
For those interested in tasting Windsor Run's dining options for themselves, Sales Director Ryan Barkley recommends attending one of the community's monthly informational luncheons. "These events are a great way for guests to enjoy many of the same menu items our residents choose from daily," he says.
An exceptional dining experience
At the recent Parade of Homes showcase and luncheon, guests dined on a three-course meal that began with a fresh spinach salad topped with feta, pecans, and tangy dressing. Guests then chose between two entrée options: pork with mango salsa chutney or fresh-caught snapper in a lemon beurre blanc sauce. For dessert, fresh strawberry shortcake--a resident favorite--was served.
"The exceptional dining experience--from menu selection, to personal dietary consideration, to the dedication and support of our staff--is one of many reasons why Windsor Run is the top retirement community in the Charlotte area," says Barkley. "I encourage anyone interested in learning more to visit us this fall."
Invest in your future at Windsor Run. From top-notch amenities and activities to affordable, maintenance-free apartment homes, you'll enjoy living your retirement to the fullest. Request more information today!
Back