From the Chef's Kitchen: Mediterranean Spiced Cauliflower Steak with Tahini Sauce
By Chef William Zucosky
April 17, 2023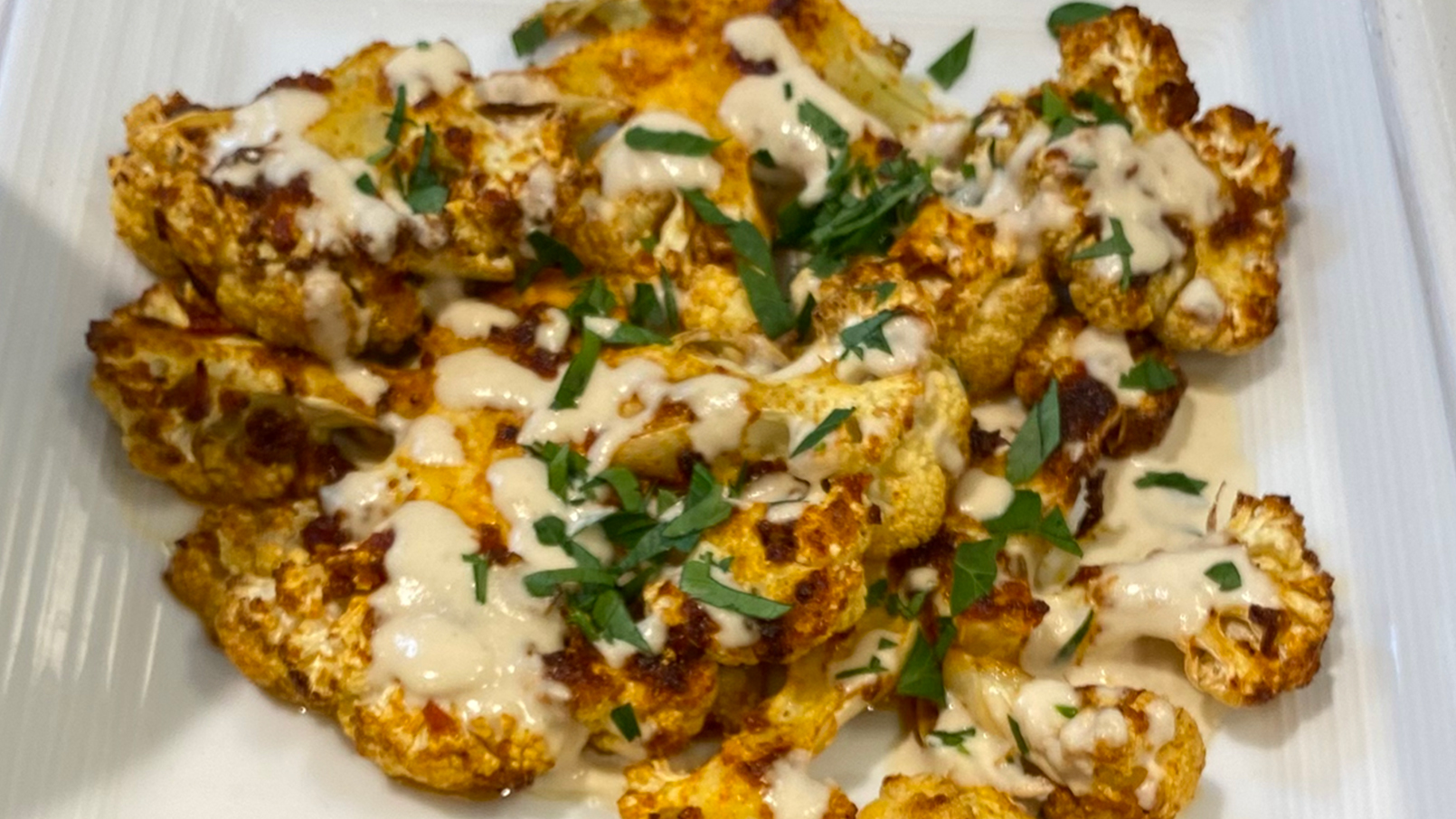 Ingredients
1 head of cauliflower
Marinade
1 teaspoon lemon juice
3 tablespoons olive oil
2 tablespoons fresh basil, chopped
1 tablespoon oregano
¼ teaspoon harissa or crushed red pepper flakes
1 teaspoon sea salt
¼ teaspoon coriander
¼ teaspoon smoked paprika
1 teaspoon black pepper
¼ teaspoon cumin
Tahini sauce
1 garlic clove
juice of 1 lemon
pinch of lemon zest
½ cup tahini paste
1 tablespoon fresh parsley, finely chopped
cold water as needed
Preparation
Tear off the cauliflower's inedible leaves and cut off the base of the stem, keeping the core intact. Cut vertically through the middle of the cauliflower head, then cut 1-inch slices. Rinse.
Combine all marinade ingredients and whisk thoroughly. Place cauliflower steaks in a bowl and generously coat them.
Spoon the rest of the marinade over the steaks on a lined baking sheet. In a 425-degree oven, roast until golden brown, about 15-20 minutes.
Meanwhile, thinly slice the garlic clove and add it to the lemon juice in a mixing bowl, letting it steep for 10 minutes.
Strain the garlic from the lemon juice, then add the lemon zest, tahini paste, and parsley, whisking to combine while slowly adding water until it reaches your desired consistency.
Remove steaks from the oven and spoon over the tahini sauce. Serve and enjoy!
This delicious dish is just one of the imaginative recipes that chefs create and serve at Erickson Senior Living communities. If you'd like to learn more about Erickson Senior Living, request a free brochure. 
Back