From the Chef's Kitchen: Grilled Swordfish with Tuscan Relish
By Sara MacLean, Brooksby Village Chef
October 17, 2022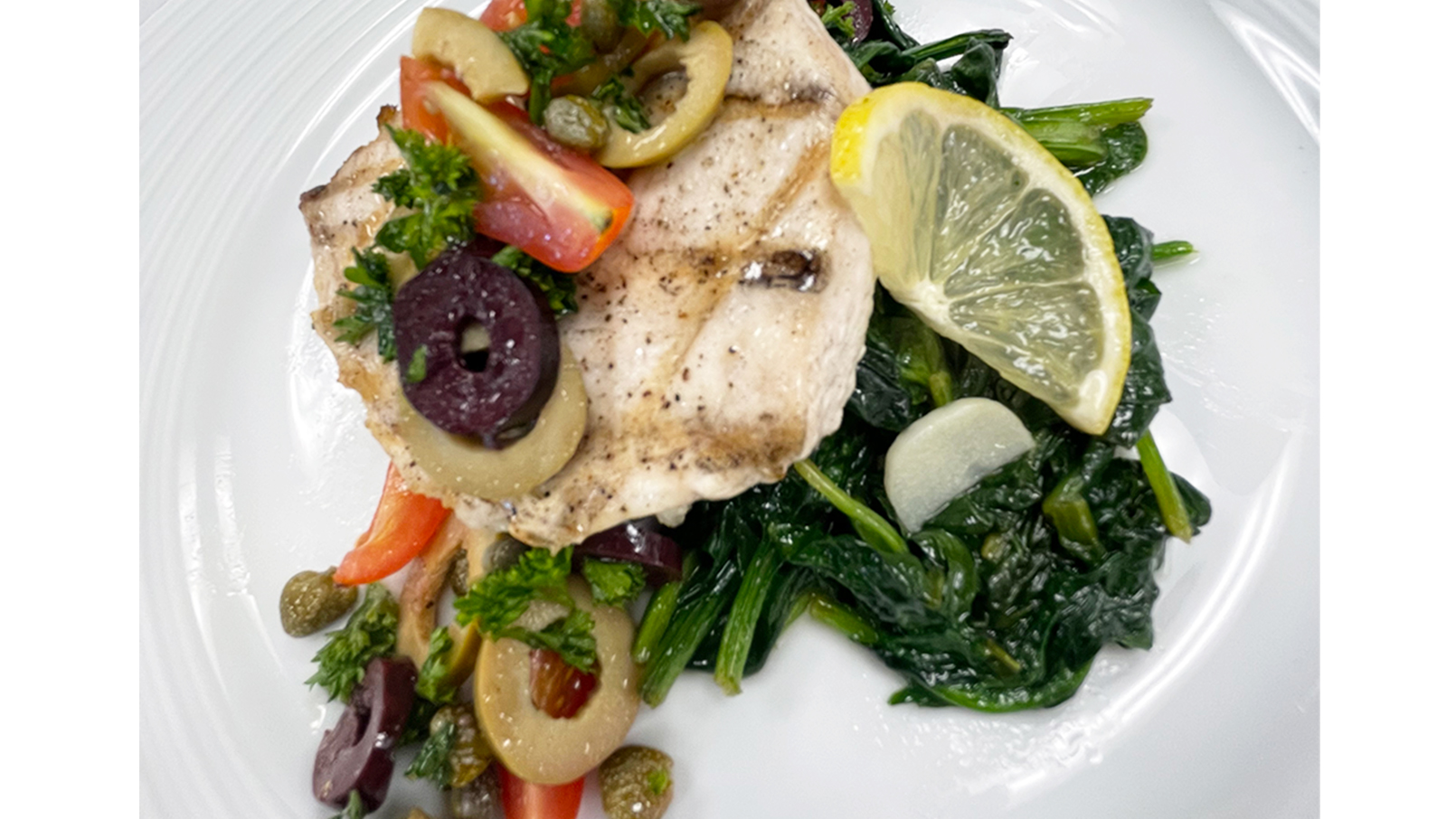 At Brooksby Village, Chef Sara MacLean serves this over a bed of wilted spinach - residents love it!
Ingredients
• 5 oz swordfish steak
• ½ of a lemon, zested
• 1 ½ oz grape tomatoes
• ½ oz Kalamata olives
• ½ oz Manzanilla (green) olives
• 1 tsp capers
• 1 tsp fresh basil
• 1 tsp fresh minced parsley
• 1 tsp fresh minced garlic
• ½ oz olive oil
• Salt and pepper to taste
Directions
• Preheat grill, preheat oven to 400 degrees.
• Rinse and dry produce; slice tomatoes lengthwise.
• Slice olives into wheels.
• Stack basil leaves and slice into thin ribbons.
• Toss produce and herbs with olive oil, then season with salt and pepper; set aside.
• Brush swordfish with enough olive oil to lightly coat both sides.
• Grill the fish for 2-3 minutes on each side, until grill marks appear.
• Remove fish from the grill and place on an oven-safe pan; finish cooking in the oven 2-4 minutes or until center of the fish reaches 140 degrees.
• Plate the fish and top with relish. Serve and enjoy!
Find an Erickson Senior Living community near you to learn more about the Signature Dining program, which focuses on providing residents with cooked-to-order meals made with fresh ingredients.
Back