Great Food with Good Friends is Always on the Menu at Oak Crest
By Danielle Rexrode
September 15, 2022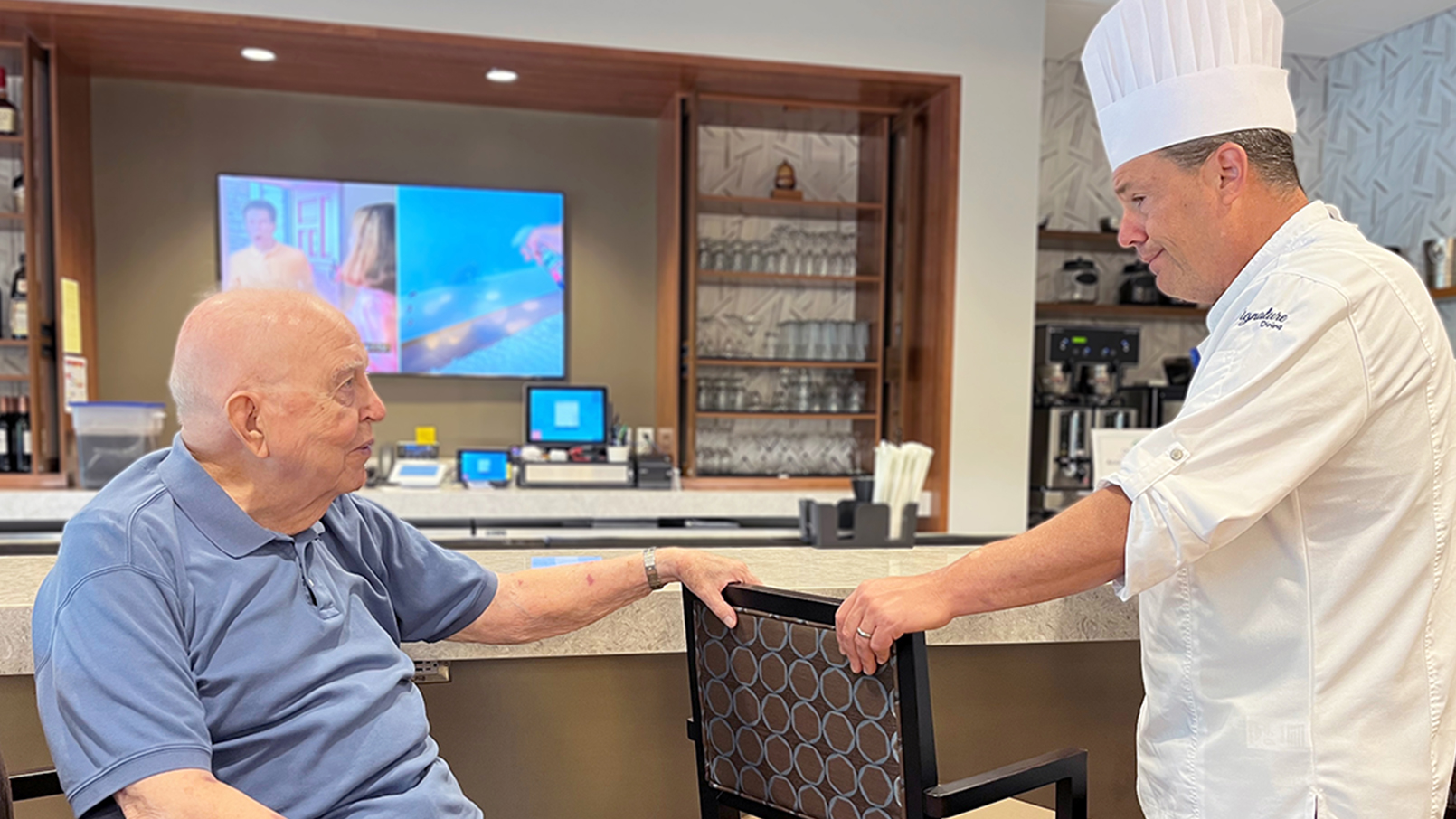 After years of making nightly dinners for a family of seven, Marie Danner welcomed the idea of never having to plan or cook meals again. Now, as a resident of Oak Crest senior living, she doesn't have to. Marie's apartment home is just a short walk from eight unique, on-site restaurants that she can choose from any day of the week.
"I eat in one of the restaurants here just about every night," says Marie, who moved from Bowleys Quarters, Md., five years ago. "I usually eat with my sister and some friends. My favorite restaurant is 1812. I really like seafood, so one of my favorites is the salmon with bourbon sauce."
Thanks to Oak Crest's Signature Dining program, which emphasizes preparing high-quality, cooked-to-order dishes, residents enjoy delicious meals made with fresh ingredients and extraordinary senior living dining services each time they eat.
Diverse Menus for Oak Crest Residents
Variety is a key component of dining at Oak Crest. Expert chefs regularly update menus with new senior care meals so residents can socialize with neighbors, family, and friends over new selections and popular features.
"There are so many choices when it comes to dining on campus, and residents enjoy the flexibility," says Dakota Snyder, director of dining services at Oak Crest. "We have three full-service restaurants. There's also the Lakeside Café; the Terrapin Cove, with a pub-style menu and full bar; and the Quarry Grill, which features 'kitchen seating,' so you can see the cooks grilling your burger or steak. The Acorn Pub is open for all three meals and 1812, a tapas-style venue, has earned rave reviews."
Featured in The Baltimore Sun's Best Food and Drinks 2020, 1812's dining concept offers "small-plate" menu items. "We really enjoy 1812 - I think it's our favorite. The atmosphere, whether you sit at a table or at the bar, is just so nice," says June Koutch, who moved to Oak Crest from Hunt Valley, Md., two years ago. "I appreciate a variety. I liked cooking when we lived in our previous house, but here I'm totally spoiled. And we eat with different people all the time."
Resident Joe Lucas also savors regular meals at the campus restaurants - ranging from casual to formal and even al fresco - rotating among them, six days a week for dinner.
"We do a lot of lunches as well," says Joe. "Each restaurant has its own charm and specialty. For example, at the Quarry Grill, you can always get a good piece of grilled chicken, salmon, or a burger."
Exceptional Dining Service for Seniors
Residents agree that dining is an especially enjoyable component of daily life at Oak Crest. The talented, creative culinary professionals place so much care and detail into each dish, upending the stereotype of retirement community meals.
"I don't look at Oak Crest as a retirement community - I see it as a resort," says Executive Chef Richard Hoffman. As former executive chef at the Country Club of Maryland, Hoffman incorporates his expertise as a world-certified master chef into everything he does at Oak Crest.
"When you work in a restaurant or hotel, most of the time, you serve one meal to the customer and they are gone. It's not often that you get regulars," says Hoffman. "Here at Oak Crest, I develop relationships, so cooking is personal for me. I'm tableside in our restaurants, chatting with residents and getting their feedback. I want to put a smile on their face and know they are enjoying the food and having a great dining experience. I won't settle for anything less."
Health Conscious Dining Options
Thanks to the collaborative effort between Oak Crest residents and the dining leadership team, hundreds of delicious food choices are always available. Local flavor and regional favorites, like Maryland crab cakes and crab soup, are incorporated into the menus as well as vegetarian meals. The professional dining team also caters to residents' dietary restrictions, personalizing dishes to avoid allergens and offering health-conscious options, such as low sodium dishes and sugar-free desserts.
Pat Hodges serves as the dining representative for the community's Resident Advisory Council, a board elected by Oak Crest residents that acts as a voice for community members regarding their comfort, safety, and overall satisfaction.
"I was a Catholic school teacher for 40 years, but I also waited tables for 20-some years. I felt as though I would be able to see things from both the customer's and the staff's point of view," says Pat. "I meet with administration and dining services regularly to discuss any feedback from residents. It works really well."
"We really value the opinions of residents. We try to incorporate their suggestions as much as possible," says Snyder. "We also think it's important to have our managers, sous chefs, and executive chefs walk around the dining rooms - to check in on diners and say hello. We aim to build relationships with residents and ensure they have a great experience."
Invest in your future at Oak Crest. From top-notch amenities and activities to affordable, maintenance-free apartment homes, you'll enjoy living your retirement to the fullest. Request more information today!
Back