Scenic Outdoor Spaces Enrich Life at Erickson Senior Living Communities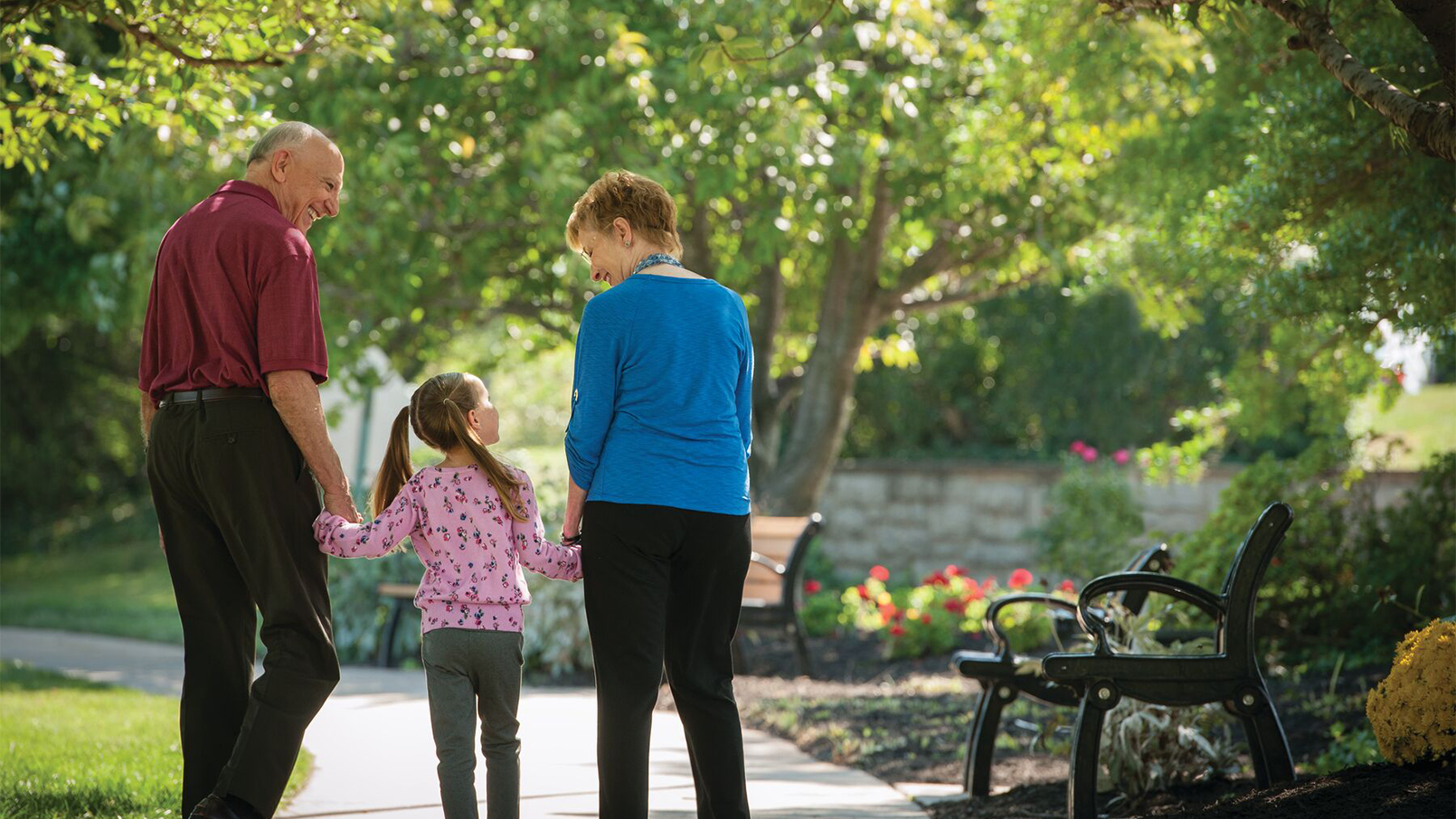 A walk along a beautifully landscaped trail. A spirited game of bocce ball with friends. An al fresco dinner with neighbors on a summer evening.
These are just a few of the ways that residents at Erickson Senior Living communities enjoy the serenity of the outdoors in a secure, peaceful environment. 
We recently spoke with Sarah Kokinos, vice president of community living for Erickson Senior Living, to learn how outdoor activities and amenities help residents stay active and engaged. 
Q: How does spending time outdoors reinforce Erickson Senior Living's commitment to resident health and well-being?
A: Studies show that spending time outside supports physical fitness, mental health, and overall well-being, which acts as the foundation for Erickson Senior Living's Embrace Well-Being program. The importance of the great outdoors is integrated into the program's three key areas: 
My Mind references the positive effects that time spent outdoors has on one's mood and perceptions. My Body recognizes the physical benefits of fresh-air routines, like walking or biking. Lastly, My Connections is tied to our outdoor spaces, which set the stage for a variety of social activities with neighbors, family members, and friends.
Outdoor community amenities provide residents with the opportunity to enjoy these benefits on a daily basis.
Q: What are the most popular outdoor amenities at Erickson Senior Living communities?
A: Our communities have so much to offer! Residents often say how much they appreciate the vast acres of outdoors space that are filled with amenities and gathering spaces.
So, it's no surprise that campus trails have always been a favorite at Erickson Senior Living communities. On any given day, you'll find residents strolling and biking along well-maintained paths. 
Residents are also benefiting from a recent multimillion-dollar investment from the Well-Being Fund, resources specifically devoted to enhancing existing amenities and adding popular new features throughout our national network of communities. We collaborated with residents, and, based on their interests, added new pickleball and bocce courts, dog parks, putting greens, and more. 
Several communities decided to create beautiful meditation gardens, which offer a quiet spot for reflection and an opportunity to relax in a peaceful environment. New patios, firepits, and other areas are great gathering places for residents to come together, enjoy refreshments, and socialize with friends. 
All of our communities are professionally designed and maintained, creating picture-perfect, scenic landscapes for resident photographers and painters. Many Erickson Senior Living campuses have ponds, as well as gardens where residents can grow flowers and vegetables and keep an eye out for native butterflies and birds. 
We're excited about these enhancements, and we look forward to working with residents to continue to meet their evolving needs!
Q: What role does the outdoors play in daily community life?
A: As we've learned during the past three years, outdoor space adds a dynamic element to everyday life. Whether it's with neighbors, family, or friends (or all three!), residents have plenty of opportunities for entertainment and socialization at our communities.
Our outdoor amenities are designed to inspire connections. For example, our dog parks offer space for canine companions to play while their owners sit and chat. And, whether it's just for fun or in friendly competition, residents come together to participate in morning putting challenges, afternoon bocce practices, and after-dinner pickleball games. 
When family members come to visit, it's such a delight to dine al fresco, walk around campus, or take in the stunning scenery.
There's truly something for everyone in the great outdoors!
Q: What makes summer such a wonderful time to move to an Erickson Senior Living community?
A: There's nothing like a community in full bloom, where everyone is taking advantage of the array of amenities, inside and out. There is a vitality you can feel as soon as you walk on campus - seeing residents tend to a garden space, birdwatch, socialize with neighbors, or relax with a cup of coffee or iced tea. The warm, welcoming environment at our communities is never more evident than in summer.
And with so much to do, meeting new people and getting involved in activities couldn't be easier! Our communities have numerous resources to assist with your move, so I would encourage Tribune readers to take advantage as soon as you can.
Don't wait to transform your retirement! Start enjoying worry-free living on a picturesque campus with beautiful outdoor amenities at an Erickson Senior Living community near you.
Back