Maris Grove Senior Living Couple Researches Roots of Their Family Tree
By Michele Harris
January 24, 2022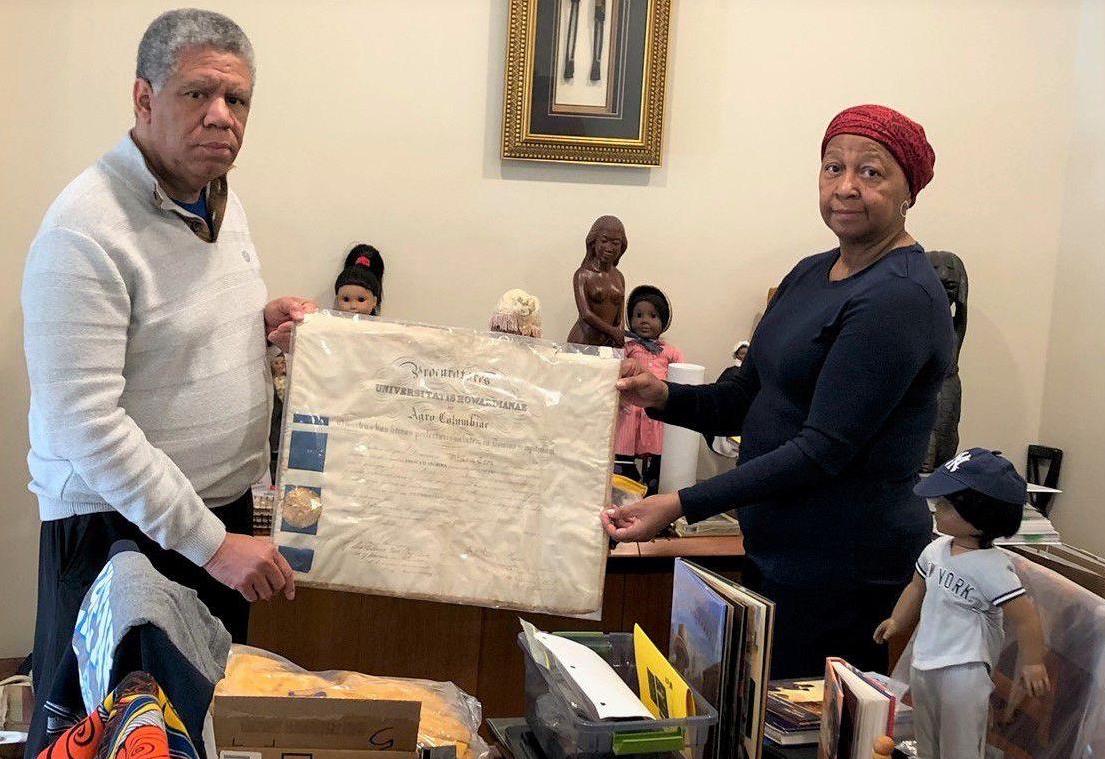 Kits that analyze DNA to determine genetic heritage use complex algorithms to categorize samples. So the more samples in the database, the more accurate the results.
Tracing your family tree the "old-fashioned" way is a lot more involved, but it's also a lot more rewarding than the results offered by commercial DNA test kits.
Learning about 10 Generations of Family History
Melva Shipley, who lives with her husband DeWitte at Maris Grove, an Erickson Senior Living community in Glen Mills, Pennsylvania, found that diligence paid off - it took about 12 years to trace DeWitte's family back 10 generations.
After retiring from a successful career as a schoolteacher, Melva became fascinated by genealogy after viewing a video recording of DeWitte's aunt.
Putting Together the Family Puzzle
"She was the family griot [a storyteller who recounts the family's oral history]," says Melva. "She knew the story. She started saying things and it was like breadcrumbs or a puzzle that you had to put together to form a picture."
Melva followed those breadcrumbs and slowly started filling in the branches of DeWitte's family tree. After hours of online and in-person research, she traced DeWitte's family to the Carroll family of Maryland, one of the wealthiest families in the American colonies.
Melva discovered that many of the slaves who worked on the Carrolls' plantations were Shipleys. Through her diligence, she ultimately found DeWitte's seventh great-grandmother, Lucie, who was purchased by the Carrolls in 1692.
Knowing about family members who endured through the most horrific chapter of American history has profoundly impacted DeWitte. "As the only child of an only child, she has given me a history and a place in my family," he says. "It ties me to people I didn't even know existed."
Tracing Back Your Roots
Melva says that the best way to start a genealogy research project is to talk to relatives and close family friends about your family's history.
Melva used online resources like FamilySearch.com, a free genealogy website, and Ancestry.com, which charges a membership fee. (Many library systems offer free access to Ancestry.com.)
Taking a Trip to Discover Your Family's Linage
The Shipleys also took several road trips to examine records at the National Archives, the Library of Congress, and the Maryland State Historical Association. They also visited some of the former plantations owned by the Carroll family.
Melva tells people to look into local newspaper archives. "Back in the day," she says, "newspapers announced births, deaths, marriages - that kind of thing."
She also recommends visiting funeral parlors and cemeteries used by the family. They have a lot of information that you might not consider such as who paid for a funeral or even who else is in the burial plot.
Helping Others With Their Ancestry Journey
As for Melva, she is using the skills and know-how gained from researching DeWitte's family to uncover her family's lineage. She has a long way to go, but so far, she has traced the family back to her ancestor Daniel Webb, who appears to be connected to the family of Martha Washington.
"There are highs and lows in the process," says Melva. "It's almost like a soap opera where you find out one thing and then that leads to a lot of other developments. You start to see how it's all intertwined," says Melva.
To learn more about the amazing stories of our residents at Maris Grove Senior Living, request a brochure today!
Back