Erickson Senior Living's Health Plan Earns Top National Ranking for Fourth Consecutive Year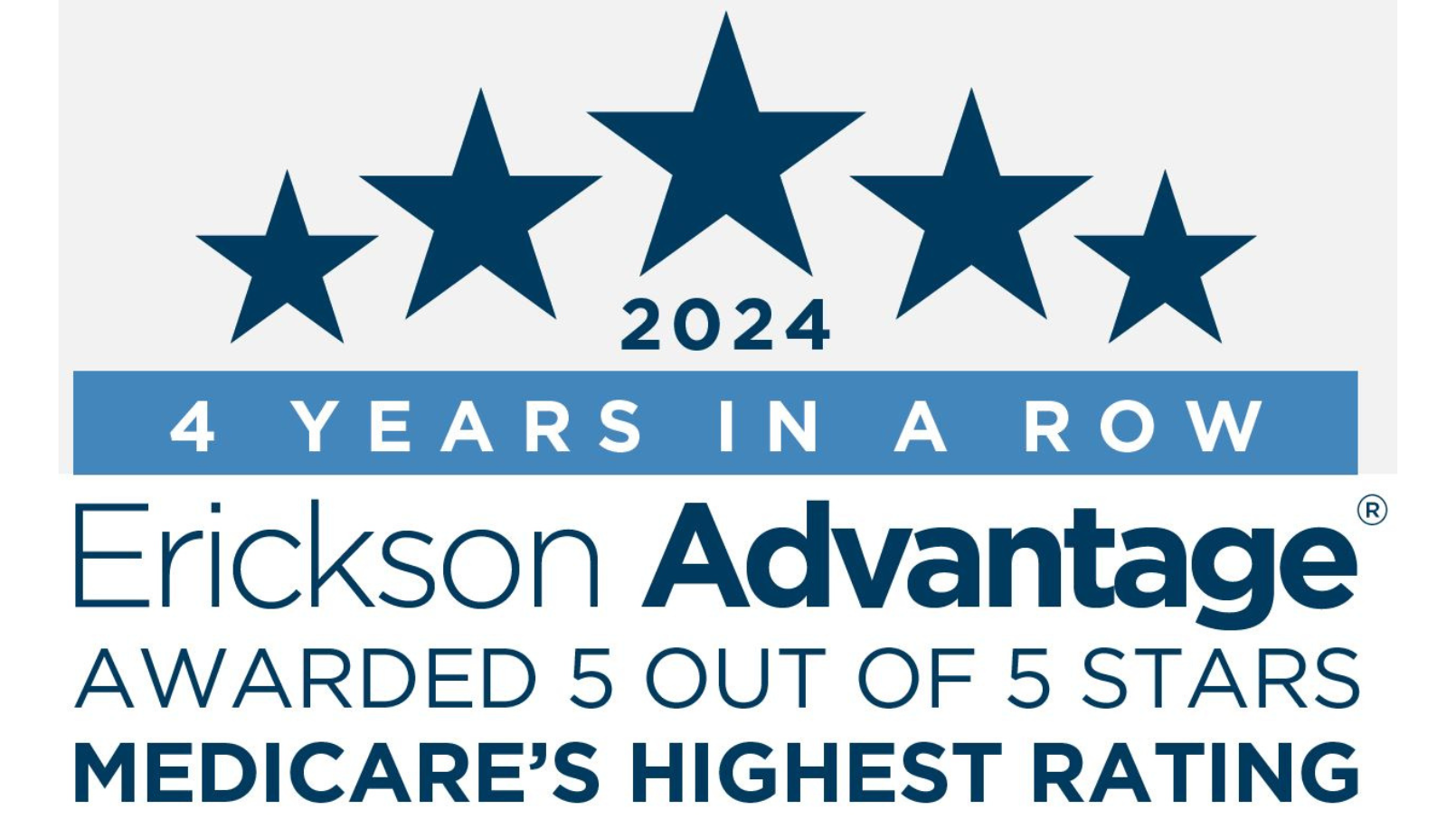 Erickson Senior Living, a national leader in managing and developing continuing care retirement communities, announced today that its health plan, Erickson Advantage, has received a 5-out-of-5-star overall rating from the Centers for Medicare and Medicaid Services (CMS) for the fourth consecutive year. 
According to CMS, the Star Ratings system helps Medicare consumers compare the quality of Medicare health and drug plans being offered so they are empowered to make the best health care decisions for them. An important component of this effort is to provide Medicare consumers and their caregivers with meaningful information about quality alongside information about benefits and costs to assist them in being informed and active health care consumers.
Erickson Advantage is designed exclusively for residents of continuing care retirement communities managed by Erickson Senior Living. The CMS 5-star rating is a reflection of the quality care and top-rated customer service that Erickson Advantage members have come to expect. Only 31 of the 545 Medicare Advantage health plans have achieved the CMS 5-star standards for quality, member satisfaction, and customer service for the 2024 plan year.
"We are proud to see Erickson Advantage earn the prestigious CMS 5-star rating for the fourth year in a row," said Dr. Matthew Narrett, M.D., Erickson Senior Living's chief medical officer. "It speaks to the confidence that residents enjoy when they choose one of our health plan options. Erickson Advantage members benefit from an integrative health and well-being model supported by a team of experts who help them make the most of the vibrant lifestyle Erickson Senior Living communities offer."
The Part C 5-star rating is the highest rating a Medicare health plan can receive for quality in five categories: 
Staying healthy
Managing chronic conditions
Ratings of responsiveness and care
Complaints and appeals
Health plan customer service. 
The Part D 5-star rating is the highest rating a Medicare drug plan can receive for managing the delivery of pharmacy services to include: 
Drug plan customer service
Member complaints
Member experience
Drug pricing and patient safety. 
Erickson Advantage Medicare Advantage health plans are offered through UnitedHealthcare Insurance Company, and are only available to residents of Erickson Senior Living's national network of managed continuing care retirement communities.
Plans are insured by UnitedHealthcare Insurance Company or one of its affiliated companies, a Medicare Advantage organization with a Medicare contract. Enrollment in the plan depends on the plan's contract renewal with Medicare. Every year, Medicare evaluates plans based on a 5-star rating system. This 5-out-of-5 star rating applies to Contract Number H5652 for the years 2016, 2017, 2021, 2022, 2023 and 2024.
Erickson Senior Living is a nation-leading developer and manager of continuing care retirement communities. Its national network of communities offers residents and employees a vibrant lifestyle and work environment, financial stability and benefits, and a commitment to health and well-being. Erickson Senior Living and National Senior Communities, Inc. (NSC) work together to provide these benefits at the best possible value.
Back