Enjoy the Carefree Lifestyle of Erickson Senior Living Communities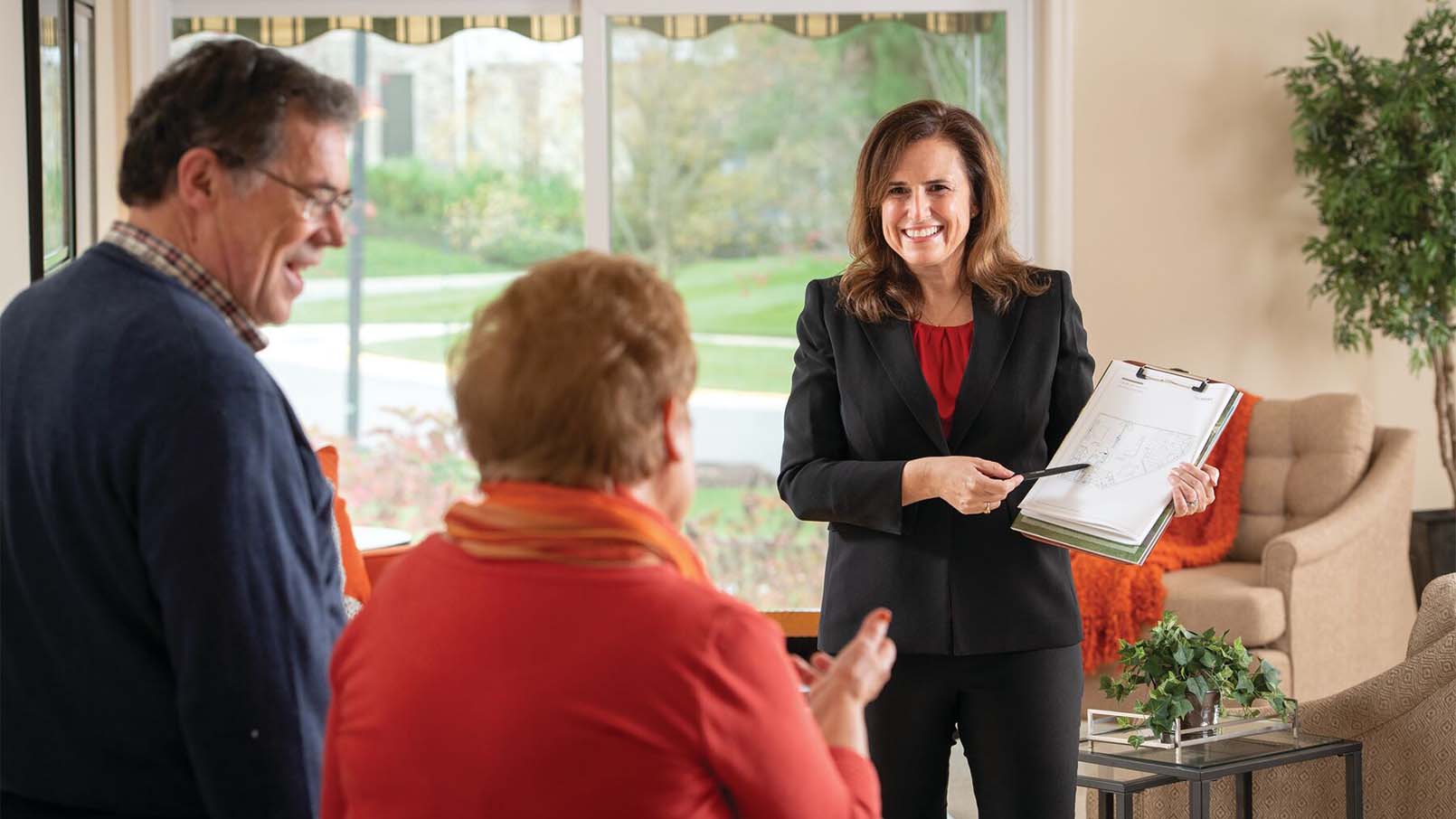 You have worked hard, raised a family, and prepared for retirement. You earned a bright future!
But how do you put yourself in the best position to enjoy this next chapter? There are so many options, but fortunately, Erickson Senior Living communities offer a maintenance-free lifestyle that gives you the freedom and confidence to choose your own path.
We recently spoke with Program Director Sharon Baksa of Erickson Realty and Moving Services. In our interview, Sharon discussed the advantages of moving to one of our communities and the benefits of leveraging the realty and moving services program.
Q: How rewarding is it to see residents enjoying the Erickson Senior Living lifestyle?
A: I see so much joy on the faces of residents when I visit our communities across the country!
For me, it stems from taking advantage of the opportunity to reframe their lifestyle with intention. One of the most impressive aspects of an Erickson Senior Living community is that the entire campus is really your home. Many of the hobbies our residents liked during their pre-retirement years are now readily available - and there's no need to make a reservation or worry about traveling in inclement weather.
The fitness center, the art studio, and the swimming pool are all conveniently located to use when they feel compelled to visit them. Essentially, the reward of leading a more fulfilling life is just steps away.
Q: How do Erickson Senior Living communities provide residents with confidence in their financial future?
A: I think most people today desire to live like they are retired, but without concern for financial pressures and time constraints. The reality, however, is that maintaining a house can drain both your financial resources and freedom.
In my conversations with residents and their family members, they are often amazed at what we offer - a stylish home that meets their budget, plus access to a host of amenities and services. Erickson Senior Living residents can be more intentional about being with their family and friends and doing the activities they enjoy. Our ability to package their traditional living costs into one predictable expense each month really affords residents the gift of time.
Q: Residents often say that eliminating the burden of home maintenance was a key factor in their move. Why is this so appealing?
A: The worry of maintaining a house can hinder many people's dreams of living life to the fullest during retirement.
When you visit an Erickson Senior Living community, you can see and understand how much simpler life is when these obligations are no longer an issue. There's no concern about shoveling snow, cutting grass, or fixing a leaky roof - all of the typical "to-do" items for those who care for their property or pay a service to take care of those tasks. Instead, our residents make one phone call to get their needed assistance. They have more time to actually enjoy the amenities and beautiful grounds at the communities in which they live.
Q: Moving can be challenging for people of all ages. How does Erickson Senior Living make the process as smooth as possible for seniors?
A: Together with each newly reserved resident, we create an individualized game plan that takes the guesswork out of the equation.
What are the benefits of Erickson Realty and Moving Services? We partner with trusted local professionals, such as real estate agents and downsizers, to bring the best sale price to the seller. Our planning consultant will then help new residents design their "dream home" to showcase their personal belongings and decorating style. Lastly, our moving partners will take on the heavy lifting when it comes to downsizing, packing, delivering, and organizing their most-valued items in their new home.
We are very flexible - this plan can be developed over the course of two years or two weeks before a move-in, and we offer financial incentives to utilize these services. Our team is always happy to get started as early as you are.
Q: Many new residents move to Erickson Senior Living communities in the spring. Why is this such an ideal time to enjoy the lifestyle?
A: Spring is the ultimate time of renewal! The weather gets warmer, and we long for sunny days.
But homeowners also have to take inventory after the long winter season. There's often yard clean-up to do, clogged gutters to clean, and fences to repair.
Fortunately, Erickson Senior Living communities present an appealing option. Rather than spending another spring focusing on chores, residents are already taking advantage of the "great outdoors" - exercising on walking trails, taking in the rebirth of nature, and preparing vegetable and flower gardens for planting.
Spring is also the traditional season of possibilities when it comes to real estate! Many future residents take advantage of a seller's market and use our services to make their dream of living in an Erickson Senior Living community a reality.
To learn more about the amenities, programs, clubs, and stylish apartment homes at an Erickson Senior Living community near you, request a free brochure. You've earned it!
Back