Create the Lifestyle and Living Space That's Right for You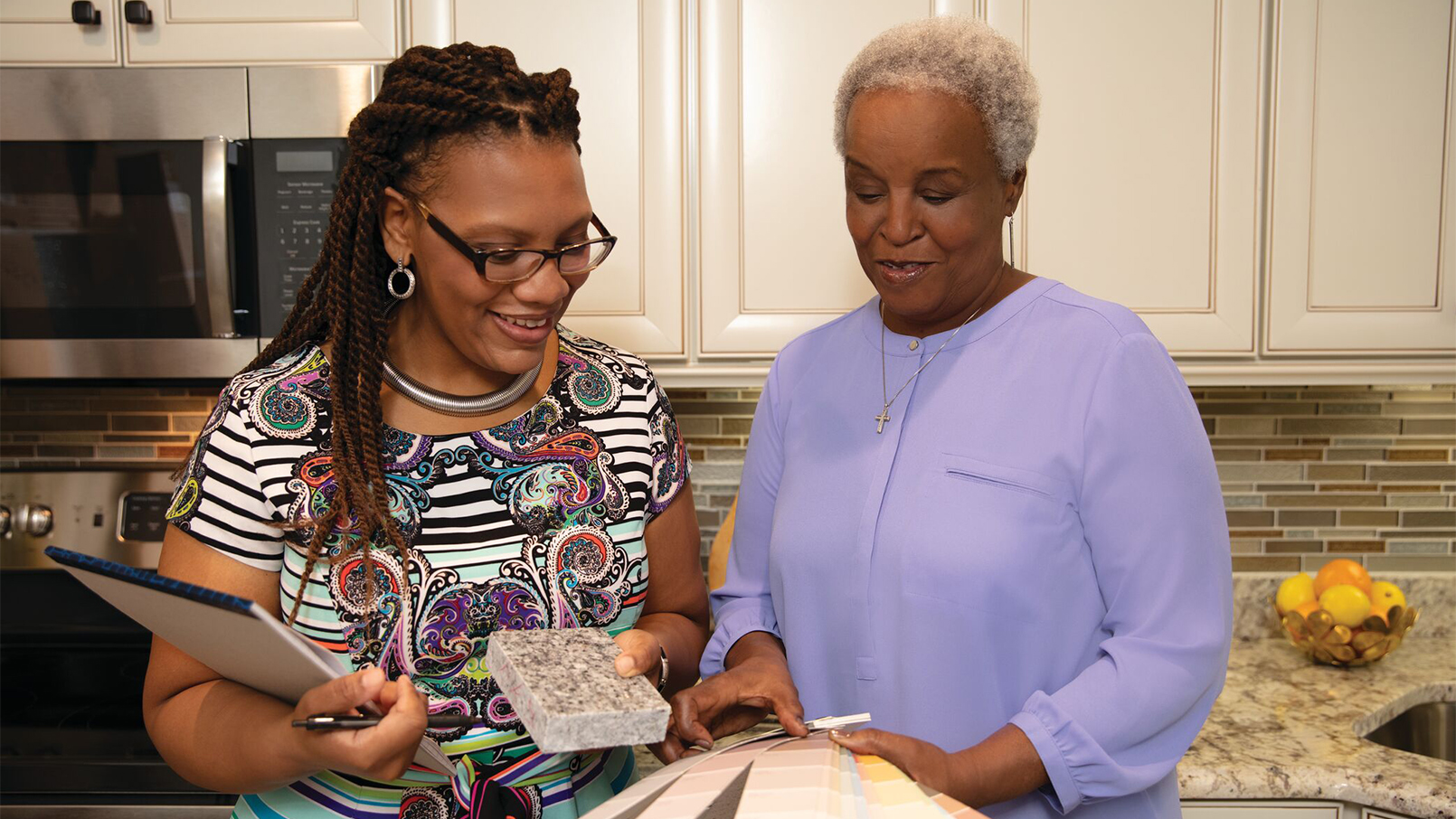 They say your home is your castle, and this is certainly true for residents of Erickson Senior Living communities. From the moment they select an apartment home, they have the chance to put their personal stamp on everything--design, décor, storage, and so much more.
We spoke with Nicole Newberry, senior interior design director at Erickson Senior Living, to get her take on current design trends and learn how her team helps residents create their dream homes.
Q: Why is it important to offer residents the opportunity to customize their apartment homes?
A: Residents want their homes to reflect their new lifestyle and personal tastes. We offer a wide variety of apartment home options, so they can choose the one that best suits the way they want to live, now and in the future. In fact, most of our communities have 20-plus floor plans for people to choose from.
Our apartment homes are designed to make daily living as convenient and comfortable as possible. Services and amenities, such as restaurants and fitness centers, are located close to each apartment home, and the entire community encourages engagement and socialization.
For those moving to an Erickson Senior Living community, creating a personalized space can enhance their active lifestyle--whether it's a new design from start to finish, or a fresh way of displaying cherished furnishings and items they already own.
Q: Why is offering so many floor plans beneficial?
A: Offering an array of stylish floor plans allows people to choose the space they prefer, which is so important for a new home. Whether it's to accommodate their social calendar filled with entertaining or to create an area for reading and relaxing, there is something for everyone. No matter what people are looking for, our goal is to provide them with the appropriate space to enjoy a fulfilling retirement.
Q: What design trends are residents most interested in?
A: There are several trends that we are following and implementing for prospective residents! Storage solutions are especially popular, as people today are looking for ways to organize their items in a stylish and streamlined way. Custom closet systems and shelving reconfigurations are both great options to help accomplish this.
In terms of color, we're seeing warmer tones take over--in contrast to the past few years of decorating primarily with cooler tones.
Another big-impact design choice is flooring. We are seeing an increased preference for flooring that looks like wood rather than traditional solid hardwood, as it creates a quieter environment, is softer underfoot, and is easier to maintain.
Our residents have so many choices to consider, and our teams are happy to help! 
Q: How do teams work with residents to implement their personalized choices?
A: A team at each Erickson Senior Living community partners with residents to identify their own unique priorities for retirement living. With a variety of spacious, modern apartment homes to choose from and experienced planning and moving consultants to guide the way, it's easy for residents to bring their visions to life.
In-person community tours offer residents the opportunity to see, touch, and experience all of the different styles for themselves and make informed decisions. Each Erickson Senior Living team also has a local network of professional, vetted resources who can fulfill residents' needs with high-quality products and services. 
With the support of these teams, Erickson Senior Living residents enjoy a stress-free moving experience!
Q: With so many design options, why is now the time to move to an Erickson Senior Living community?
A: Exploring your choices and envisioning a fresh, new space, particularly during spring selling season, is exciting!
With a focus on personal choice and preference, Erickson Senior Living recognizes the individuality of each prospective resident when it comes to selecting the right apartment home. We want to make it as easy as possible to start your new lifestyle, whether it's scheduling a visit at your local community, looking at floor plans online together, or conducting a virtual apartment home tour.
We respect your unique tastes and will always adapt to meet your needs. I encourage you to contact us to take the next step!
Erickson Senior Living has an apartment home that fits your lifestyle, preference, and budget. To learn more, request a free brochure today.
Back