Can Where You Choose to Live Improve Your Life?
By Michele Harris
December 1, 2021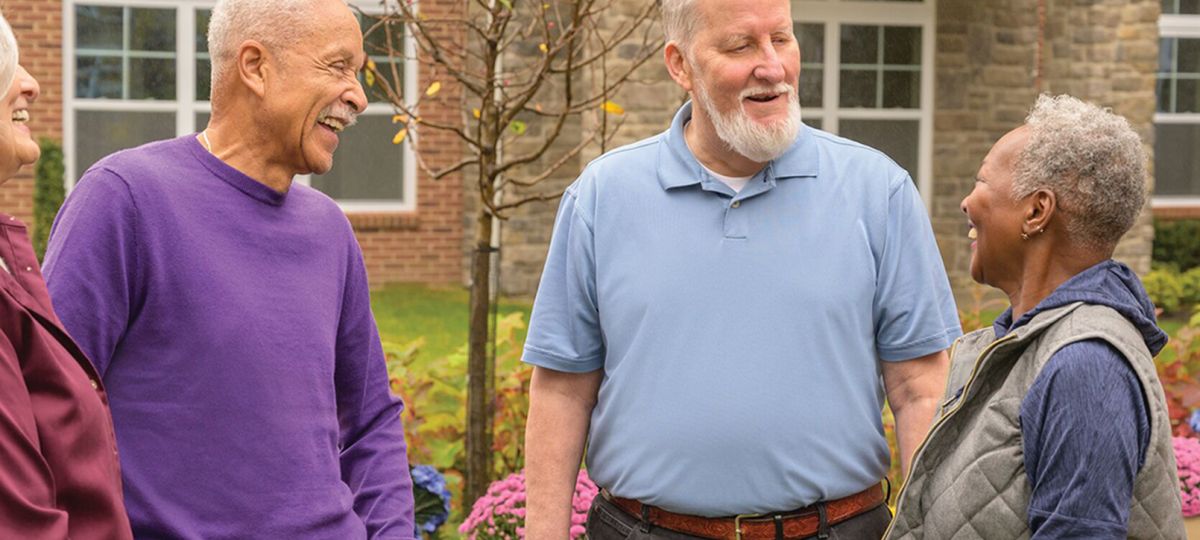 What choices do you make in the interest of your own good health? Do you choose to eat right? Exercise? Manage stress? Wear sunscreen?
What about where you choose to live? 
People don't realize that one of the most fundamental aspects of day-to-day life—where you choose to live—can have a significant impact on your health and well-being.
Residents of Continuing Care Retirement Communities (CCRCs) often say they feel healthier and happier since making the move. A ground-breaking long-term study confirms that with quantifiable data. According to the Mather Age Well Study, residents of CCRCs are living healthier and happier lives because of where they chose to live.
What is a CCRC?
CCRCs, like the communities managed by Erickson Senior Living, offer older adults a continuum of care.
Independent living residents move into updated, stylish apartments in communities with a wide array of amenities. There are restaurants, cafés, bars, and convenience stores on campus. There are state-of-the-art fitness centers staffed by experts. There are clubs, special events, and classes that give residents opportunities to engage in activities they enjoy and to meet others who share their interests. Many communities offer on-site medical centers staffed by health care professionals who specialize in senior care.
If a resident becomes unable to live independently, assisted living care is available on the same campus. There is also a long-term nursing care center for those who need more support.
The Age Well Study
Conducted by the Mather Institute in partnership with Northwestern University, the Mather LifeWays Age Well Study examined the impact of CCRC living on residents' health, happiness, and wellness.
The first year of the five-year study showed that CCRC residents reported higher levels of health and wellness compared to older adults in the community at large. CCRC residents also reported greater emotional, social, physical, intellectual, and vocational wellness than the control group.
Significantly, the study also showed that CCRC residents engaged in more healthy behaviors—such as regular exercise, a good diet, and other healthy lifestyle choices than people living in other types of senior communities.
The majority of surveyed CCRC residents also said that moving to a CCRC "somewhat or greatly improved" their sense of connectedness and belonging within their community.
The study also found that people living in CCRCs with entrance fees had healthier diets, lower levels of depression, and better overall health than seniors living in rental communities, perhaps due to the ease and availability of options for dining, socialization, and fitness.
And because size matters—people who live in larger CCRCs with 300+ residents reported greater life satisfaction, less stress, more positive perceptions of aging and higher perceived control over their lives than the control group.
A place where people thrive
Catherine O'Brien, Ph.D., assistant vice president and director of the Mather Institute, led the Age Well study. She says her group surveyed more than 5,000 seniors living in over 80 CCRCs. Their responses were compared to a control group of older adults in the general population.
"At a minimum," says O'Brien, "We are seeing that CCRCs are places that support wellness across all these different areas and it's a place where people can and do thrive."
The big takeaway of the study is that CCRCs impact health by offering an entire package of amenities that, together, give residents opportunities to live their best life.
Encouraging healthy behaviors
Furthermore, the social component of community living can motivate people to try new things—including healthy behaviors.
"Having a positive outlook and attitude, developing a greater sense of purpose, becoming engaged with a social community—these things are really important on multiple levels in terms of personal satisfaction but also in terms of one's health," says O'Brien. "We realized that CCRCs were designed to support those aspects of wellness, so it makes sense that people living in that environment would then benefit in those ways.
O'Brien says she hopes older people will consider the results of the study and how they can take some additional steps for the benefit of enhancing their own wellness.
At Erickson Senior Living communities, helping residents stay healthy and active is our first priority. To learn more about our health and well-being services, request a brochure today.
Back