Upgraded Amenities at Highland Springs Support Residents' Well-Being
By Susan Ingram
October 27, 2022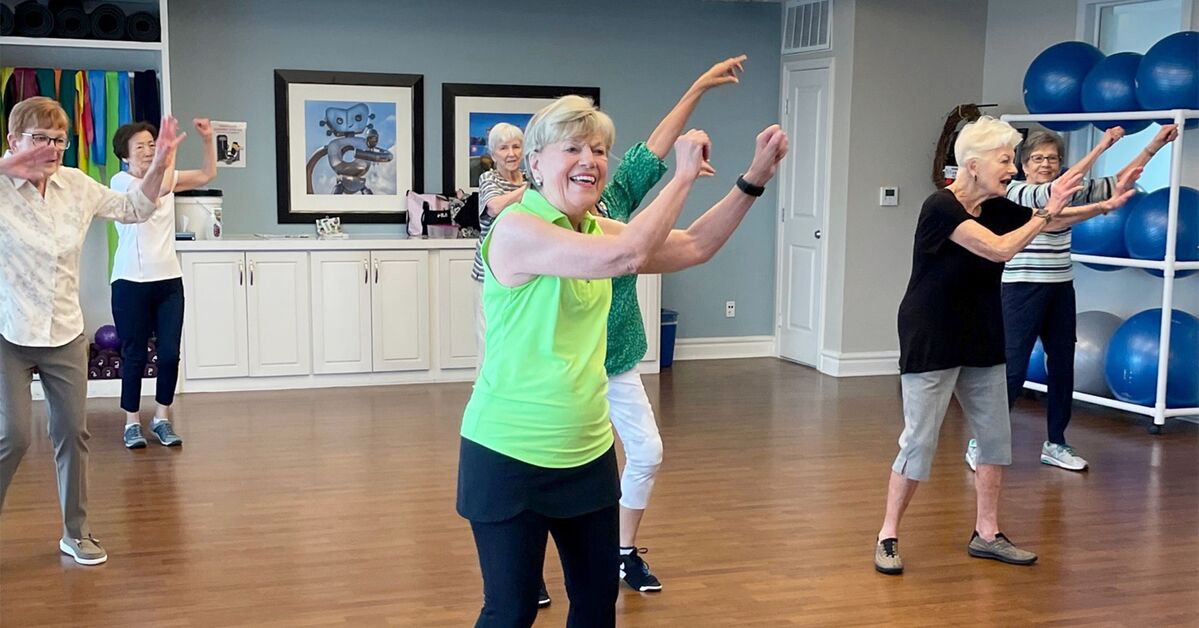 Being active is one of the best ways to enjoy a fuller, more satisfying life. At Highland Springs, an Erickson Senior Living community in North Dallas, Tex., residents are finding it easier than ever to get involved!
Highland Springs' state-of-the-art fitness and aquatics centers offer an abundance of opportunities that support physical, mental, and spiritual well-being. From relaxing, meditative classes like yoga and mindfulness practices to invigorating workouts like aerobics and Zumba, residents find a range of ways to better their overall health.
A 'win-win'
Toni and Tim Hartman, Texas residents of 35 years, moved to Highland Springs in 2018.
"I didn't exercise when I was young, but Tim was quite an athlete!" Toni says. Compelled by her husband's fitness journey and her new lifestyle at Highland Springs, Toni decided to get active as well.
"We became a tennis and skiing family," notes Toni with a laugh. "We exercise to keep in shape. I had never done group exercise before moving here, but I love it! With a group, it's so much more fun."
Staff and resident-led programs allow Highland Springs residents to form new friendships while caring for their health and well-being.
"The caliber of our instructors is incredible. I participate in Zumba, yoga, and Pump It Up!, which is a mix between lifting weights and Pilates. And there are even classes taught by really knowledgeable residents. It's a win-win situation!"
Dedicated to well-being
"Everything is connected," says Fitness Manager Nicole Eison. "Staying physically active helps your brain, even from an emotional standpoint - you get those endorphins going! The best part is that we have fitness options for everyone. Providing the resources to help residents care for their well-being - in a way that interests them - is our priority."
That same sentiment is shared by Erickson Senior Living.
This year, Erickson Senior Living provided a multimillion-dollar investment, through its Well-Being Fund, to support the addition of enhanced health and well-being programs and services to residents.
Incorporating findings from the company's research partnership with Harvard University and the Benson Henry Institute (BHI) for Mind Body Medicine at Massachusetts General Hospital, these additions are designed to enhance the physical, emotional, and social well-being of residents.
In 2021, residents at selected Erickson Senior Living communities participated in the Embrace Well-Being and Flourish study, which used the BHI's SMART (Stress Management and Resilience Training) curriculum to provide them with practical strategies for managing stress and improving resiliency. Results of the study showed statistically significant changes, including increases in resilience, coping, and positive emotions, while decreases in distress and social isolation were seen.
Seeing the investment
Residents at all Erickson Senior Living communities now have greater access to tools and strategies that support resilience and overall health and well-being. Examples include Wellbeats, a new fitness app which allows residents to participate in on-demand and live exercise, yoga, and meditation classes from any location.
At Highland Springs, residents now enjoy an upgraded fitness center, complete with new NuStep and Matrix elliptical machines, recumbent bikes, treadmills, strength equipment, Echelon rowers, and Reflect fitness mirrors.
Enhanced indoor and outdoor amenities include meditation spaces, refurbished putting greens and a golf simulator, disc golf, enlarged dog parks, and more!
"Many residents tell me how much they appreciate all there is to do here," adds Eison. "These investments from the Well-Being Fund - on amenities that residents love and enjoy - have already started to pay off."
Sense of community
Beyond the community's fitness offerings are opportunities for social and spiritual engagement. Whether you choose to meet friends at one of Highland Springs' top-notch restaurants, interact with like-minded people at hobby-oriented clubs, or attend one of the many pastoral care services and events, there are plenty of ways to get involved.
For Toni, music is a huge part of her well-being. She is one of 54 members in the Highland Springs chorus, which performs three times a year. And there is music in her fitness classes, too.
"For me, there's a mind, body, and spirit connection in music," Toni says.
Driven by her active lifestyle, Toni encourages friends and neighbors to join the many classes and activities that Highland Springs offers.
"Toni is a group cheerleader!" says Eison. "She lets people know about our instructors and the camaraderie found within each group. Residents here feel a sense of community, and they care about each other. They'll encourage other people to get active."
Invest in your future self at Highland Springs. From top-notch amenities to affordable, maintenance-free apartment homes, you are sure to live your retirement to the fullest. Request more information today!
Back