Two Generations Enjoy the Worry-Free Lifestyle at Highland Springs
By Susan Ingram
September 19, 2022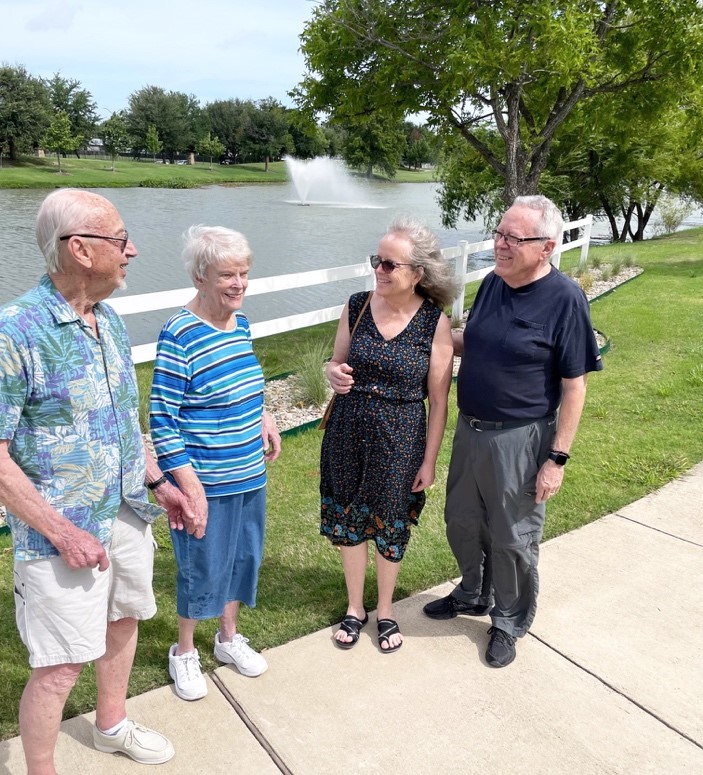 When Elaine and Jim Heinemann's large house in Colorado became more of a burden than a haven, the couple considered moving to a retirement community.
After visiting friends at Wind Crest, an Erickson Senior Living community in Highlands Ranch, Colo., the couple was impressed by the community's active lifestyle. Then, once they discovered Highland Springs, another Erickson community in North Dallas, Tex. - not far from their daughter and son-in-law's house in Plano, Tex. - they were sold.
And, eventually, their daughter Lynne Darrouzet and her husband were sold too. Now, thanks to Highland Springs' maintenance-free apartment homes, both couples are living their retirement years to their fullest.
'Just right for us'
Native Coloradans Elaine and Jim moved to California and raised two children there, but the mountains west of Denver never stopped calling them back. After Jim's retirement, the couple returned home and lived there happily for 19 years. 
"We loved living there. The kids would come and visit us. But it was a huge house," Elaine recalls. "We were looking at Wind Crest when we decided to sell our house. But then we reconsidered, thinking that maybe we should move closer to one of the children."
The Heinemanns then toured Highland Springs and were impressed - so much so that in December 2016, they moved to the community. Since then, the couple has thoroughly enjoyed their two-bedroom, two-bath Somerton apartment home.
"We like it very much. It's just right for us," Elaine says. "We have a courtyard below us, so there's lots of trees and birds, which makes it nice. Very quiet."
Parents know best
After growing up in California, Lynne moved to Oregon for law school and later got a job at the University of Texas, where she met her now-husband John. They eventually moved to Plano - only five miles from Highland Springs - and watched with interest as the community was being built.
"We were always kind of intrigued," Lynne says. "Actually, long before we thought about living there."
When her parents started seriously considering Highland Springs, Lynne and John decided it was time for them to consider a move too. They joined Highland Springs' priority list and were members until they moved in about a year ago.
"The priority list is much more than a waiting list. It allows prospective residents to reserve apartment homes before members of the public," says Sales Director Christina Christie. "Members also get exciting perks, like invitations to special events and parties, community updates, and realty and moving services from our personal moving consultant."
Thanks to their priority status, Lynne and John gained early access when the Lancaster floor plan was introduced - a two-bedroom, two-bath apartment home with a sunroom. "We're right down the hall from Chisholm's and Fireside restaurants," John says. "It's very centrally located - Lynne fell in love with it immediately."
Staying active, together
Jim, Elaine, Lynne, and John got involved in community life right away, choosing from the scores of clubs and activities.
Jim enjoys working out at the fitness center three times a week, and Elaine, an avid bridge player, has joined multiple bridge groups.
"I knew I was going to be interested in exercise programs and literary groups," Lynne says.
John joined the community's chorus - with some encouragement from Elaine - and later accepted the role of editor for Highland Springs' resident monthly newsletter, Voices. "I wouldn't take the position unless Lynne could be coeditor," Johns recalls. "And thank goodness she is! It's a very interesting learning curve. There are all sorts of activities here."
Family dinners
Meanwhile, Highland Springs' worry-free lifestyle means neither couple has to handle home repair hassles, leaving more time for what's really important - family. They also appreciate not having to plan, cook, and clean up meals. Eating together is something that everyone looks forward to.
"We're lucky to see them!" Elaine says, pointing to their jam-packed calendars. "But we do have dinner together once a week together, usually at Chisholm's or Reunion Grill."
"The meals are very good - healthy and nutritious too," adds John.
John and Lynne made it a point to dine with their other neighbors in the community as well. "Everyone has fascinating stories to tell," says Lynne. "We've met lots of interesting people and made some wonderful friends."
"It's great not having to worry about the gutters, the painting, the roof, nor the appliances!" she adds.
To learn more about affordable, independent senior living at Highland Springs, request your free brochure to get the scoop on amenities, floor plans, and so much more.
Back