Staff Members at Highland Springs Share a Commitment to Care
By Susan Ingram
February 28, 2023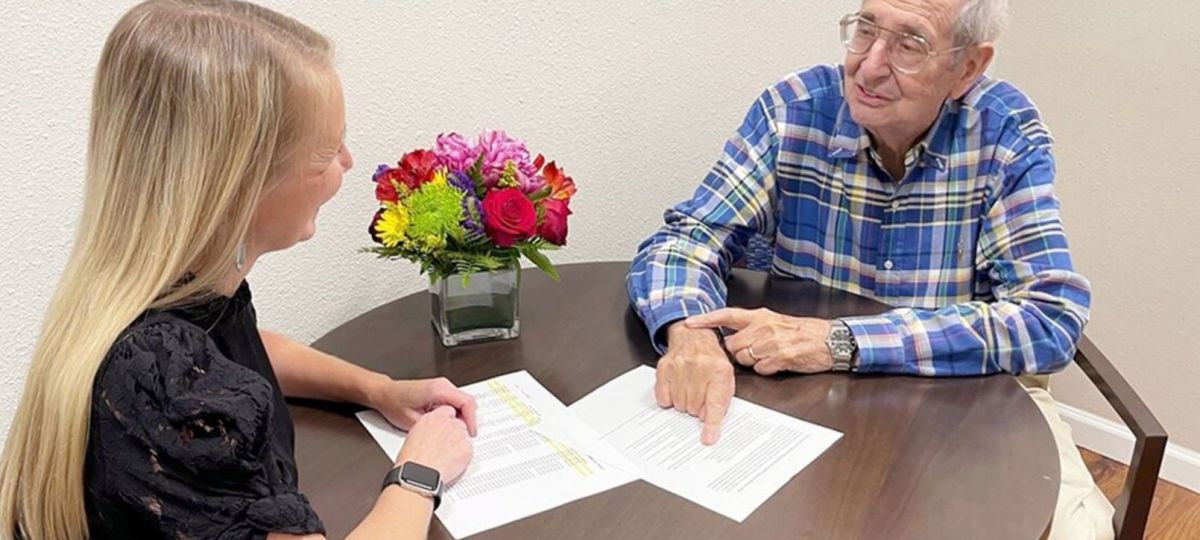 "There is an undeniable spirit here, and it's all thanks to the great efforts of our dedicated, talented staff who work with our energetic residents," says Matt Neville, executive director of Highland Springs, an Erickson Senior Living community in North Dallas, Tex.
As soon as you set foot onto the community's 89-acre campus, you realize the unique atmosphere.
"The residents really enjoy interacting with staff members, who take a real interest in their lives and well-being," adds Neville. "The intergenerational bonds formed here are warm and friendly, which makes living and working here such a pleasure."
Getting active and giving back
When Marvin Lane, an Illinois native who moved to Texas in 1958, was researching senior living options, he wanted to find a community that offered plenty of ways to get involved.
"I've always been very active in my local community," he says.
In addition to his career in engineering and finance at Texas Instruments, Marvin enjoyed serving his community. He helped church and PTA boards, served in local government and Dallas commissions, and volunteered with several community nonprofit organizations.
"When I discovered Highland Springs and saw that I had an opportunity to get involved, I signed up right away," he explains. "Since I moved in, I've been an active member of the Resident Advisory Council (RAC), and I've served on the council's finance committee."
Through his participation in the council, Marvin has collaborated with members of Highland Springs' staff and administration on multiple communitywide projects.
"I helped engineer some changes in how they presented financial pictures to residents. They adopted many of my suggestions!" Marvin recalls. "I think that shows you how we work together to better the community - that impactful, binding relationship between staff and residents."
The best talent
Erickson Senior Living and its national network of communities are committed to hiring the best talent in the industry to provide an excellent resident experience.
"Senior living should be considered a destination for career-driven people who possess a passion for serving others," notes Alan Butler, CEO of Erickson Senior Living. "We continue to innovate and train our workforce because the services we offer to residents are only as good as the people who provide them."
Many people choose to work at Highland Springs - and continue extending their careers at Erickson Senior Living - because of the many opportunities for professional and personal growth.
Humza Shaikh, who joined Highland Springs when he was in high school, says that his career advancement contributes greatly to his job satisfaction. Now, he serves as the assistant director of dining services.
"My supervisors have always wanted to help me grow. The community's supportive environment has been amazing," says Shaikh. "But residents are the most important piece of the puzzle - they bring everything to life!"
Shaikh is just one of many employees who appreciate the support and recognition they receive. In November, the community received a Top Workplaces 2022 Award from Dallas/Fort Worth Metro Area Top Workplaces - a ranking based solely on positive employee feedback.
Highland Springs also won the Active Adult Community category in the 2022 Best in DFW People's Choice Awards, presented by the Dallas Morning News.
In more ways than one, Highland Springs employees make a profound difference in the lives of residents.
Making a profound impact
From the knowledgeable sales associate who helps you find the perfect apartment home, to the fitness trainer who motivates you, to reach your goals to the enthusiastic servers at your favorite on-campus restaurant, it's the staff members who help make Highland Springs such a great place to live.
"Residents often share how much their lives have been enhanced through a creative act of kindness," notes Neville. "Maybe a custom interiors coordinator found an innovative design solution, or a restaurant general manager made a special occasion memorable. To our residents - and to our staff members - every detail counts."
Marvin, who appreciates the hard work of staffers, recognizes that his engaging, maintenance-free lifestyle wouldn't be possible without them.
"I think you'll find that the friendliness here, of both residents and staff, is unique. It doesn't compare to any other senior living community that I've come across," Marvin says. "I hear nothing but compliments about Highland Springs!"
If you are contemplating a move to senior living, just as Marvin was, consider the advantages of having caring staff members support you in all aspects of life.
Invest in your future self at Highland Springs. From top-notch amenities to affordable, maintenance-free apartment homes, you are sure to live your retirement to the fullest. Request more information today!
Back