Local, Fresh Ingredients and Socialization Make Dining a Distinct Pleasure at Highland Springs
By Susan Ingram
August 26, 2022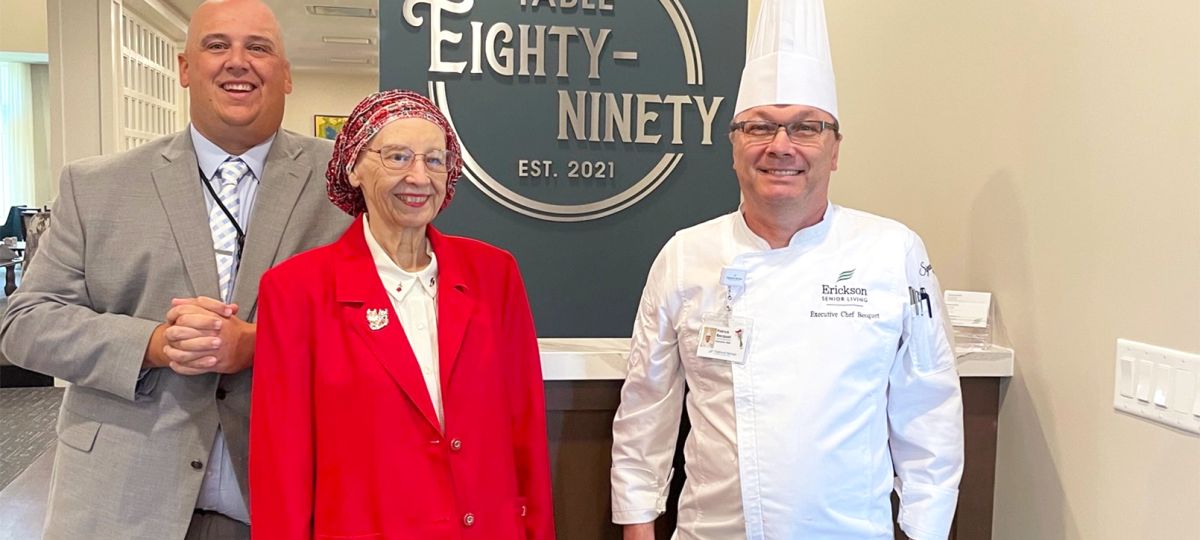 Enjoying a delicious meal is such a simple, yet satisfying, pleasure. At Highland Springs, an Erickson Senior Living community in North Dallas, Tex., residents delight in tastebud-tingling dishes every day of the week.
Highland Springs residents appreciate the abundance of restaurant options, where professional chefs regularly update menus to feature new selections and regional favorites, as well as vegetarian dishes.
Four new restaurants have opened since Jean Wood moved to Highland Springs with her husband Charles about six years ago. "Now, we have six restaurants, including the new Table Eighty-Ninety," says Jean, former chair of the Resident Advisory Council's dining committee.
The committee collaborates regularly with the dining services team to ensure that residents' feedback and requests are taken under consideration. Thanks to this partnership, "There are always exciting developments happening," says Jean.
Signature Dining
Highland Springs was the first Erickson Senior Living community to roll out the Signature Dining program, in which culinary professionals serve up made-to-order, flavorful meals, crafted with the freshest ingredients from local vendors. The community continues to set the bar high for innovative dining venues, creative menu selections, and fostering relationships through shared meals.
"Now more than ever, we recognize the value of a quality dining experience," says Executive Director Matt Neville. "Our Signature Dining initiative places an emphasis on delicious dishes that are prepared to taste and served with a smile."
Something for everyone
"Our goal as a dining team is to create destinations, not duplications," says Director of Dining Services Branden Williams. "We create menus for each restaurant, with the goal of providing our residents with as much variety as possible."
In the mood to linger over a sit-down, multicourse meal? Visit Chisholm's or the Reunion Grill. Prefer a panini or grilled wrap? You'll find them at Fireside Grille. Want a light, delectable salad or specialty flatbreads and pastas? Check out White Rock Bistro. If you're in the mood for a hamburger and a soda, amble on into the Lone Star Pub.
And Table Eighty-Ninety, located in the Edgewater Place residence building, is a new, sit-down restaurant featuring a unique bar area and contemporary cuisine. Steak béarnaise, a signature dish on the menu, has already become a resident favorite.
Jean says the ever-changing menus give her an opportunity to discover new favorites, like shrimp scampi, chicken carbonara, and roast duck. "There's such a variety that you'll consistently have new options to try, in addition to your go-to dishes," she says.
Regional favorites
Executive Chef Patrick Becquet says regional favorites always appear on the menus. "Texas has a strong culinary culture," he says. "We always include Tex-Mex and southern cuisine - chicken tortilla soup, chili, barbeque pork ribs, smokehouse barbeque brisket, and fried catfish, for example."
Becquet also notes that the chefs take great care to offer healthy-lifestyle and allergen-friendly choices. "We are dedicated to accommodating our residents' special dietary needs. We create most of our dishes from scratch, which allows us to cater to many lifestyles. We use extra caution when preparing dishes for our residents with a gluten allergy. We also have no-sugar-added desserts available and a vegetarian section on our menu that rotates regularly," says Becquet.
Nutritional information for all entrees served is available on My Erickson®, an app accessible to residents via a smart device. Residents can also preview menus and check meal balances on My Erickson®.
Time to socialize
At Highland Springs, eating a meal can be one of the most social times of the day. Whether you prefer a delightful sit-down dinner with friends or chatting over a cocktail, you'll find a dining style for every occasion.
"Dining is about relationships and people - making time together a priority," Williams says. "Sharing a meal creates a touchpoint with others."
Since moving to Highland Springs, Jean and Charles have enjoyed meals with new and old friends alike.
"Just recently, I made a reservation for four people, and when we got to the hostess stand, I let her know we had two spots open on our reservation," says Jean. "She seated us with another couple, granting us the opportunity to get to know some new faces."
Invest in your future self at Highland Springs. From top-notch amenities to affordable, maintenance-free apartment homes, you are sure to live your retirement to the fullest. Request more information today!
Back