Living Retirement to the Fullest at Highland Springs, Thanks to Worry-Free Lifestyle
By Susan Ingram
June 21, 2022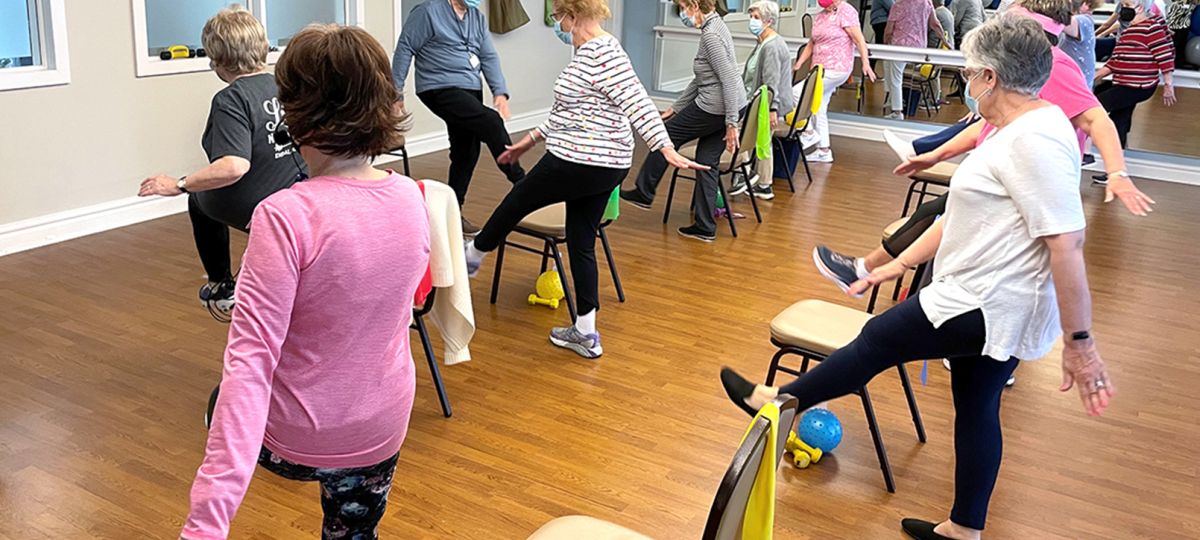 At Highland Springs, an Erickson Senior Living community in North Dallas, Tex., opportunities abound for residents to enjoy an active lifestyle. Being part of an engaging, carefree community ensures residents have the time to foster friendships and focus on maintaining their well-being.
"I knew about the atmosphere and the range of activities, but I didn't know how happy, friendly, and relaxed people are here," says Highland Springs resident Bill Sleeper. "It's a nice environment that supports connection and relationships - no matter who you are or where you came from."
Pursuing passions as a Senior
Even before Bill and his wife Mica moved to Highland Springs in 2018, they were familiar with the community's lifestyle. "I was the music director of the McKinney Community Band," Bill says. "We were the first band to play a Highland Springs' Christmas concert - the year it opened up."
Although Bill, a drummer, stepped down from heading the band, he still plays with local bands - and at Highland Springs. He translated his passion for music into exercise by starting an aerobics class called Fitness Beat.
"We exercise to 50s and 60s rock 'n' roll," he says. "I'm so gratified. The people in that class are really vibrant, healthy, and happy."
Hassle-free Senior Living
Maintenance-free living in the community's stylish, comfortable apartment homes grants residents the freedom to pursue hobbies, new and old.
"I don't have to do things I don't want to do - like mowing the grass!" Bill notes happily.
Bill and Mica also enjoy Highland Springs' flexible dining options at the community's multiple on-site restaurants. From upscale venues to casual bistros, the couple appreciates the variety of fresh, made-to-order meals - and not having to cook every day.
Whether it's participating in activities, artistic pursuits, or enriching volunteer opportunities, residents can be as social and creative as their imagination allows - especially when forming new clubs is so easy. Highland Springs features more than 180 resident-led groups, clubs, and service organizations.
"Highland Springs' large resident population translates into many activities and interests. New residents are bound to find people they enjoy spending time with, or groups they enjoy participating in," says Sales Director Christina Christie. "As part of a supportive, welcoming community, residents are eager to get involved and make connections. So many opportunities to engage are right at their fingertips!"
Bill and Mica are no exception.
Bill joined the Mighty Men social club, which is an "informal group of men who live in the Magnolia Place neighborhood," Bill says. For his Friday evening happy hour group, he organized a trip to a local hydroponic micro-farm. Mica stays engaged with watercolor and French classes, canasta, and volunteering.
No place like home at Erickson Senior Living
Mary Bendzick, a ten-year resident at Highland Springs, was also initially drawn to the community's welcoming atmosphere.
"When my husband turned 65, he decided we needed to move someplace that we picked, rather than someone else picking it for us," Mary said. "We visited six or seven communities, but we kept coming back to Highland Springs. It felt comfortable - like we were supposed to be here!"
A Minnesota native, Mary and her husband moved to Texas, living first in Denton and Argyle before making the move to Dallas. Another big draw for the couple was Highland Springs' continuing care model.
"Not having family nearby, and not knowing what our lifestyle was going to be, we wanted that availability of services," Mary explains.
When the couple was planning their move, they voiced their need for a flexible, wheelchair-accessible apartment home. The staff at Highland Springs was able to help them create the large layout they wanted by combining two apartment homes.
Although Mary was unsure of what their day-to-day schedule would look like at Highland Springs, she quickly adapted to the community's active lifestyle. When a friend asked Mary if she'd like to help out in the Treasure Chest, Highland Springs' resident-run resale shop, she agreed. And as a former thrift shop volunteer, Mary found her niche on campus.
She's been busy managing the Treasure Chest ever since, helping raise tens of thousands of dollars for resident and staff funds. Her late husband was also very active with his involvement in the Resident Advisory Council (RAC), the garden club, and the interfaith committee.
Friendly neighborhood feel for seniors
Mary encourages anyone thinking about moving to Highland Springs to get the ball rolling.
"You need to get on the priority list. This is the best thing you can do for your kids and family!" she says.
With her relatives out of state, she quickly formed a new family of friends on her own.
"No matter what you did in your previous life, here, you're a neighbor. It's a very comforting, warm feeling. The Highland Springs staff absolutely do their best to take care of us."
Invest in your future self at Highland Springs. From top-notch amenities to affordable, maintenance-free apartment homes, you are sure to live your retirement to the fullest. Request more information today!
Back