Highland Springs' State Clubs Bring Residents Together
Susan Ingram
November 18, 2022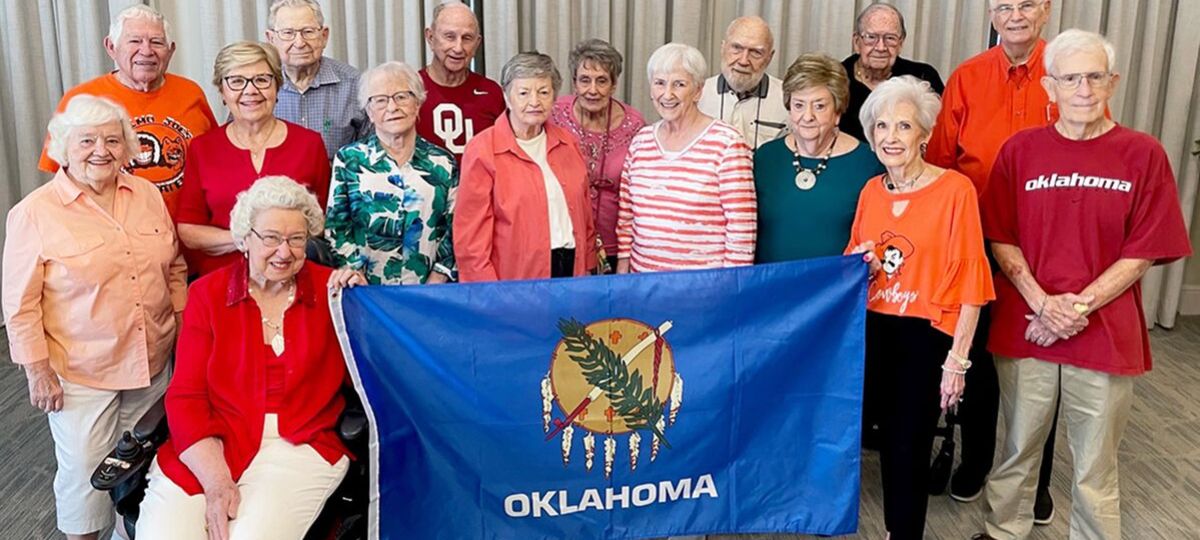 Sylvia Allgaier, a resident of Highland Springs, an Erickson Senior Living community in North Dallas, Tex., was born in Kansas City, Kans. At the age of two, her family moved to Oberlin, a small town in the northwest corner of the state.
After graduating high school, she studied at the University of Kansas and went on to teach elementary education. Later, she relocated to Richardson, Tex. - just a few blocks from Highland Springs - and lived there for 60 years.
Now, Sylvia co-chairs the Kansas Club with her friend Anne Calvert. The dynamic duo met when Anne, a fellow graduate of the University of Kansas from central Kansas, spotted Sylvia sporting a KU T-shirt. They struck up a quick friendship.
Finding connections
"It's a wonderful way to meet people," Sylvia says of the club. "When you first move in, you might know a few people, you might not. But with the Kansas Club, there's someone you've got a connection with, guaranteed. Even with people who didn't attend KU, I feel a connection to because they're from Kansas or they grew up there."
"Kansas people are just good people," Anne says. "Pretty much in the smaller towns, everyone knows each other. I love to go back to my hometown!"
With more than 60 members, the Kansas Club's recent programs have included a discussion about the use of sunflowers (the state flower) in art history and a talk by the daughter of Norman Borlaug, who won the Nobel Peace Prize in 1970.
"We try to do something interesting for each program," Anne adds. "There are a lot of well-kept secrets about every state. There are 11 castles in Kansas - I'm thinking about adding those to a future program!"
'Comfort and inclusion'
Teresa Guy, Highland Springs' resident services coordinator, notes that Sylvia's experience is rather common among those who get involved with state clubs.
"State clubs give new residents a sense of comfort and inclusion, as they're able to engage with others who have a common background," says Guy. "New residents frequently make friends at state club meetings - people with whom they can have dinner and build lasting relationships with. Soon enough, these friends are attending other events and activities together."
Norma Hill is another resident who enjoys the camaraderie found at the community's state clubs.
Growing up in Willow, Okla., 250 miles northwest of Dallas, Tex., Norma endured the Dust Bowl and spent her childhood harvesting cotton on the family farm. Although these experiences spurred her to pursue college in Texas - where she has lived ever since - Norma was delighted to find and join Highland Springs' Oklahoma Club.
Right at home
After a successful 35-year career in public education in Plano, Tex., Norma decided it was time for a change. She was maintaining a house on her own, and the upkeep became too much to handle. As a worry-free community with plenty of opportunities for socialization, Highland Springs was the perfect choice.
The Oklahoma Club, which now has about 85 members, was the first group that caught her eye after her 2011 move. With so much in common, she felt right at home among these fellow Oklahomans - and she's stuck with them ever since.
About six years ago, Norma took the helm of the club, organizing bimonthly meetings - complete with engaging programs and catered meals - that are regularly attended by 50-60 residents.
"I've actually learned so much more about Oklahoma's history through the programs we've had," Norma says.
Informational programs have included lessons on the Oklahoma Land Rush of 1889; Native American tribes, as some club members are of Native American descent; the Dust Bowl; Black Wall Street; famous Oklahomans, including Garth Brooks, Carrie Underwood, and Reba McEntire; and state "firsts," such as the first parking meter, electric guitar, and personal computer.
"Durant, Okla., has the largest peanut in the world," Norma says, with a chuckle. "You get the idea! We learn about nearly everything."
Start your own
The list of state clubs continues to develop and grow, says Guy.
Currently, Highland Springs' Louisiana Club, known for its energetic annual Mardi Gras parade and party, is reorganizing with hopes of continuing its colorful New Orleans-style celebration. And folks from Ohio are planning on forming a club for fellow Buckeyes.
"Members of the resident life staff are happy to help residents launch new clubs," says Guy. "State clubs and other social clubs go a long way in helping residents get acclimated to the community - all while building their confidence in a new setting."
To learn more about affordable, independent senior living at Highland Springs, request your free brochure to get the scoop on amenities, floor plans, and so much more.
Back