Highland Springs Residents Give Back to the Community
By Susan Ingram
March 15, 2022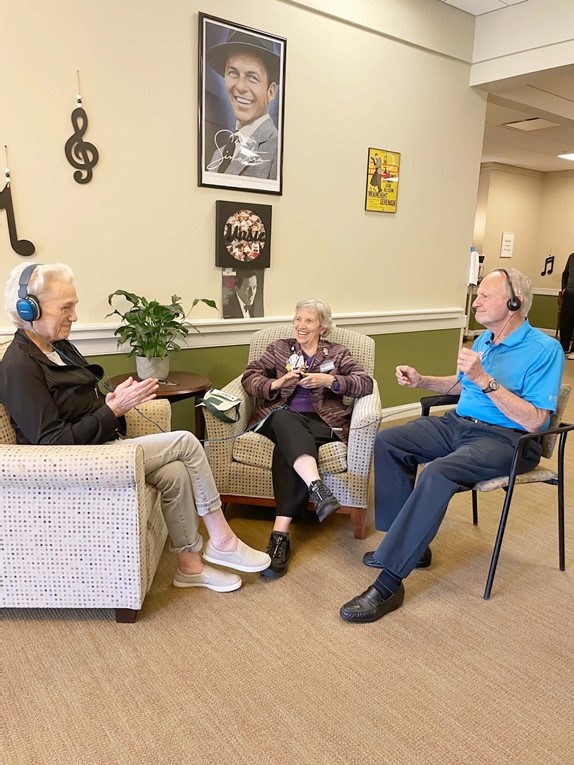 "I want to volunteer" is a sentiment often expressed by new residents at Highland Springs, an Erickson Senior Living community in North Dallas, Tex.
Thanks to the community's maintenance-free apartment homes, residents can pursue fulfilling and meaningful volunteer activities in their newfound free time. And with a score of volunteer programs and opportunities right at Highland Springs, residents don't have to set foot off campus.
Something for everyone
A quick glance at the list of Highland Springs' volunteer activities reveals an array of groups and programs to fit just about any interest, whether it be helping new residents get acclimated through the Ambassadors Club and Welcome Committee, teaching a fitness class, running a game group, or working with a community charity.
"We have many different groups at Highland Springs," says Sales Manager Molly Mann. "Most of them have started organically, with residents, and have further developed from there. One program, called Music and Memory, is particularly profound. And this year, we created a partnership with Meals on Wheels."
Resident volunteers also work with a number of local food pantries and clothing drives.
Close to home
Jim Atkins started the Music and Memory program after he and his wife, Lonna, moved to Highland Springs' Hillcrest neighborhood in 2013. Lonna had been diagnosed with Alzheimer's just a few years before their move.
When the documentary Alive Inside came to a nearby movie theater, Jim, Lonna, and her caregiver went to see it. The film, which demonstrates how music can reignite memories for those experiencing memory loss, sparked Jim's imagination.
"After we saw what music could do for people facing memory loss, all three of us agreed that we needed something like that at Highland Springs," Jim recalls.
About six months later, Lonna moved to Fountain View, Highland Springs' continuing care neighborhood. Through presentations that Jim and Executive Director Matt Neville were giving on the music and memory concept, interest grew in creating a music therapy program for Fountain View residents.
After much planning and discussion, in 2015, Lonna was the first resident to receive an iPod loaded with her favorite music, along with a headset, as part of Highland Springs' Music and Memory program. Immediately she lit up with enthusiasm, and even started dancing, according to Jim.
Joy of music spreads
The program quickly grew to 15 people with the help of generous donations and volunteers, including Rosemary Gasper, who makes personalized embroidered bags to store the iPods and accessories, and Bill Connell, who loads the music on the iPods.
Once a resident joins the program, family members provide Jim with a list of the resident's favorite music. From there, Bill downloads the songs onto an iPod, and then volunteers take the iPod to the resident at Fountain View once or twice a week. Volunteers often take time to sit with residents and listen to the music together.
"The volunteers love being volunteers, because they get to see the residents come alive and smile and laugh," Jim says. "Some of them dance. Or sometimes, it's just the opposite - you're calming them down because they're agitated."
Jim can't overemphasize how gratifying the program is for him and the volunteers. "We see people benefit from it, and sometimes in very dramatic ways. That's why I keep doing it - it's extremely rewarding. And the volunteers say the same."
Jim also serves on the Resident Advisory Council's diversity and inclusion committee and is a volunteer co-facilitator for the Alzheimer's Support Group.
Giving back
For residents Bette and Mike Williams, who moved to Highland Springs in April 2020, volunteering has become an important part of giving back to the community.
"When Mike and I moved in, we knew that we wanted to balance taking advantage of what they're offering here and being able to give back," Bette said.
Soon after moving in, Bette and Mike became resident ambassadors and later got involved in the Resident Guide program.
"As new residents move in, they're assigned a guide," who helps welcome them to life at Highland Springs, says Bette. Mike serves on the dining committee as well, and Bette also volunteers with the resident life committee. "So, we're busy," she adds, laughing.
Over the summer, the couple began volunteering for Meals on Wheels, an initiative brought to Highland Springs recently. On the first, third, and fifth Monday of every month, Bette and Mike follow the same route to deliver meals to those who are unable to purchase or prepare meals.
"We're so appreciative of what we have here, but we also understand that there are people who live within two or three miles - which is a very nice part of Plano - who don't have all that we have. People are so grateful that somebody else is reaching out to them."
To learn more about affordable, independent senior living at Highland Springs, request your free brochure to get the scoop on amenities, floor plans, and so much more.
Back