Highland Springs Residents Enjoy the Great Outdoors
By Sara Martin
August 26, 2021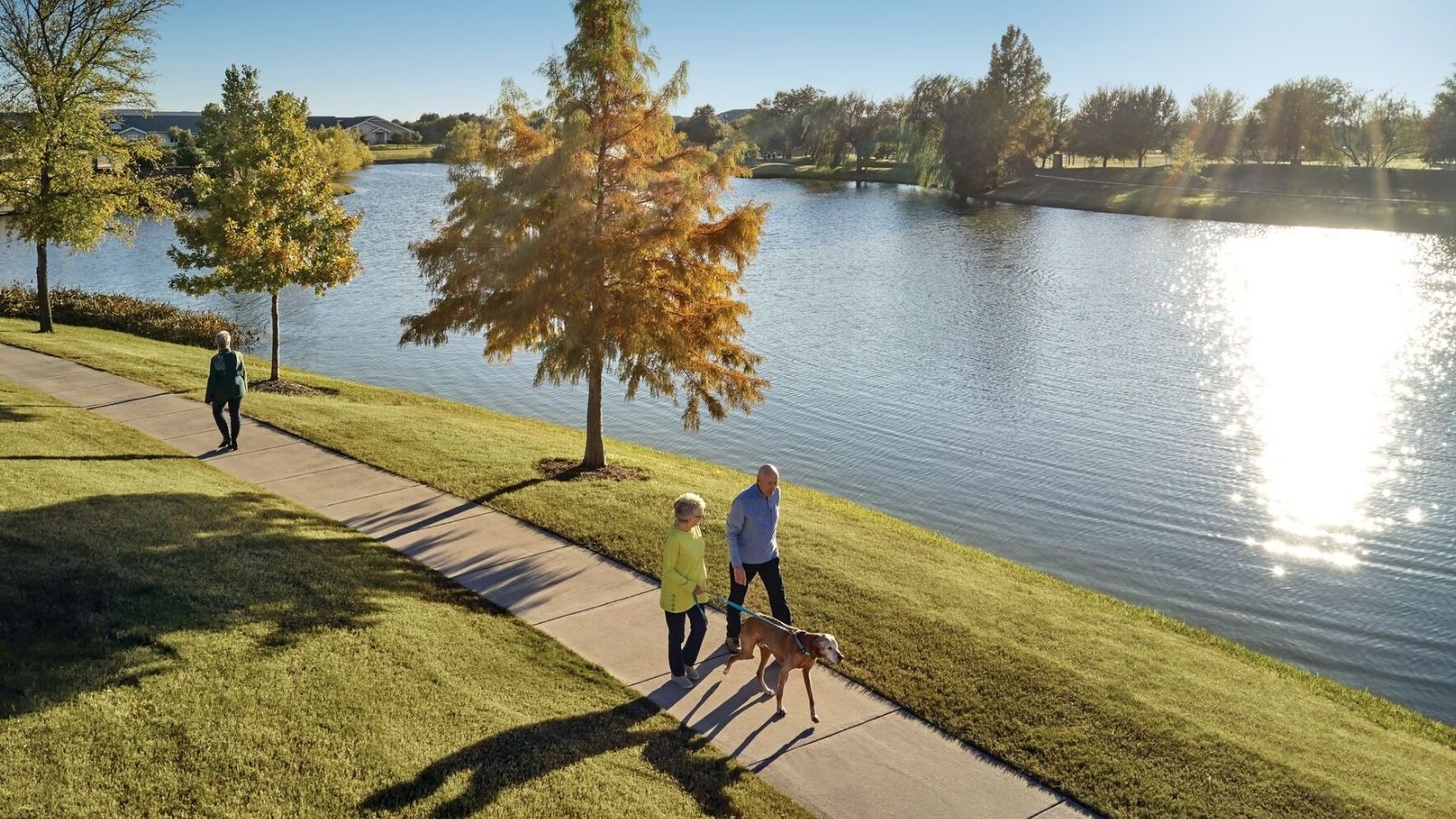 "I spend my life outdoors," says Josette Ducote, who lives at Highland Springs, the Erickson Senior Living-managed community in North Dallas, Tex. "Spending time outside is life-giving and affirming." 
Research corroborates what Josette knows to be true from life experience. A study conducted by graduate students at the University of Minnesota found that everyday access to nature improves quality of life in older adults. The study looked at ways "green space," such as parks and gardens, and "blue space," like lakes, streams, and fountains, promote the physical, mental, and social health of seniors. 
"We zoomed in to everyday life for seniors between the ages of 65 and 85," said Jessica Finley, the study's lead author. "We discovered how a relatively mundane experience, such as hearing the sound of water or a bee buzzing among flowers, can have a tremendous impact on overall health." 
A natural beauty 
You'll find both green and blue spaces at Highland Springs, where you can enjoy 89 acres that feature walking paths, gardens, gazebos, and outdoor dining patios. The campus also has amenities such as a greenhouse, putting green, bocce court, butterfly garden, and the stunning Bluebonnet Lake. 
"We offer valuable opportunities to spend time outdoors as part of our distinctive lifestyle with a focus on health and well-being," says Sales Director Christina Christie. "Residents can participate in the outdoor activities they enjoy most, independently or while socializing with other community members, all without the burdens of maintaining their own house and yard."
For Josette, joy comes in the garden—specifically the butterfly garden adjacent to the community's continuing care neighborhood. "Before I moved to Highland Springs six years ago, I created a butterfly garden at my house in Houston and had it registered as a Monarch Waystation through MonarchWatch.org," says Josette. "When I moved here, I asked Matt [Neville, executive director] if I could help tend the butterfly garden at Highland Springs. Now it, too, is registered as a Monarch Waystation." 
Monarch Waystations are home gardens or plots of land with milkweeds and nectar sources necessary for monarch butterflies to produce successive generations and sustain migration. 
Nurturing lifelong interests 
Billy Penn is another Highland Springs resident who is happiest outdoors. 
"When I was about six or seven years old, my dad said, 'Grab a hoe, we're going to go weed the corn,'" says Billy, who grew up west of Lufkin. "I've been gardening ever since." Billy and his wife Linda sold their Carrolton home in 2019 and moved to Highland Springs. It didn't take long for Billy to sink his hands into the dirt of the resident gardening spaces.
A bountiful harvest
"I've grown snow peas, tomatoes, two varieties of blackberries, asparagus, onions, lettuce, sweet and hot peppers, white and red potatoes, blackeyed peas, cucumbers, squash, pole beans, watermelons, and cantaloupes here at Highland Springs," says Billy. 
Harvesting the fruits and vegetables becomes a neighborly affair. "We eat some and give the rest away," says Billy, noting that lettuce was a frequent request among his friends and neighbors this year. 
Inspired by nature 
The wide variety of outdoor leisure activities, from walking paths and nature trails to bocce, gardening, and photography, as well as outdoor dining and social events, are all just steps from residents' apartment homes. 
"The outdoor space is one of the features that attracted me to Highland Springs," says Walt Thieme, who moved to Highland Springs in December 2013. "You just don't find this in the city." 
The natural beauty on campus inspires Walt to capture images with his phone, whether it's a blue heron taking flight or a duck sitting patiently on her nest. "I like to document life around me," says Walt. "I walk around the campus every morning and take pictures. I've got over 8,000 pictures on my phone, most of them photos of the outdoors. Every picture tells a story." 
See the beautiful Highland Springs campus for yourself! Click to schedule a visit or request a free brochure.
Back