Highland Springs' Resident-Led Book Clubs Stimulate Engaging Discussions
By Susan Ingram
March 9, 2023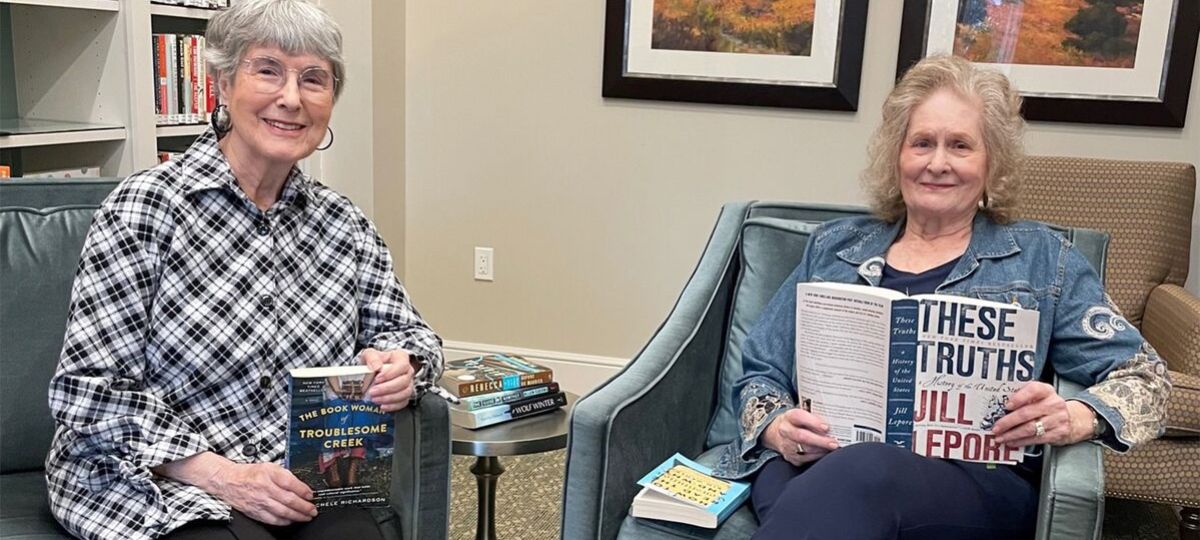 "Attendance at book club meetings is constantly growing here," says Charlene McFee, a resident at Highland Springs, the Erickson Senior Living community in North Dallas, Tex.
Like all Erickson Senior Living communities, Highland Springs offers a number of activities for residents to get involved in. The Book Lovers' Book Club, created and led by Charlene, is just one of many clubs that cater to a variety of interests and hobbies.
Recognizing a need
Looking for a community that would support their active lifestyle in retirement, Charlene and her husband Frederick moved to Highland Springs in 2018. Charlene, an avid reader, didn't waste any time finding fellow bibliophiles.
"I joined one of the community's existing book clubs, and I participated in it for the first three and a half years that we lived here," says Charlene. "But as Highland Springs' population continued to grow, I thought my neighbors might enjoy a new book group."
Now, with a steady membership of 15 residents, the Book Lovers' Book Club strives for diversity in its collection of selected books.
"Fiction and nonfiction books are on the menu when the club meets each month," she adds.
Recently, the group hosted Rebecca Dwight Bruff, author of Trouble The Water, which is about Robert Smalls, a slave who commandeered a steamer and rescued its enslaved crew and family members by reaching the Union blockade outside Charleston, S.C.
"We had the honor of meeting Ms. Bruff on campus. It was great!" notes club member Holly Linskie.
History buffs unite
Holly, who was looking for maintenance-free living in retirement, moved to an apartment home at Highland Springs - and brought a collection of American history books with her.
Wanting to engage with like-minded residents on history, politics, and social issues, she launched the American History Book Club, which meets twice a month.
"It's been a long time since I studied history in school, so I figured it's been a long time since most residents had a history discussion too," Holly explains. "I believe that if we reflect on our history and how we got to where we are, we look at things differently. And the people that come to our book club conversations feel the same way!"
The American History Book Club recently tackled How to Read the Constitution - and Why, by law professor and author Kim Wehle.
"While it took some time to work through all of the amendments, I thought that it was an important book to cover because there is so much on the news that involves the Constitution," Holly says. "Wehle goes into a lot of detail, addressing the different reasons why our Constitution is what it is."
Other recent discussions have been about Thomas Jefferson and Empire of the Summer Moon, written by S. C. Gwynne on Native American Quanah Parker and the Comanche Nation.
Multiple benefits
Ashley Mullings, Highland Springs' resident services coordinator, notes that participating in book clubs has a variety of benefits.
"We love book clubs here at Highland Springs, and for good reason!" says Mullings. "First, book clubs provide a structured time to gather and have meaningful conversation, which allows residents to generate great connections within the community. Second, these discussions encourage critical thinking and stimulate brain activity, which is essential to a person's well-being."
Sarah Lenz Lock, executive director of AARP's Global Council on Brain Health, couldn't agree more.
"Brain-stimulating activities, including reading and writing, especially if they challenge your ability to think and reason, are powerful ways for a person to positively influence their brain health as they age," Lock says. "And, as an added benefit, participating in a writing or book club can decrease the negative impacts of social isolation on your brain."
Connecting with others
In addition to the Book Lovers' Book Club and the American History Book Club, Highland Springs offers additional opportunities to read and discuss favorite authors and subjects.
"The Olive Branch Book Club and the Third Act Book Club are also really popular," says Mullings.
But if you're not able to find a book club that piques your interest, the resident life team is always willing to help new residents create groups of their own.
"That's the beauty of Highland Springs - that residents are able to optimize their lives here by finding new and creative ways to connect with others," she adds.
To learn more about affordable, independent senior living at Highland Springs, request your free brochure to get the scoop on amenities, floor plans, and so much more.
Back