Highland Springs' New Outdoor Labyrinth Offers Space for Meditation
By Susan Ingram
September 14, 2023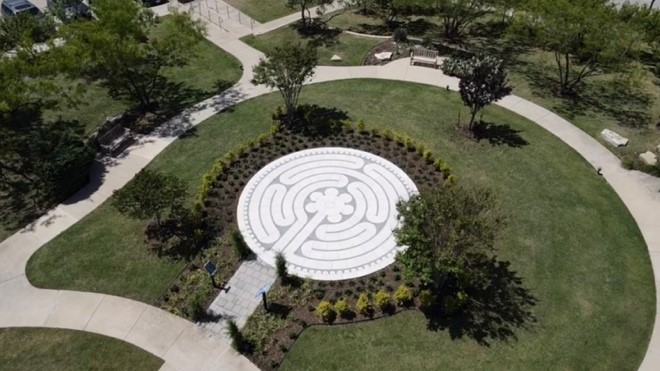 Just like a walking meditation, the creation of the new outdoor labyrinth at Highland Springs, an Erickson Senior Living community in North Dallas, Tex., began with just a few simple steps.
Labyrinths - not to be mistaken for mazes - have been in use around the world for thousands of years and come in many shapes and sizes. One continuous path switches back and forth in close circuits, creating a slow, deliberate walking route that's perfect for contemplation.
"In 2014, during Lent, I put together a prayer room with prayer stations," says Pastoral Ministries Coordinator Jamie Bruning. "Seeing how well the prayer room was received, I talked to my supervisor about potentially getting a portable labyrinth. At the time, the cost of a canvas labyrinth was prohibitive."
A year later, the community's Interfaith Advisory Council organized a visit to an outdoor labyrinth at a local Episcopal church.
"They told us the history of the meditative practice and explained how to walk it," Bruning says. "Everyone was interested. That's really where it all started!"
Investing in well-being
Highland Springs' outdoor labyrinth was funded through the Well-Being Fund, a multimillion-dollar investment made by Erickson Senior Living to support the addition of enhanced health and well-being amenities for residents in its communities across the country.
"The Diversity, Inclusion, and Belonging Committee and the Interfaith Advisory Council agreed that it would be great to have a labyrinth on our property," Bruning says.
"The Well-Being Fund gave us a lot of freedom to make it a top-notch, gold-standard experience," adds Derek Pastor, general services project manager.
For Resident Services Coordinator Michele Williams, the project presented a way to weave spirituality into the community's offerings.  
"Now, whenever residents are seeking peace or solace, they can walk right up to the labyrinth," explains Williams.  
Step by step
After additional visits to local labyrinths, planning moved forward in earnest. The first step was site selection, which was a quick yet fruitful process.
"The space we identified seemed like it was made for a labyrinth," says Pastor. "It already had an existing structure, sidewalks, and a bench, and it was in a relatively circular shape."
From there, everyone worked together to determine the size of the labyrinth, which would influence the amount of time it would take for residents to complete the path. "It was decided that 20 to 30 minutes would be optimal," notes Pastor.
Next, Nathan Wiles, cofounder of the labyrinth building and design company InnateCreations, was brought on board.
"I saw the site in March 2022 and sent some design possibilities that would work within the space, given the size parameters," says Wiles, who has been creating labyrinths for 15 years.
The design chosen, known as the Heart of Chartres, may be familiar to experienced labyrinth walkers or visitors of the Chartres Cathedral in France, which features a 13th-century labyrinth that draws pilgrims and tourists alike.
The elegant, flowing design features a six-petaled, flowerlike center, where walkers pause in their walking meditation, then return on the same path to exit the labyrinth.
Completing the path
Once the site was cleared and leveled, concrete was poured and precut sections were fitted together to create the design.
Williams, Pastor, and Grounds Supervisor Aaron Smith put much thought into the landscaping encircling the labyrinth. The plants chosen provide privacy and soothing fragrances - the rosemary has become a favorite.
Signage was installed at the entrance of the labyrinth to explain its use, and a small replica, called a finger labyrinth, was posted so those with mobility challenges can also experience the labyrinth's meditative benefits.
'A special place'
Everyone who contributed to the planning and installation of the labyrinth agree that it was a rewarding project.  
"I build a lot of labyrinths, but this one was really enjoyable because of the residents," says Wiles. "Having conversations with residents and answering their questions was an absolute pleasure."
"Seeing residents work together with employees was touching," agrees Williams. "We all had a say in the final result."
Highland Springs residents like Lynda Coumelis have reaped the benefits of the labyrinth since it opened in April. "It's a special place that's perfect for clearing your mind of day-to-day clutter and appreciating the beauty of nature around you," she says.
To learn more about affordable, independent senior living at Highland Springs, request your free brochure to get the scoop on amenities, floor plans, and so much more.
Back