Highland Springs Garden Club Cultivates Flowers and Friendships
By Susan Ingram
August 8, 2023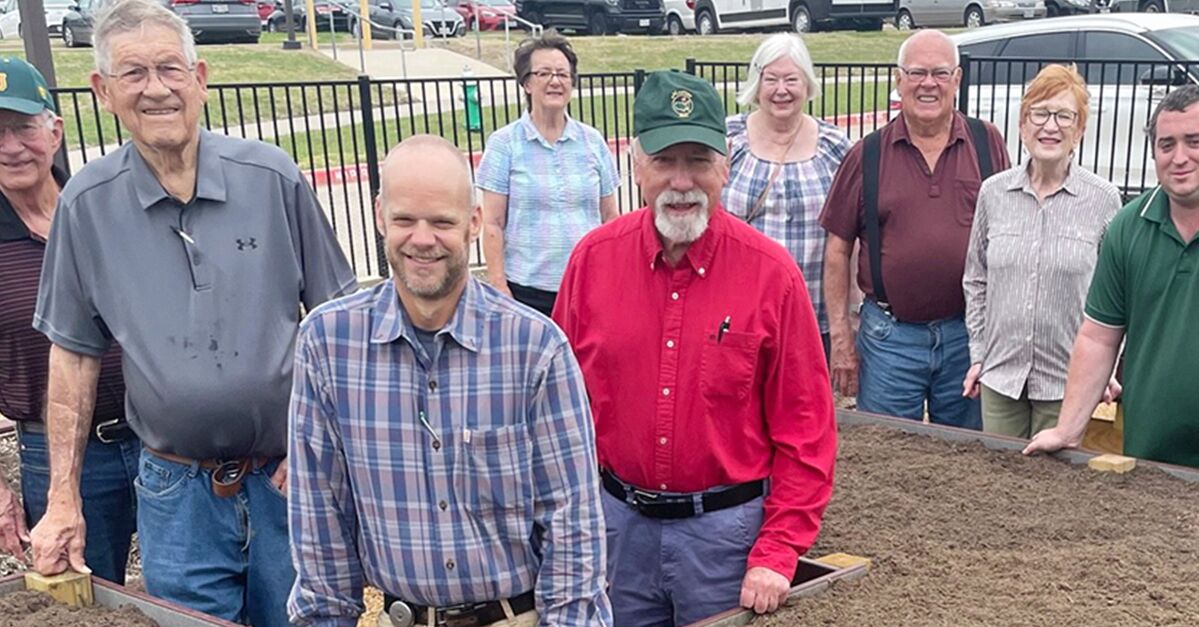 Billy Penn grew up on a farm in East Texas, where he learned how to plant and grow just about anything.
"Me and my three brothers, we were country boys. We had a few acres, and we raised a little bit of everything. Now, my wife Linda grew up on a cotton farm - they were real farmers!" Billy recalls, with a laugh.
Now, as garden club president at Highland Springs, an Erickson Senior Living community in North Dallas, Tex., Billy and his neighbors tend to beds of vegetables, flowers, and other plants, while also growing and cultivating friendships that last through season after season.
A green thumb
When Linda first suggested they consider moving from their house in Carrollton, Tex., to a retirement community, Billy wasn't keen on in the idea.
"I had no intention of ever moving out of our house," he quips. "I thought I'd spend the rest of my life there!"
After realizing the benefits of embracing a lifestyle free of household maintenance, Billy was open to a move - but having a bit of dirt to work was a priority. So, when Billy discovered Highland Springs had garden allotments and a greenhouse, he was all in.
"That's why I really wanted to move here," he says. "I did call around to a few other places, but I didn't find anywhere else that had a garden or a greenhouse. When you've seen the best, why look at the rest?"
Planting roots
In 2019, the Penns settled into an apartment home in Crestview Terrace, just a few steps from the greenhouse and gardens.
"Prospective residents often share their desire to eliminate the headaches and expenses associated with maintaining a house, but they still want access to outdoor spaces," says Sales Director Christina Christie. "They are thrilled to learn that they can still enjoy their outdoor hobbies here, thanks to the array of amenities on our lush, 89-acre campus."
Gardens galore
As president of the garden club, Billy oversees an active group of nearly 80 members - all of whom are excited to exercise their green thumbs in the community's new garden beds.
In addition to new eight-by-eight beds that accommodate 12 gardeners, the club worked with Derek Pastor, general services project manager, to craft elevated U-shaped beds for easier access.
"The elevated beds accommodate 16 gardeners," notes Pastor. "We have some residents who would prefer not to bend over or stoop while working, but they still love gardening."
In the adjacent greenhouse, there are more than 50 spaces where residents can raise seedlings or tend to their favorite plants and flowers.
Currently, Billy and a number of club members are busy working with Pastor to plan a new cutting garden.
"It'll have flowers, plants, and herbs. The idea is that anybody in the community can come and clip roses, grab some rosemary, or snip whatever they want," Pastor says.
Cultivating community
Billy notes that the gardens and greenhouse offer residents an opportunity to soak up the sunshine and fresh air, get a little exercise, work creatively, and relax.
Club members say they visit their allotments to get their hands dirty, but they enjoy chatting with fellow gardeners just as much, if not more.
"For us, gardening is about growing - primarily friendships and relationships, but also vegetables, flowers, and herbs," Billy says. "We talk about insect damage and how big our tomatoes are, and we lament what the birds, rabbits, and squirrels did to our crops. We fight the heat together and we help each other plan for next year, but mainly, we are interested in each other's lives."
Since moving to Highland Springs, Billy finds that new connections are easy to come by - and cultivate.
"Our plants grow like we grow, with support and care. Like we nourish our plants with sunlight and water, we must nourish our bonds," he notes.
In working with club members, Pastor sees firsthand all of the benefits that being outdoors and gardening can have on people and the greater community.
"The community aspect of gardening here really boosts emotional and mental well-being," says Pastor. "There's something physically therapeutic, too, in manipulating the soil with your hands, maintaining dexterity and muscle strength. Plus, who doesn't love homegrown produce? Residents are proud to cook with the potatoes and tomatoes they cared for."
To learn more about affordable, independent senior living at Highland Springs, request your free brochure to get the scoop on amenities, floor plans, and so much more.
Back