Golfer Finds an Ace in the Hole at Highland Springs
By Susan Ingram
May 18, 2022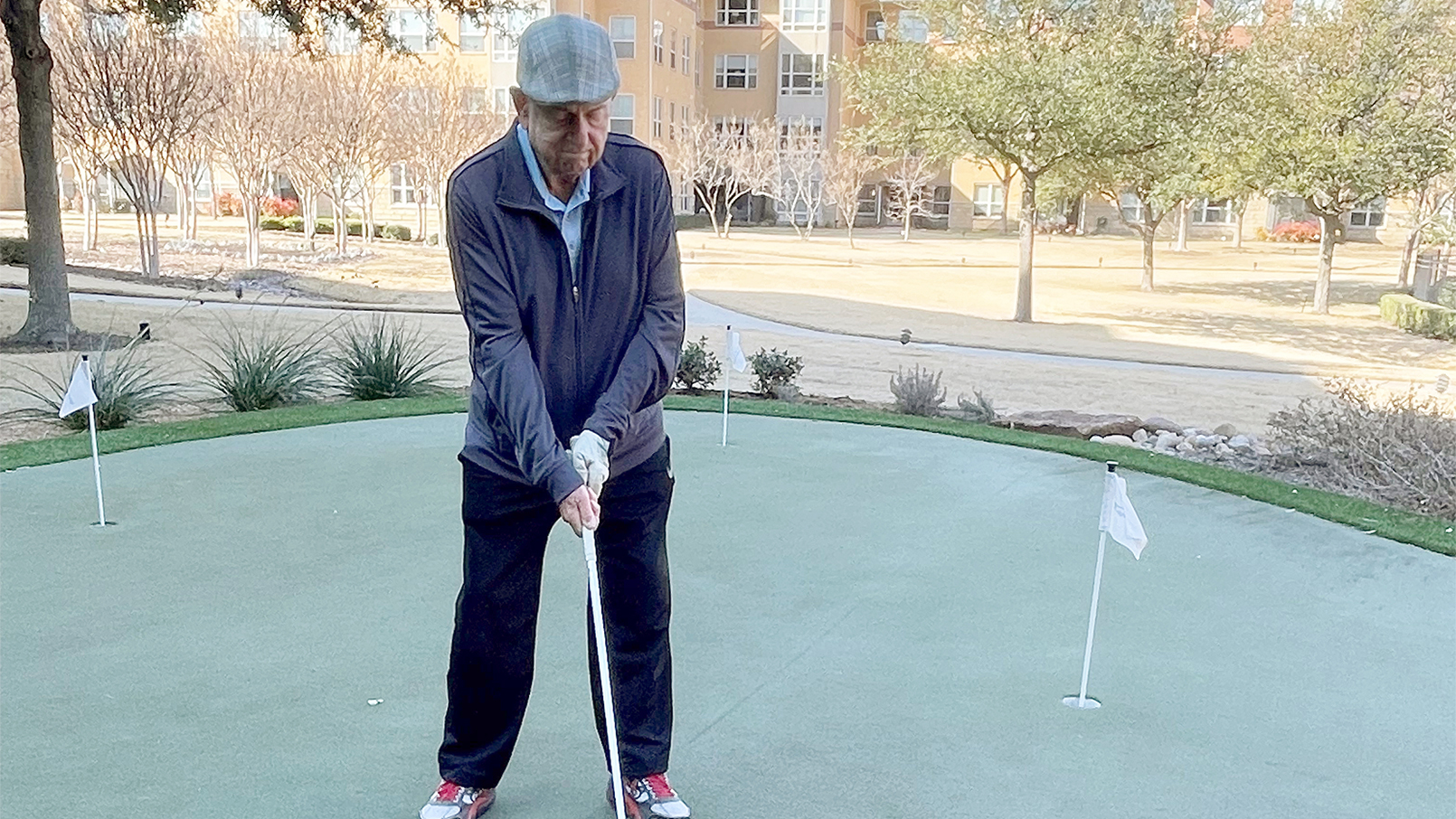 Dick and Kathy Skinner never imagined that a chance meeting in a parking lot at Highland Springs would lead to exciting new lives for each of them. Both originally lived in Pennsylvania, traveled extensively, and were widowed before they moved into the Erickson Senior Living community in North Dallas, Tex.
They were delighted to find one another, and after discovering they had much in common, Dick and Kathy got married. To honor where they first met, the couple held their wedding reception at Highland Springs. Dick and Kathy celebrated their ninth anniversary together in April.
Dick, a lifelong golfer, is the golf group coordinator at Highland Springs. Among many other activities offered at the community, the couple enjoys watching professional golf together - even though Kathy doesn't play. Tiger Woods, Phil Mickelson, and local favorite Jordan Spieth are among their favorite players to watch.
Hobbyist to coordinator
Dick enjoys staying active, socializing, and getting outdoors with fellow golf enthusiasts. During his career with JCPenney as a software development manager, he traveled often. In between the flights and car rides, he tried to fit in a few games on the green. "I kind of played all over!" he says.
A dozen years ago, after he moved to the Hillcrest neighborhood at Highland Springs, Dick began to look around for like-minded retirees - and golfers.
"Of course, when I retired, I started golfing quite a bit," he says. "I found a golf group here that another resident was organizing. They would go out on a weekly basis, weather permitting. So, I joined that group. It was pretty small. And then that fellow 'retired' from coordinating the group about three or four years ago."
Dick stepped up to coordinate the group, which now totals about 14 members, men and women.
Tee time
"It's an open group - anybody can join! All they have to do is let me know that they'd like to be included," Dick says.
The golf group plays together once a week on Thursdays, rotating among six public, 18-hole courses around North Dallas. Some places they visit have multiple courses, including Pecan Hollow, Firewheel Golf Park, and Sherrill Park. The golfers usually complete the 18 holes in about four hours.
"It's great to get people together," Dick says. "We have a lot in common to talk about as we make our way around the course. And it's an opportunity to - even though we're riding in golf carts - get good exercise. I normally walk outside every morning, but I'd rather play golf to get in my exercise."
"It's nice to be outdoors - even when we're not doing so well on the course score-wise," Dick adds, with a chuckle. "We all feel it's a good way to get outside and get some fresh air."
An ace in the hole
"When we got married, we were sure about one thing: we wanted to stay at Highland Springs," Kathy says. "They have done such an outstanding job of keeping us safe and taking care of us. We're just very grateful for that."
She adds, "It's a wonderful place to live. The apartments are very nice, and the people are great - both the staff and residents. And there are so many activities - way more than we could possibly do! So, we have to sort of pick where we want to spend our time."
In addition to the amenities and activities that Highland Springs offers, Dick and Kathy appreciate the community's financial value and worry-free lifestyle. With predictable monthly service packages, the couple balances their budget with ease and confidence.
"Folks are attracted to our financial structure because it mirrors what they're already experiencing in their home," says Sales Director Christina Christie. "Residents often use the proceeds from their home sale for the entrance deposit at Highland Springs and are aware that they, or their beneficiaries, will get 90% of that back when they leave, per the Residence and Care Agreement. And, it may be accessed later on, should they need it for additional care."
Kathy loves the home for life promise that all Erickson Senior Living communities offer. "What we really like is that we're not just on a rental basis, and that makes you feel more like this is your home. You feel more inclined to decorate and do all kinds of things!"
Invest in your future self at Highland Springs. From top-notch amenities to affordable, maintenance-free apartment homes, you are sure to live your retirement to the fullest. Request more information today!
Back