Follow Your Retirement Dreams Straight to Highland Springs
By Susan Ingram
February 22, 2022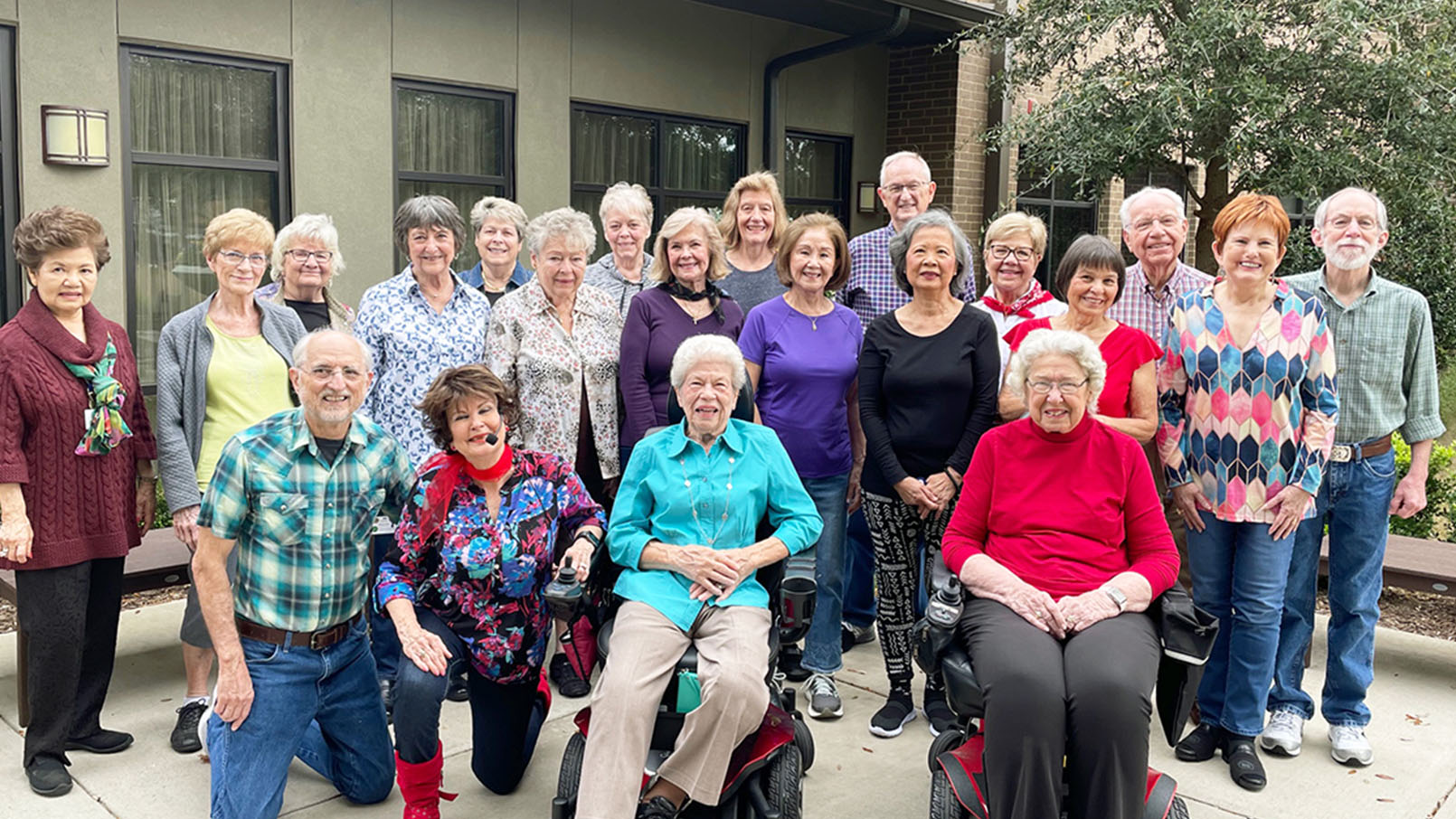 Through the years, you worked hard and planned carefully for your retirement. So maybe now's the time to make the leap into that completely worry-free lifestyle you've been looking forward to - you deserve it!
By choosing Highland Springs, an Erickson Senior Living community in Dallas, Tex., you'll enjoy more free time to spend on activities, hobbies, clubs, and more. The community's vibrant lifestyle - partnered with the support of financial security and maintenance-free living - makes your retirement dreams not just possible, but achievable.
Attracted to the range of amenities available, the on-site medical care, and the great dining and entertainment offerings, Nancy and Pete Toppan moved to Highland Springs in 2019 to begin living their retirement dreams. 
Get involved
It was important for the couple to get involved right away and become part of their new community. Nancy and Pete serve as resident ambassadors, helping new residents acclimate to the community by giving them the inside scoop on all things Highland Springs. The couple has also joined a few table-game groups. 
In the rare time they find to relax, Nancy and Pete enjoy tasting the array of dining options at Highland Springs. From Chisolm's Restaurant and Fireside Grille to the Lone Star Pub, White Rock Bistro, and others, "We hit 'em all," Nancy says. "We meet up with friends two or three times a week."
Volunteer your talents
As the first choreographer at Disney World when it opened in 1971, Nancy's life has been full of dancing, teaching, and performing. When Nancy discovered that she could bring her talents to the community to enhance other residents' lives, she was ecstatic.
"It's made my life, because I love to teach," she adds.
Now, with about 40 students, she teaches two or three line dance classes a week and coordinates programs for the community, including live dance performances and demonstrations with audience participation. 
Around the holiday season, you may see her teaching the Hawaiian Christmas Hula to the tune of "Mele Kalikimaka."
"We've learned that a lot of residents like to volunteer because they want to help, feel fulfilled, and live this part of their life with a sense of purpose," says Kimberly Reed, senior manager of resident services. 
On the days Nancy isn't teaching line dancing, she's teaching fitness classes. Meanwhile, Pete is exercising even more than she, according to Nancy, and also serves as the technical advisor for her dance programs. Pete manages the YouTube channel for Nancy's classes by creating and editing video content.
Make lasting connections
Nancy often combines her dance programs with resident "karaoke king" Mario Cavanna.
Like Nancy, Mario was excited about all that Highland Springs has to offer and knew how he could get involved - even before he moved in. When he found out the community didn't have a karaoke program, he sprang into action. He now hosts Karaoke-Sing-A-Long events weekly for his neighbors. He also "travels" with the show, performing monthly at Fountain View, Highland Springs' continuing care facility. 
"It's so fulfilling, and for my wife too, because she helps me out a lot with the karaoke," he adds. Mario has a number of volunteers help him out on a regular basis too.
"We strive to create opportunities that allow residents to utilize their skill sets," Reed says. "Their passions add so much value to the community."
Worry-free living
Mario is also delighted that maintaining a home, like painting and cleaning out the gutters, is no longer a worry. Whether a faucet starts leaking or a lightbulb burns out, the general services department is just a call away, and a staff member is at his door in no time. 
He also loves the financial stability and simplicity of one bill covering most of his living expenses. The monthly service package bundles monthly and quarterly expenses like electric, water, and cable into one bill, allowing residents to balance their budgets with confidence.
"Now, I pay all my bills with one check at the end of the month," Mario says.
For seniors looking for a connected and rewarding life in retirement - just like Nancy, Pete, and Mario - Highland Springs is the perfect choice.
Invest in your future self at Highland Springs. From top-notch amenities to affordable, maintenance-free apartment homes, you are sure to live your retirement to the fullest. Request more information today!
 
 
Back