Enjoying the Great Outdoors at Highland Springs
By Susan Ingram
July 6, 2023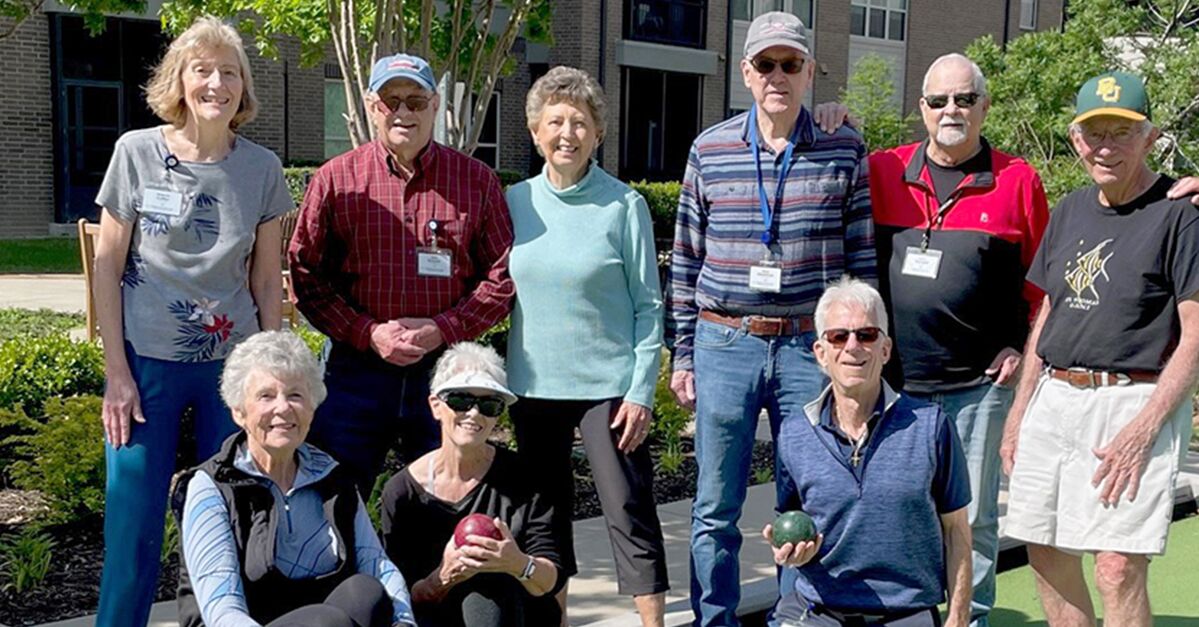 For Harry "Nick" Nicholls, retirement isn't just about relaxation - it's about exploring new ways to stay active and involved.
Because his parents lived at Eagle's Trace, an Erickson Senior Living community in West Houston, Tex., he was already quite familiar with the vibrant Erickson Senior Living lifestyle. "I was very intrigued," he recalls.
Looking to stay a bit closer to home, Nick, a Rockwall, Tex., native, decided to move to Highland Springs, the Erickson Senior Living community in North Dallas, Tex., which affords its residents an equally engaging lifestyle.
Although he settled into his comfortable one-bedroom apartment home in October 2021, Nick says he still considers himself a "newbie." His jam-packed calendar begs to differ.
Just about any day of the week, you can catch him enjoying the many outdoor amenities and activities available at Highland Springs.
Outdoor amenities abound
"Being outdoors is so important, and Highland Springs makes it easy," notes Nick.
Erickson Senior Living prides itself on offering safe, accessible outdoor environments that encourage residents to get active and socialize, enhancing their overall well-being. By taking advantage of these amenities, residents feel more energized and have greater focus and stamina.
"Having an array of outdoor amenities is a key component to driving resident activity and maximizing their well-being," says Fitness Manager Amber Graham. "There is so much to do outside on our 89-acre campus."
Highland Springs' pool features an outdoor wrap-around patio, perfect for hanging out after a swim or a dip in the spa. A greenhouse and garden allotments appeal to green thumbs, and for those with a competitive spirit, the putting green, bocce ball, and disc golf are always busy.
Interested in taking your canine companion for a walk after a play date at one of two dog parks? Head to the wooded and landscaped walking path that surrounds the expansive lake.
Firepits, alfresco dining spaces, and a gazebo are great for socializing, while the tranquility garden, labyrinth, and outdoor yoga area offer the ideal environment for peace and relaxation.
"The outdoor yoga area is set up next to our tranquility garden, which has an amazing water feature. It's truly so calming to sit and watch the water, meditate, or complete a calming practice," Graham adds. "There are benches set up around the area and it is landscaped with beautiful flowers."
Investing in well-being
Erickson Senior Living has recently provided a multimillion-dollar investment, through its Well-Being Fund, to support the addition of enhanced health and well-being amenities and services to residents in its communities across the country.
The labyrinth, one of Highland Springs' newest outdoor amenities, was funded through this investment and officially opened in late April.
The Woodchucks, a resident-led woodworking group, created the small replica of the labyrinth that is installed next to its entrance. This "finger labyrinth" allows residents who may not be able to walk the path to enjoy the experience.
"Research shows that this practice has a very similar meditative effect as walking a labyrinth," Graham says. "All these amenities and activities allow our residents to get in stimulating physical activity and meaningful social interaction that benefit their worry-free lifestyles."
Enjoying fellowship
Although Highland Springs has so much to offer, Nick, an avid golfer, had no problem choosing where to start his active retirement - the putting green.
Every Monday, Nick participates in the putting contest held at the putting green. On Tuesdays and Thursdays, he ventures off-campus to play golf at nearby courses.
Fridays are reserved for cornhole as well as bocce, which are popular among players and spectators alike. While there may be just four people playing at a time, there are often 20 or 30 more "enjoying fellowship on the sidelines," Nick notes.
Saturdays were for disc golf, but because of increasing interest, Nick made room for it on Mondays as well. "My gosh, it just blossomed!" he says.
On other days, he avails himself of the walking trails, gardens, outdoor patios, and alfresco dining opportunities.
"The beauty of it all," explains Nick, "is that the groups who get together participate in what we call 'open activities.' It means that there's going to be someone there to help you if you don't know how to play the game."
Get outside!
Thanks to resident-led efforts and investments in outdoor spaces, an increasing number of Highland Springs residents are finding ways to spend time outside, which is proving to be an integral part of their active, worry-free lifestyles.
Nick is looking forward to making the most of his retirement for many more years to come.
"The fun part is getting everybody out to enjoy the outdoors!" he says.
Invest in your future self at Highland Springs. From top-notch amenities to affordable, maintenance-free apartment homes, you are sure to live your retirement to the fullest. Request more information today!
 
Back