Design Your Dream Dwelling at Highland Springs
By Susan Ingram
April 18, 2023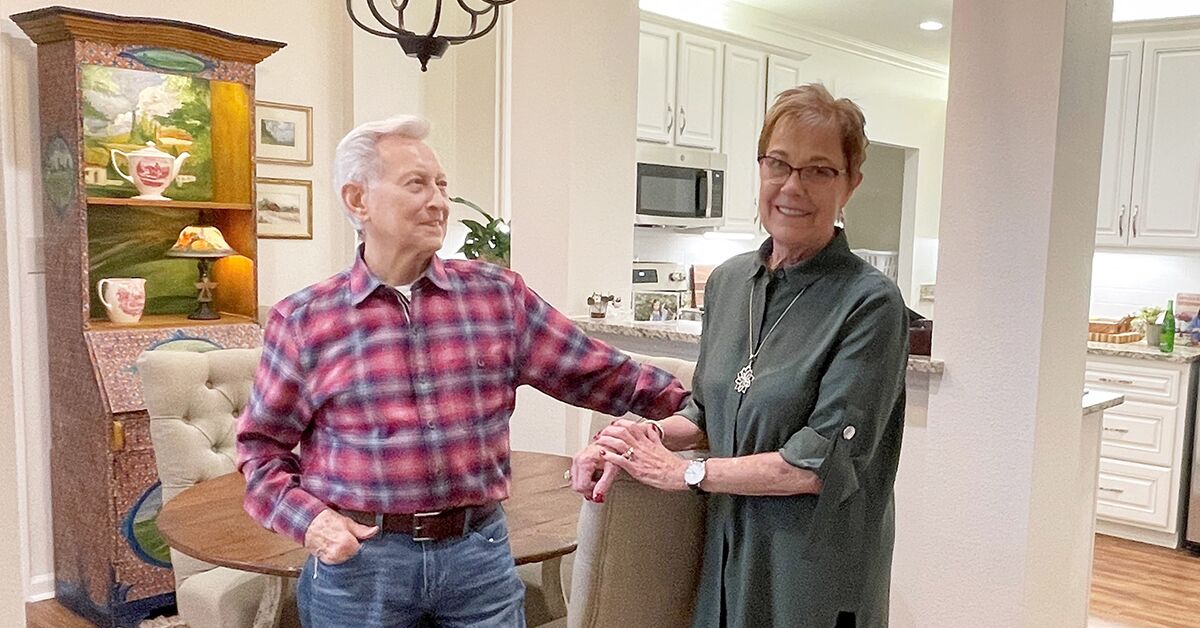 When John and Betty Prickett decided to move to Highland Springs, an Erickson Senior Living community in North Dallas, Tex., they were excited to embrace the vibrant, worry-free lifestyle.
"It was the beginning of a new kind of life for us!" says Betty. "The atmosphere here was exactly what we wanted. It's very upbeat."
Knowing the couple was interested in a spacious, open floor plan design, the Highland Springs sales team contacted them when a combination apartment home - where two apartment homes are merged to create one large home - became available.
"It was a blessing for us," Betty says. "Really and truly, it's exactly where we're supposed to be, and it meets all of our needs."
The 1,900-square-foot apartment home offers plenty of space, with two bedrooms, a den, and walk-in closets.
And now that the Pricketts have personalized their apartment home with upgraded appliances, custom tiling, and light fixtures, the couple is living the carefree retirement they've always imagined - in a beautiful space that reflects their current wants and needs.
Plan, plan, plan!
Betty and John's seamless move to Highland Springs was enhanced by the help of Planning and Moving Consultant Cindy Gay.
During a home visit with the Pricketts, Gay helped them decide on floor plan options - based on their lifestyle - and choose what pieces of furniture would be traveling with them.
"Some people want a one-bedroom apartment home, knowing that they'll be out and about in the community. Others want a two-bedroom apartment home to create separate spaces," explains Gay. "If you enjoy having a quiet place to read, for example, finding a layout with a den or a sunroom may be the perfect floor plan for you!"
Combination apartment homes offer even more space and opportunity to create functional areas like a craft room, home office, or guest room.
Betty notes that the conversations about their lifestyle and cherished belongings really made a difference in the planning process.
"I began to understand what we could let go of," Betty says. "We weren't so attached to furniture and other items anymore, so we could move in and be comfortable. Thanks to Cindy's help, when we moved in, it felt like we had lived here forever!"
Customize your space
Before moving into their apartment home, John and Betty reached out to the Custom Interiors team at Highland Springs to bring their interior design dreams to life.
Their kitchen, next to the breakfast nook, was built out with a wall of cabinets, resulting in a streamlined look with plenty of storage. Repainting with light colors further ensured the home was a perfect fit.
"We have four big windows in our place, so it's really light and open," Betty says. "We had custom tile installed in the guest bathroom, which enhanced the space. We brought our own light fixtures, and we placed a lot of recessed lighting in the ceiling."
Installing Betty's mother's vintage chandelier was a final personal touch that made the couple feel right at home.
'All right here'
Since moving into their apartment home one year ago, the Pricketts have fully immersed themselves in community life at Highland Springs.
"There are a lot of senior living communities here in Dallas, but Highland Springs best suited our needs and personalities," explains Betty. "It's such a big place! So, if we want to go places, we walk, and that really enhances our ability to stay active and healthy."
On any given day, you can find the Pricketts dining with neighbors or participating in clubs, events, and activities.
Another reason for choosing Highland Springs was access to the community's on-site continuing care services. "Having emergency medical services, 24-hour security, and doctors right on campus was impressive. Our lives are so much easier - because we have it all right here," Betty says.
Living at Highlands Springs is wonderful, she says. "We love it!"
Enjoying a new lifestyle
Jerri Lamson, sales counselor at Highland Springs, applauds the Pricketts for focusing on and enjoying their new life with new friends - with the comfort of coming home to a beautiful, personalized space. 
"The lively social life here is like a cruise ship on land," Lamson says. "Residents can be as busy as they want, while living their new worry-free lifestyle!"
Invest in your future self at Highland Springs. From top-notch amenities to affordable, maintenance-free apartment homes, you are sure to live your retirement to the fullest. Request more information today!
Back