Brand-New Fitness Equipment Helps Fox Run Residents Get Their Best Workout
By Michele Wojciechowski
July 6, 2022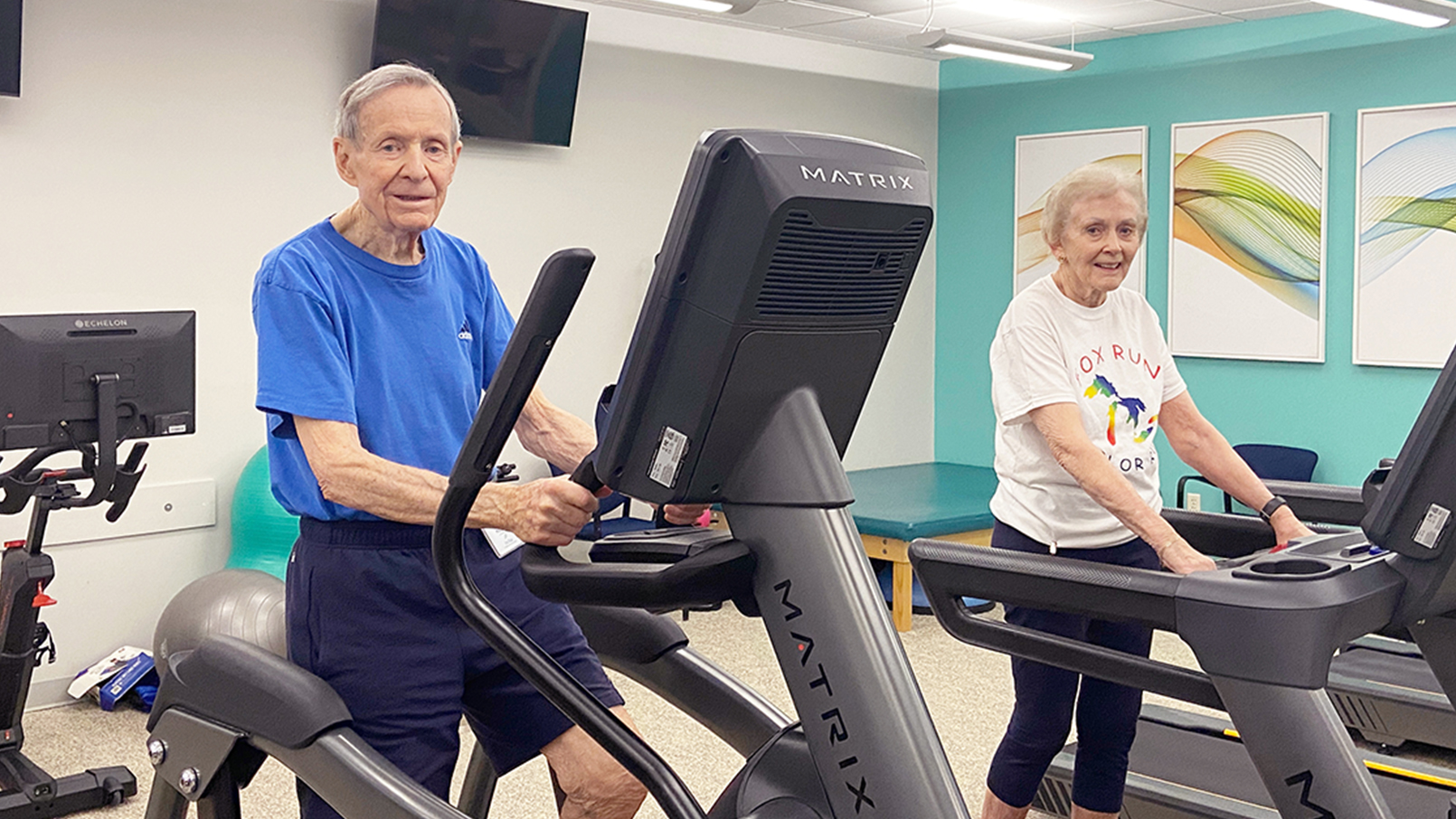 Before Lorraine and Reginald Cunningham moved to Fox Run, the Erickson Senior Living community in Novi, Mich., Lorraine already knew what the on-site fitness center offered - it was the first item on her must-have list.
But as an exercise devotee since 1972, that's not surprising for Lorraine. "Even when we travel, I look first to see what kind of fitness center is at the hotel, as well as the quality of the fitness equipment. It matters so much," she explains.
"I was always involved in something like karate or tai chi. When I lived in New York, I walked a lot and got a ton of exercise," she recalls. "I noticed that in Michigan, people didn't have to walk as much because everywhere you went you had to take a car."
Fox Run Makes Senior Fitness a Priority
Like many of her neighbors, Lorraine was thrilled that the fitness center recently received upgraded equipment through the Wellness Fund, a significant investment Erickson Senior Living is making across the enterprise to support the health and well-being of community members.
While Lorraine loves relaxing in their two-bedroom, two-bath apartment home, she also spends a lot of time in the fitness center. In fact, she makes sure to use the new equipment seven days a week.
"After retirement, my activity decreased a bit because I was definitely not running around like I was when I was working. I had to keep exercise in my routine. That's why I do it every day - you can easily find a reason not to go," Lorraine says. "By doing it every day, it becomes like brushing your teeth."
State of the Art Exercise Equipment for Seniors
Fox Run's Fitness Manager Pam Cameron is also thrilled about the senior fitness center's new look. "Everything is high tech. All of the fitness equipment has touchscreens and individual TVs," says Cameron.
Brand-new ellipticals, treadmills, NuStep machines, and weight equipment are all available for resident use. "We even have two Echelon bikes now, so residents can come in and do a workout - they can pull up an instructor on the screen and do a spinning class right there!" she adds.
The original fitness center is located in the Ascot Clubhouse, but for people who live on the other side of the community, Fox Run has also opened a satellite fitness center in the Belmont Clubhouse. The new fitness center, Cameron says, received the same updated cardio equipment - plus a functional trainer, a weight resistance machine, and some dumbbells.
Helping Residents Create an Exercise Routine
Fox Run residents Phyllis and Peter Madison are also serious about exercise. Six days a week, the Madisons leave their two-bedroom, two-bath apartment home and head to the fitness center in their active adult community.
"We've been exercising for many years before we moved to Fox Run," says Peter. "We got into the habit, and it's a nice one to get into. We go down and exercise at pretty much the same time every day - it's become a routine for us. A lot of the time, we may not feel up to it, but we go anyway, and we feel better after we've done it. That's why we enjoy it!"
After 30 minutes of cardio - with Peter using the elliptical and Phyllis doing 15 minutes on the elliptical and 15 on the treadmill - the couple then does weight training together. "We like that it has aerobic and strength equipment, so we can do both in the same place," Peter says.
"Monday, Wednesday, and Friday, I do upper strength for my arms, and on Tuesday, Thursday, and Saturday, I do lower strength for my legs," says Phyllis. "And if it's nice out, we take a walk on Sunday!"
"It's nice to see new equipment," says Peter, of the fitness center's new state-of-the-art exercise technology. He adds that while the new strength equipment is more complex than they were used to, he and Phyllis received a helpful orientation from fitness staff members.
Wellbeats Makes Senior Health Accessible
"Part of the community's upgrades includes implementing the Wellbeats program," says Cameron. Through an app, the Wellbeats program offers classes on meditation, yoga, and nutrition, accessible to residents in the fitness center and in their own apartment homes using their personal phones, tablets, or computers.
"The good news is that residents can take it with them if they're on vacation, in a hotel room, or heading to their children's homes for a visit," says Cameron. "The company has even created parts of the app just for Erickson Senior Living residents - specific classes for a senior population."
The best part about the upgraded fitness centers, Cameron says, is "the social atmosphere people get by coming to the facility and the classes, as well as interacting with each other," she says. "It boosts their mood; they feel great about exercising together and they make friends - all while keeping active."
To learn more about affordable, independent senior living at Fox Run, request your free brochure to get the scoop on amenities, floor plans, activities for seniors, and so much more.
Back