Renovations at Fox Run Reflect a Bright, Modern Style
By Michele Wojciechowski
September 19, 2022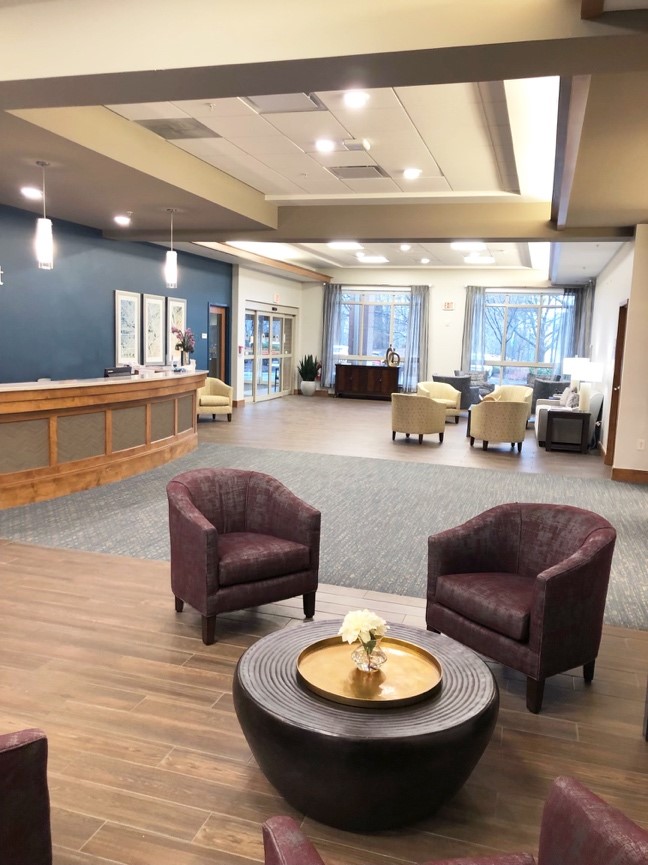 As demand continues to increase for the worry-free lifestyle at Fox Run, the Erickson Senior Living community in Novi, Mich., the community is investing in significant upgrades that appeal to everyone.
"These renovations are an outward sign of the growth on our campus and the financial strength of our company," says Fox Run Sales Director Allison Murphy. "This was not just a paint and carpet renovation - it was a complete repositioning of the Belmont Clubhouse to reflect the vibrant environment of the community. We wanted a whole new contemporary feel, and the residents really seem to appreciate the changes we've made."
Spicing it up
As part of the community's improvements, the dining options in the clubhouse were reimagined to offer new tastes and experiences: Great Lakes Bistro, a new restaurant serving small plates; Midtown, a fast-casual restaurant offering soups, salads, appetizers, deli-style sandwiches, flat bread pizza, entrées, and desserts; Signatures, a casual, full-service restaurant featuring delicious soups, salads, and hot entrées.
"Now, we have even more variety in the dishes we serve, as well as the look, feel, and style of the restaurants," says Murphy. "The private dining room has been changed, too. The space itself was expanded, and sliding barn doors were added to the exterior, creating a rustic-chic appearance."
Staying active
Creating more activity and amenity spaces for residents was another goal, says Murphy. "The large common space in the Belmont was revamped. Now, it features a game room, with billiard tables and shuffleboard, and more tables with soft seating."
The performing arts center received all new seating, lighting, carpet, and paint, as well as a loop system - creating a magnetic, wireless signal that can be picked up by hearing aids. The library, now called the media center, also acquired some new technology, including a group of computers and a printer.
A classroom was transformed into a satellite fitness center, which has cardio machines with touch screens, a functional strength trainer, and free weights. State-of-the-art smart mirrors were also installed, allowing residents to see themselves as they follow a workout demonstrated by a personal trainer. With more than 10,000 on-demand classes, as well as live fitness classes to choose from each day, community members have a wide range of options.
A large multipurpose room was added, with seating and tables, as a place for groups and clubs to hold meetings. In addition, two offices were joined to create a discovery room.
"This allowed us to add a space that is specifically intended for people to sign up for activities," explains Leonard Gringlas, director of general services. "This new space has racks to hold sign-up clipboards, bulletin boards, a community TV kiosk, and more."
A new look
All around, renovations to the Belmont Clubhouse make everything brighter and more modern. "We want Fox Run to be up-to-date," says Project Manager Deanna Dau. "We try to keep up with the ever-changing world and make sure our buildings look as nice as possible."
Gringlas notes that the lobby received new flooring, brand-new artwork, and furniture. There's an updated front desk and all lighting has been converted to LED.
Hallways in two residential buildings, Woodbridge and Hudson Park, were completely changed as well. A climate-controlled walkway that connects independent living buildings to the newly opened Windsor Terrace, an assisted living neighborhood that expands the campus' continuing care options, was also added.
Customize your stay
Lastly, the Custom Interiors office, formerly located on the upper level of the clubhouse, was moved to an apartment home in order to create a true design studio with expanded "in-store" selections.
"Prospective residents can get a better idea of how they want their apartment home to look," says Murphy.
As Fox Run prepares for the influx of residents over the next several years - as the Baby Boom generation, the largest senior population in history, retires - Murphy and her team are eager to welcome them.
"Next year, we celebrate 20 very successful years of being the largest senior living community in the Metro-Detroit area," she says. "With these renovations, we are creating a destination for seniors - one that has impressive dining experiences, a focus on health and well-being options, and beautiful interior design. Our customizable apartment homes rival some of the best home builders in the area, and we offer an incredibly active lifestyle, making Fox Run a fantastic place for active seniors to live."
To learn more about affordable, independent senior living at Fox Run, request your free brochure to get the scoop on amenities, floor plans, and so much more.
Back