Fox Run Residents Find the Key to a Healthy, Happy Life
Michele Wojciechowski
October 26, 2022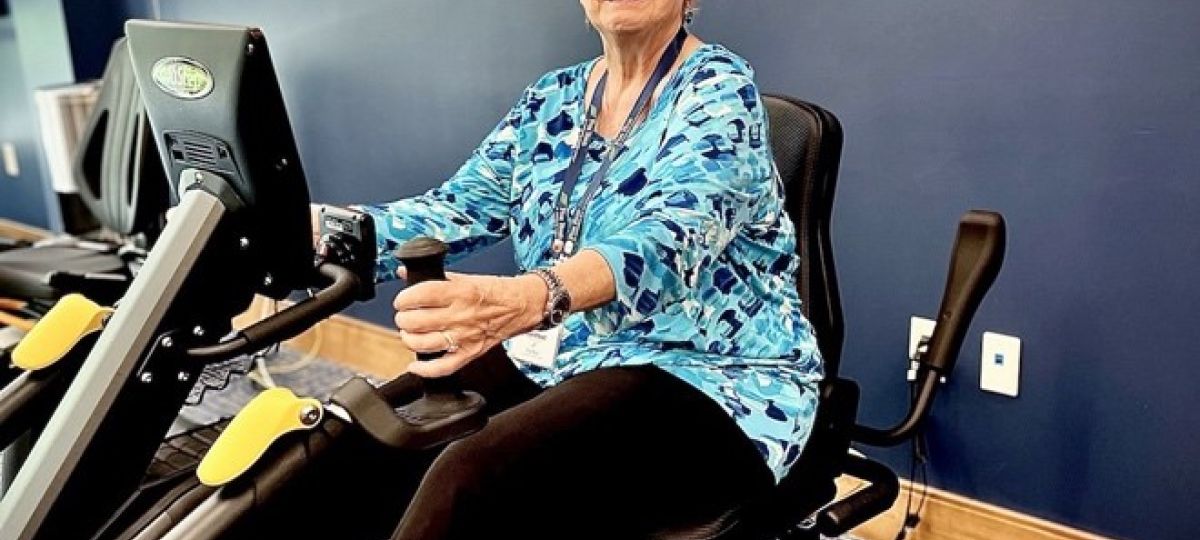 Fox Run, the Erickson Senior Living community in Novi, Mich., is committed to helping retirees achieve their wellness goals. With a variety of on-site amenities and resources designed to support physical, mental, and spiritual well-being, residents are finding it easier than ever to care for their overall health.
Ever since Sue VanVleet moved into her two-bedroom, two-bath apartment home at Fox Run four years ago, she has been using the community's fitness centers to maintain her active lifestyle.
"I meet more people in the fitness center than anywhere else," says Sue. "It's wonderful!"
And with the opening of a satellite fitness center in the Belmont Clubhouse, Sue is even more excited to maintain her activity level.
Dedicated to well-being
This year, Erickson Senior Living provided a multimillion-dollar investment, through its Well-Being Fund, to support the addition of enhanced health and well-being programs and services to residents.
Incorporating findings from the company's research partnership with Harvard University and the Benson Henry Institute (BHI) for Mind Body Medicine at Massachusetts General Hospital, these additions are designed to enhance physical, emotional, and social well-being.
In 2021, residents at selected Erickson Senior Living communities participated in the Embrace Well-Being and Flourish study, which used the BHI's SMART (Stress Management and Resilience Training) curriculum to provide them with practical strategies for managing stress and improving resiliency.
Results of the study showed statistically significant changes, including increases in resilience, coping, and positive emotions, while decreases in distress and social isolation were seen.
"Through the Well-Being Fund, we are able to apply evidence-based research to further enhance the programs, amenities, and services available to better enable residents to achieve optimal health outcomes," notes Dr. Margaret Kimbell, vice president of community living for Erickson Senior Living.
Seeing the investment
Residents at all Erickson Senior Living communities now have greater access to tools and strategies that support resilience and overall health and well-being. Examples include Wellbeats, a new fitness app which allows people to participate in on-demand and live exercise, yoga, and meditation classes from any location.
At Fox Run, fitness centers - including the new satellite location - have received new, state-of-the-art NuStep and Matrix elliptical machines, recumbent bikes and treadmills, Echelon bikes, and Reflect fitness mirrors.
"The staff here is great!" says Sue. "They introduce you to the new equipment that you want to use and show you what to do." All cardio machines are now synced to touchscreens, allowing residents to choose the technology that best suits their workout.
For those interested in leisurely exercise, selecting nature programs - like taking a walk through the woods or even traveling and touring faraway lands like Australia or Singapore - can enhance your experience. Or, if you'd prefer to track progress in real time, such as monitoring calories burned and distance traveled, you can configure your screen to do so.
Personal benefits
"It's really nice," says Sue of the brand-new equipment. "Each day, I do two or three miles on the NuStep, a cross-training machine that lets you move your arms and legs as you would on an elliptical, but you're seated instead of standing."
While recovering from a broken arm, Sue also utilized weights in her workout routine per the recommendation of her physical therapist and fitness trainers at Fox Run.
"Working together, they really made a difference in my recovery," notes Sue.
"Our fitness centers are accepting places," says Megan Smith, Fox Run's community resource coordinator. "Staff members are very patient, and they are more than willing to work with residents to set up personal workout programs."
In addition to enriched fitness offerings, the Well-Being Fund will provide updated indoor and outdoor amenities for the community, including an outdoor meditation space, refurbished disc golf, a dog park, two new pickleball courts, a bocce ball court, covered spectator seating, and more.
A team effort
"Many of the amenities upgraded or purchased through the Well-Being Fund were chosen by the community," says Smith. "After massive brainstorming sessions, we determined what enhancements to move forward with, based on what the residents wanted. Now, we have the current trends in exercise equipment because of it!"
Smith explains that the Well-Being Fund not only benefits residents' physical health, but their mental and spiritual well-being as well. "By utilizing these new programs and amenities, they are making a conscious effort to improve themselves and maintain their current level of activity," says Smith.
And Sue couldn't agree more. "Being a resident here makes all the difference. If I had stayed in my house, I'm not sure I would've gotten the right care."
Invest in your future self at Fox Run. From top-notch amenities to affordable, maintenance-free apartment homes, you are sure to live your retirement to the fullest. Request more information today!
Back