Perceptions of Continuing Care Retirement Communities (CCRCs)
Erickson Senior Living Research
Between January 2020 and April 2022, Erickson Senior Living conducted research to track perceptions of continuing care retirement communities (CCRCs) among Baby Boomers, the largest population of seniors in America*.
During the course of this research, COVID-19 came to directly influence Americans' attitudes about congregant living in general and among seniors in particular.
Key Findings: Positive Perception Increased
Despite this broad attitudinal shift, interest in CCRCs among Baby Boomer respondents did not diminish across the three research stages.
In fact, during the course of Erickson Senior Living's research, the perception of CCRCs by Baby Boomers has improved more than that of other care models since June 2020, the first summer of the pandemic.
Baby Boomers regard health care holistically to include not only one's physical condition, but also one's mental and emotional well-being.
Access to stress-reducing activities and opportunities to socialize in a diverse range of settings are deemed nearly as important as the availability of first-rate, on-site medical care.
The lifestyle available at CCRCs clearly allays concerns Baby Boomers have about the state of their personal health and provides an environment in which seniors can enjoy an active, engaged lifestyle with their peers.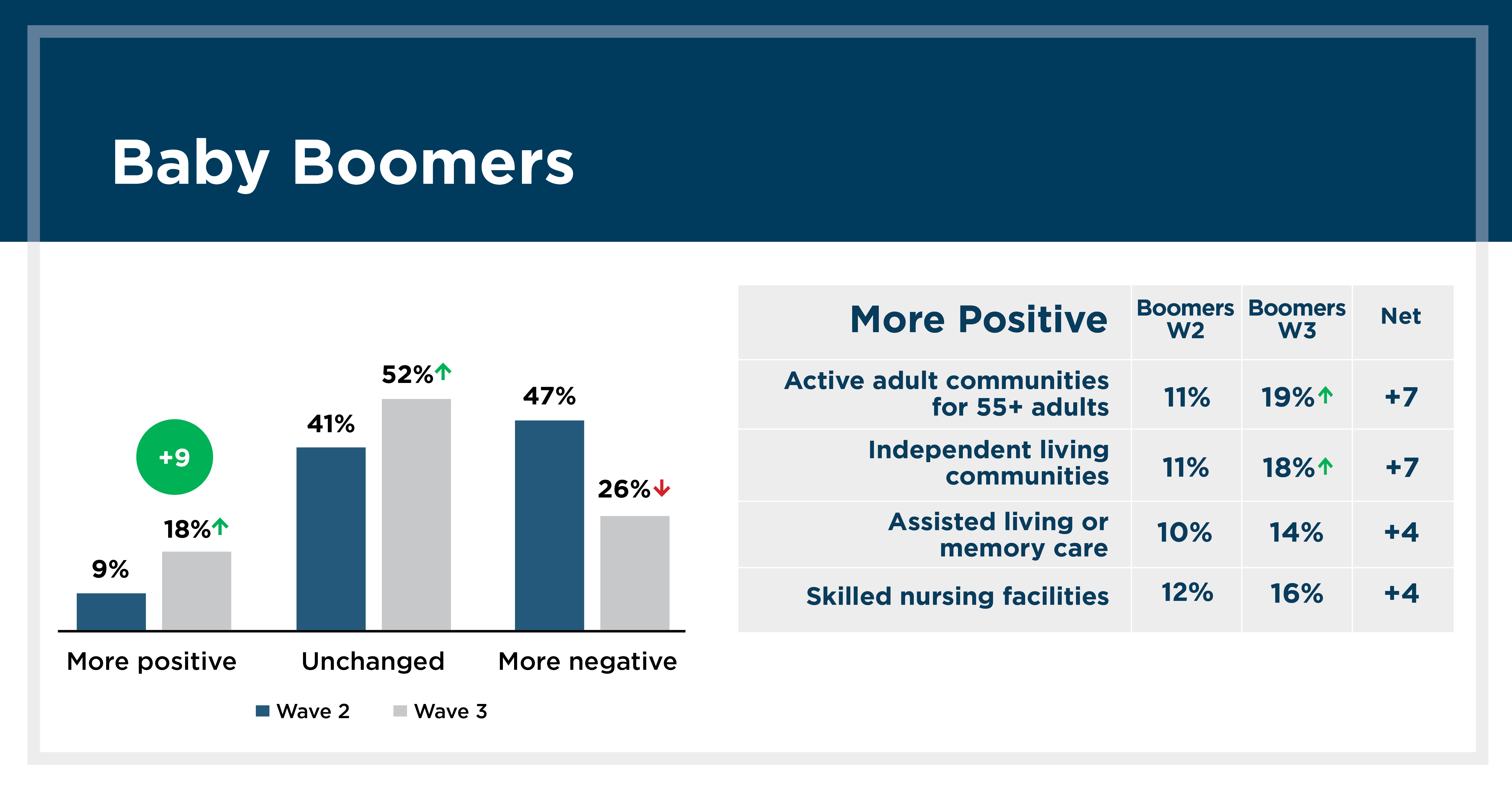 Importance of Health-Related Services
Health-related services were among the most important considerations of survey respondents, specifically:
A large majority considered access to on-site emergency response personnel "very or somewhat important aspects of senior living communities."
Nearly as many indicated that access to on-site care that changes along with personal needs – ranging from independent living to skilled nursing – was "very or somewhat important."
A similar percent of respondents said having access to an on-site medical center staffed by experts in senior health care was "very or somewhat important."