Out and About at Oak Crest
By Danielle Rexrode
October 18, 2023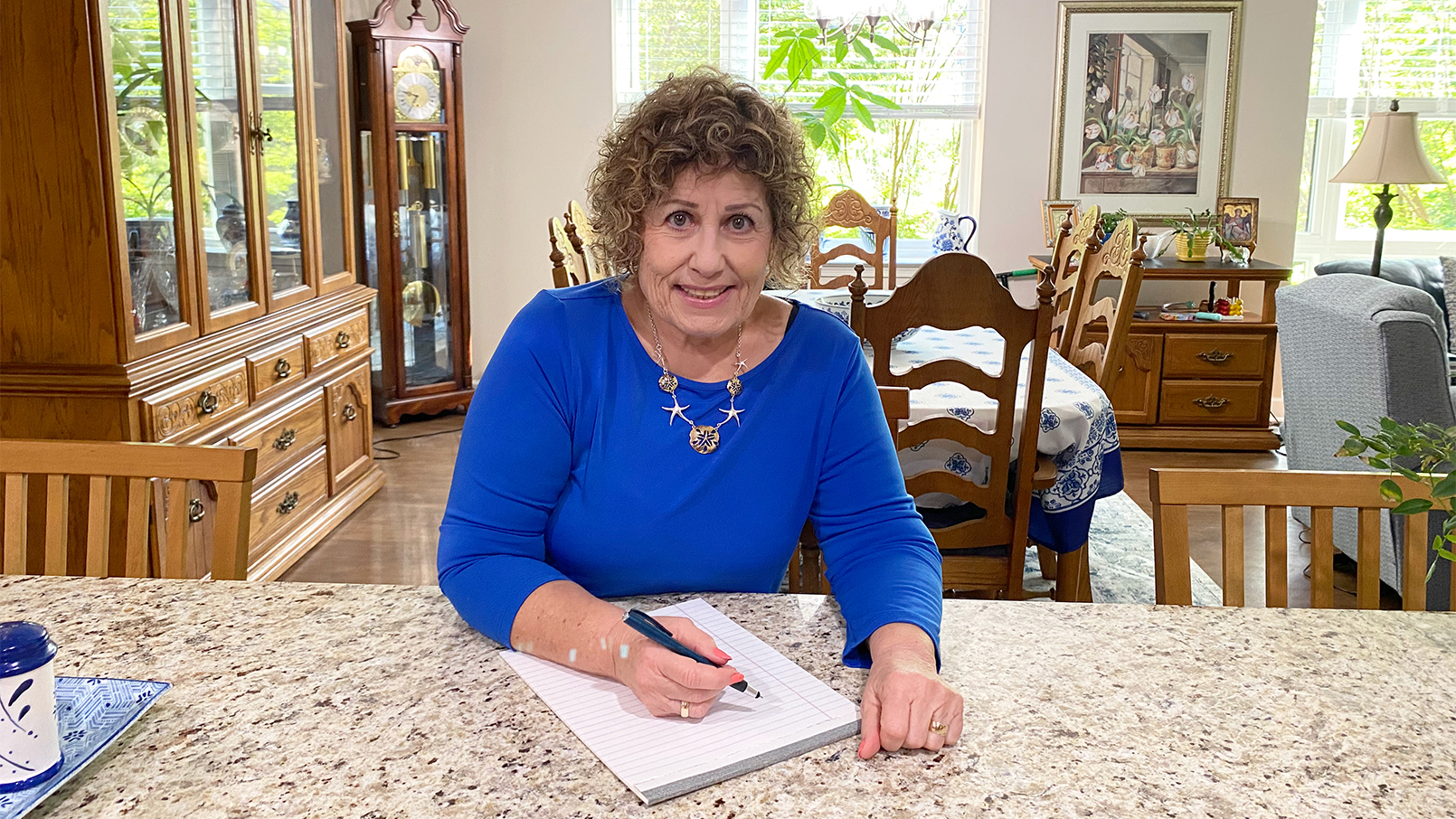 Residents have everything they need to enjoy a vibrant lifestyle at Oak Crest, the Erickson Senior Living community in Parkville, Md. From on-site clubs and fitness classes to dining with friends at high-quality restaurants, there's no shortage of ways to get involved.
But they also enjoy the benefits of the larger community, whether it's volunteering, going to the movies, or taking grandchildren to see festive holiday decorations in the neighborhood. 
Oak Crest resident Helenrose Tucker appreciates the ability to continue volunteering in the greater Parkville area.
Giving back
"Over the years, I've volunteered with various organizations. I was a reading tutor at the neighborhood library, I sponsored a youth garden, and I facilitated an animal awareness group. I've also helped children with special needs," recalls Helenrose. "After we moved to Oak Crest, I knew I wanted to still be involved in some kind of outreach activities."
Now, she's an active member of the community's Buddy Reading and Pen Pal programs. 
Time well spent
Buddy Reading is a long-standing program that brings Oak Crest residents together with grade school students from the City Neighbors Charter School in the Hamilton neighborhood of Baltimore. The biweekly, hour-long commitment assigns each resident volunteer to two or three students. 
In the Pen Pal program, Oak Crest volunteers exchange handwritten letters once a month with students from Kingsville Elementary School. 
"We talk about our families, hobbies, and interests and discuss upcoming holidays and plans for vacations," says Helenrose. "We also talk about school, and I often explain how things were back when I was their age. This usually generates some questions and surprise." 
At the end of each school year, Helenrose and her fellow volunteers visit their pen pals in their classrooms, where they finally meet in person and enjoy games and snacks. 
"This program is so heartwarming," says Dana Huntington-Smith, Oak Crest's community resources manager. "Many of our volunteers are retired teachers, but some just enjoy spending time with children. The connection they make with one another is priceless." 
"There is no doubt that being with kids keeps you feeling young!" says Helenrose. "I spent almost 40 years as an educator, and think I am most myself when I am interacting with students of any age." 
Community ties
Oak Crest residents also make an impact through local collections for the Helping Up Mission, House of Ruth, Maryland Food Bank, Immigration Outreach Service Center, and school supply drives. By donating monthly casseroles to Our Daily Bread in Baltimore City, they have helped feed approximately 100,000 people over the last nine years. 
"Our residents are very generous and continue to look for ways to support the local community," says Huntington-Smith.
A great location
Conveniently located just a few miles from White Marsh and 20 minutes from downtown Baltimore and Harford County, Oak Crest's location appeals to many retirees who maintain community ties.
"People love that Oak Crest is in the neighborhood they know and love," says Sales Director Dan Plakatoris. "You are still close enough to dine at your go-to restaurants, shop at your favorite stores, attend your same church, and stay connected to your family and friends, just as you always have."
Resident-run groups organize special trips to local museums, Orioles games, and the Baltimore Symphony Pops series at the Joseph Meyerhoff Symphony Hall. Oak Crest also partners with a local community college to have instructors come on campus to teach continuing education classes each semester.
Maintenance-free living
Because every apartment home at Oak Crest is maintenance-free, residents enjoy more time to explore everything the community and the local area has to offer. 
"We feel less stressed and have more time to relax. Life is easy at Oak Crest!" says Helenrose. 
In just a little over a year, Helenrose has already taken advantage of a wide range of on-campus groups and amenities.
"I'm part of a social club called the Friends Circle, I take stained glass and ceramics classes, I am a member of the Oak Crest Garden Club, and I have a garden space dedicated to pollinators," she says.
She continues, "Every Thursday, I look forward to my Zumba class with my husband Mike, and I love the pool. It is a luxury to have great restaurants to choose from for dinner every night. And it is a delight to just walk to these amenities, rather than getting in the car to drive there!"
To learn more about the benefits of moving to a community filled with interesting things to do, request more information today. 
Back