Oak Crest Strikes the Right Note for Two Musicians, Now Neighbors
By Danielle Rexrode
October 20, 2021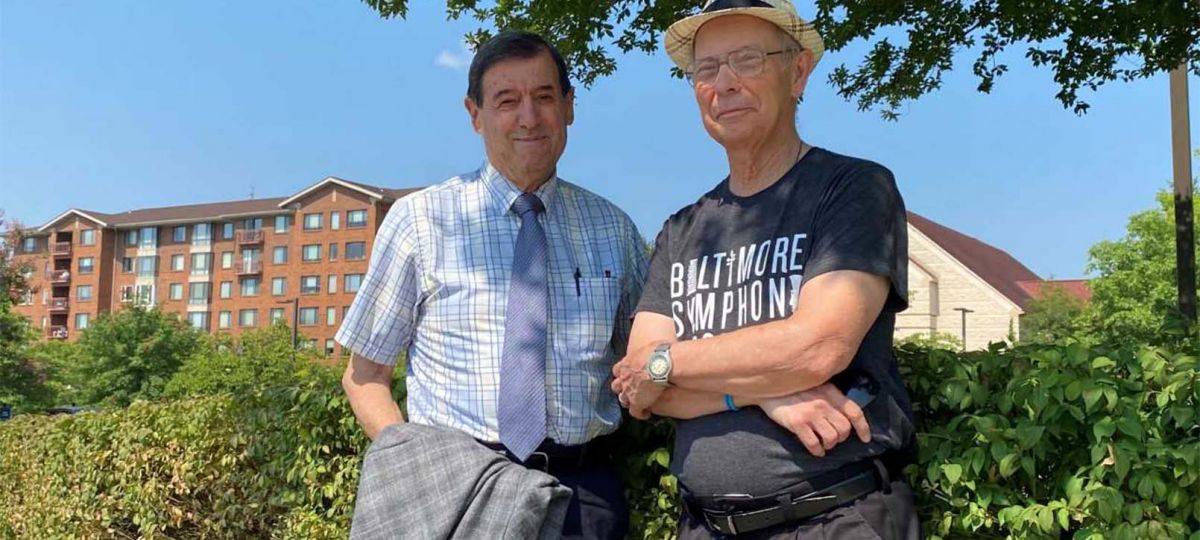 Aside from maintenance-free apartment homes and a wealth of on-site amenities and activities, one of the unique things about living at Oak Crest, the Erickson Senior Living community in Parkville, Md., is the diverse population. From teachers and nurses to accountants and authors, there's an abundance of resident talent. Still, what are the chances that two accomplished violinists would live in the same community? 
The odds are pretty good if you ask Zoltan Szabo and Jim Boehm, world-class violinists and former members of the Baltimore Symphony Orchestra, who each moved to Oak Crest earlier this year.  
"My wife Lia and I had a six-bedroom, three-story house with a basement—we felt like we were ready to move on. We were tired of going up and down the stairs and wanted the convenience of one-level-living," says Zoltan. "Years ago, I played a few concerts at Oak Crest and I liked what I saw. So, we decided to take a closer look."
Jim and his wife Ann have a similar story to share.
"We had a split-level house just two miles from Oak Crest, and we really wanted something on one level. We looked at other options, but once we began coming to some of the events at Oak Crest, we decided we were ready to move and joined the priority list in 2015," says Jim.  
However, this isn't the first time Zoltan and Jim became neighbors. The two met back in 1979 in Hamilton, a friendly neighborhood on the edge of Baltimore, where they both lived and raised their families—Zoltan a father of seven, and Jim a father of five.
"Jim's family was about three or four blocks from us. He was a member of the Baltimore Symphony Orchestra at the time," says Zoltan. "I was a member of the symphony in the early '60s. We saw each other around the neighborhood and both attended St. Dominic's on Harford Road. We even performed together a few times at church." 
The world on a string
Although they were born and raised worlds apart, Zoltan and Jim both discovered their affinity for the violin at an early age. 
"When I was seven years old, I had an uncle who was a professional cellist, and he told my parents that my sister and I should take music lessons," says Zoltan, who was born and raised in Hungary. "My sister began taking piano lessons and I took violin. Almost from the beginning, I thought I would like to become a violinist."
Jim grew up in Pennsylvania and took to violin at age nine.
"We went to the big music store in downtown Pittsburgh, Volkwein's, and my mom suggested I try the violin. She really encouraged me, and that's how I got started," says Jim.
Choosing the violin
It was at age 14, while attending a music school in Budapest, that Zoltan's future was set in motion. 
"I was able to spend more time on instruments, including the violin. All of the subjects I had to take focused on piano, music theory, chamber music, orchestra, and philosophy. I found that playing the violin came quite easily and naturally," says Zoltan.
During the Hungarian Revolution in 1956, Zoltan, then 17, along with his sister and her family, fled from Hungary to the United States. He earned his bachelor's degree from Peabody Institute in 1963 where he met his wife. After graduation, they moved to Switzerland. Here, Zoltan became concertmaster, the leader of the first violin section, of the Zurich Opera Company. 
Six years later, he and Lia returned to the U.S. where Zoltan earned his doctorate at Indiana University. Later, he moved and joined the Philharmonic Orchestra in Calgary, Canada. Once again, Zoltan returned to the States, settling in Baltimore where he performed with the Baltimore Symphony Orchestra from 1962 to 1963 and became a professor in the music department at Towson University.  
Trying a new hobby
Back in Pennsylvania, Jim continued to take private lessons.
"I wasn't thinking of a music career at age nine," says Jim. "This was before smartphones and video games, so violin was just something fun for me to do." 
During Jim's high school years, a whole new world opened up when he began playing with the Pittsburgh Youth Symphony (PYS).
"The assistant conductor [of PYS] encouraged me to go to a summer music camp where I met people from the Philadelphia Orchestra, as well as the Pittsburgh Symphony," says Jim. "The music camp encouraged us to practice a lot. I met people from all over, and I started thinking this would be something wonderful to do."
After high school, Jim started at Carnegie Mellon University before transferring to the New School of Music in Philadelphia. He then landed his first job with the New Orleans Symphony, where he met his wife who was also a violinist. Two years later in 1970, Jim auditioned for the Baltimore Symphony where he spent the next 46 years playing until his retirement in 2016. 
"I had the opportunity to travel to the Far East three times: Korea, Japan, and Taiwan. We had at least three European tours too, and in 1987, we went to the Soviet Union," says Jim.
Now neighbors again, Zoltan and Jim are thriving in their newfound, worry-free lifestyle, enjoying the abundance of amenities. 
"We are very happy. I love the fact that you can go anyplace without using stairs or going outside. I am so impressed with Oak Crest. They genuinely care about the people who live here. There is an opera and a chess club that I am interested in," says Zoltan.
"We feel like we made the right decision," says Jim. "We appreciate the fact that the restaurants are right here on campus—we have dinner every night. They also have a swimming pool which I love, and I go to the fitness center because I enjoy working out. I also look forward to getting back down to Baltimore and seeing the symphony." 
Comfort, quality care, and community are just a few of the hallmarks that make Oak Crest the perfect independent living community for seniors. Request a brochure to take a closer look at Oak Crest and the beautiful, maintenance-free apartment homes.
 
Back