Oak Crest Residents Find More Freedom, Fewer Worries
By Danielle Rexrode
July 25, 2022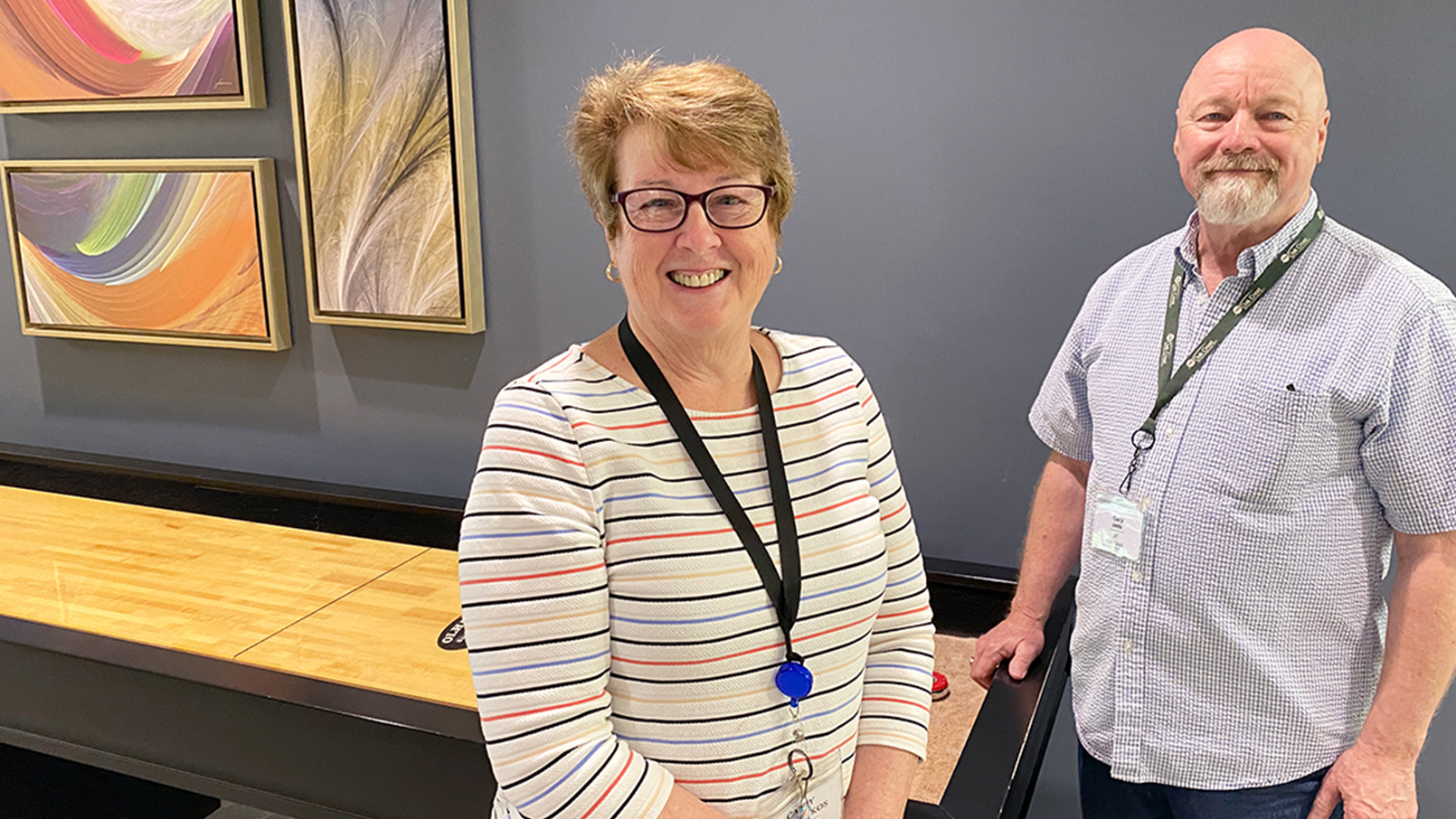 What if, instead of mowing the lawn or washing your windows this weekend, you could be planting flowers, enjoying a delicious meal with friends, or spending time with your grandkids? There's freedom in letting go of the headaches that come with maintaining a house that no longer meets your needs.
That freedom to focus on what's really important is just one of the many reasons why people choose to move to Oak Crest, an Erickson Senior Living community in Parkville, Md. Oak Crest features modern, maintenance-free apartment homes and a host of world-class amenities and on-site services - empowering you to lead the independent, active retirement lifestyle you desire.
"I was active before I moved to Oak Crest, but I still wasn't getting out as much as I would have liked to while living in my condo," says Casey Antonakos, who moved from Bel Air, Md., to Oak Crest in 2021. "Now, I use the pool and the fitness center, and I play pickleball and shuffleboard. I also have a group of ladies I go to dinner with on Tuesday nights, and then we get together and play games afterward."
With hundreds of resident-run clubs and activities to choose from, and a calendar filled with special events, including concerts, lectures, and happy hours, there are always opportunities for fun and engagement. 
Through Oak Crest's comprehensive monthly service package, residents' day-to-day lives are completely worry- and maintenance-free. Expenses that homeowners regularly incur - gas and electric, property taxes, seasonal upkeep, and appliance replacement and repair - are all taken care of, leaving you with even more free time to get out and about. 
Making connections
Residents at Oak Crest find it easy to make new connections or even rekindle old friendships.
Oak Crest Sales Counselor Kelly Friend says that, for some prospective residents, the opportunity to make new, lasting friendships is a significant draw. "Being able to meet new people who share the same interests as you - without leaving the campus - is a big advantage for many," she says. "There are people from all walks of life. This level of engagement sets Oak Crest apart from other retirement communities in the area."
Surrounding Oak Crest's stylish apartment homes is an expansive 87-acre campus with a fitness center, indoor swimming pool, eight distinct dining venues, a television studio, and a woodshop - not to mention the many outdoor spaces, including gardens, a pond, bocce courts, and outdoor exercise equipment.
"If I find myself at home watching too much TV, I'll walk downstairs where people are playing cards, doing puzzles, or someone is playing the piano," says Casey. "The other night, a group of us went down to watch a movie in the auditorium. There's always something going on and something to do."
She adds, "If you like to walk, you can do that outdoors or indoors, regardless of the weather," referring to the climate-controlled walkways that connect the community's residential buildings.
Not long after moving to Oak Crest, Casey was introduced to shuffleboard - and loves it. Now, she leads a shuffleboard league, which has attracted nearly 80 players, with fellow Oak Crest resident Gary Janis.
"I had not really played shuffleboard before," says Casey. "When I moved here, I met a friend who played on Wednesday nights and she invited me to come up. Before we knew it, more and more people were coming. Gary and I developed the league and were stunned at how many people signed up."
"Shuffleboard is a great sport for everyone," agrees Gary, who moved with his wife Judy from Hanover, Md., in 2019. "The game is easy to learn and easy to play. You don't need experience. It's really been a great way for people to have fun and get to know one another. It has far exceeded my expectations."
Among the many benefits that Oak Crest has to offer, perhaps the most significant is variety.
"I really think one of the greatest advantages of living at Oak Crest is the range of activities and opportunities for socialization here in the community," says Friend.
Whether engaging in fitness classes, hobbies, activities, artistic pursuits, or volunteer endeavors that enrich your life and create meaningful social connections, everything you need is right on campus. At Oak Crest, residents benefit from a welcoming community, gaining even greater support to live out their best lives.
She adds, "There is a support system here, with people who have things in common. It's not just about moving into a new apartment home, it's also about the freedom and lifestyle you gain when you move here."  
Invest in your future at Oak Crest. From top-notch amenities and activities to affordable, maintenance-free apartment homes, you'll enjoy living your retirement to the fullest. Request more information today!
Back