Oak Crest residents are vaccinated and enjoying the active lifestyle they love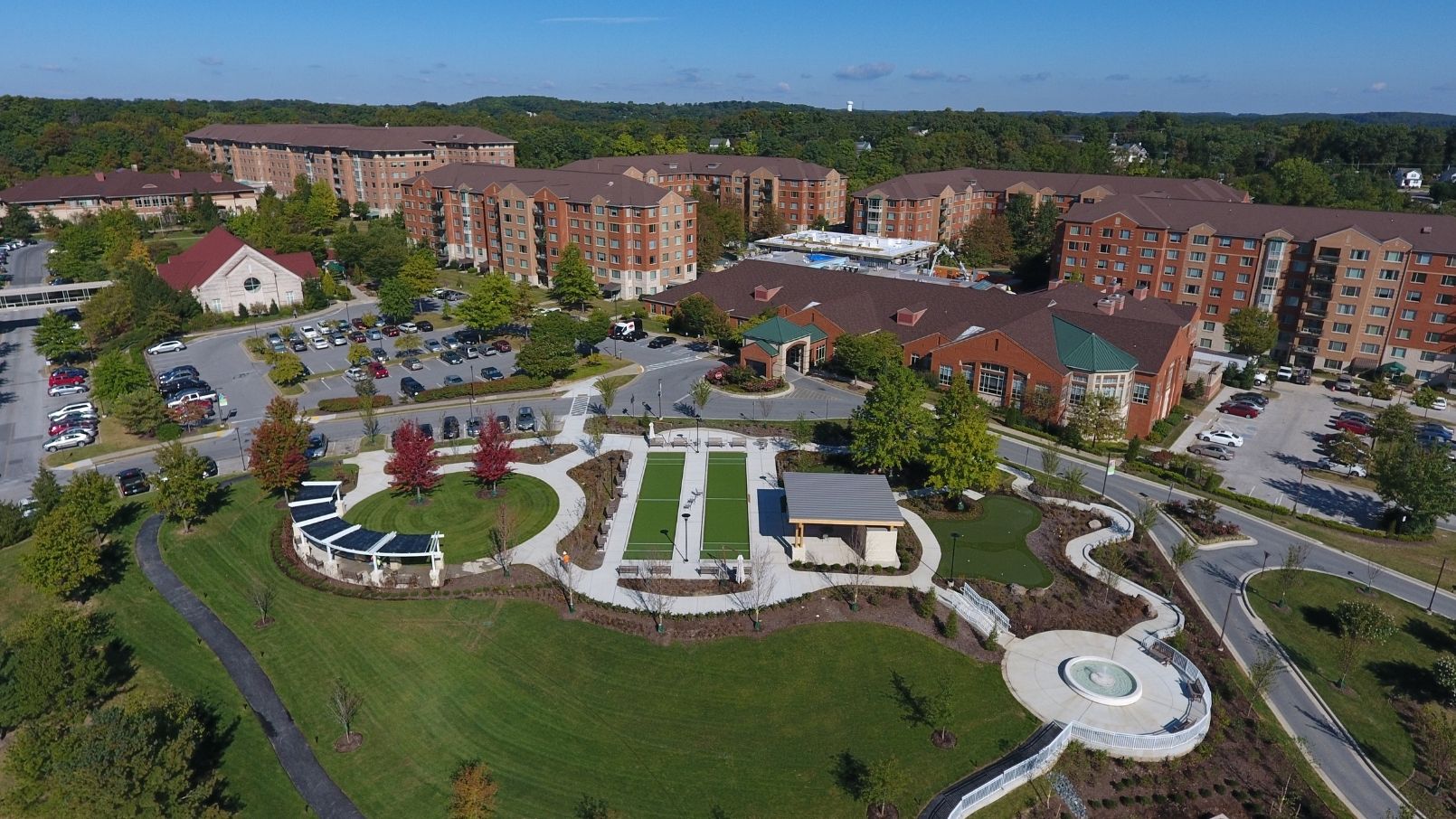 Selling their house and downsizing to a new community amid a worldwide pandemic wasn't exactly how Carol and Sam Davis envisioned their move to Oak Crest. But when the apartment they had been hoping for suddenly became available, they decided to move ahead with their plans. Now as Maryland increasingly lifts COVID-19 restrictions, they are anxious to take advantage of Oak Crest's active lifestyle.
"Both my dad and aunt and uncle lived here, so we knew what a great community it was before we moved," says Carol. "We are so thankful for how Oak Crest responded to the pandemic and took such good care of us. They did everything they could to make life good for the residents. And the way they handled distributing the vaccine was monumental."
"At Oak Crest, we take great pride in delivering the level of customer service our residents expect and deserve," says Executive Director Mark Roussey. "We listen to our residents, and we communicate well with one another, leading to higher levels of resident satisfaction."
Oak Crest senior living community was up to the challenge
One of the reasons Oak Crest was able to navigate the pandemic successfully is due to the size and strength of the community. Oak Crest is managed by Erickson Living, a family of 20 communities in eleven states. Erickson Living communities have an incredible network of partners, experts, and suppliers who continue to support residents' needs during these extraordinary times.
For example, Oak Crest was able to hold vaccine clinics, in partnership with CVS/Omnicare, on campus for residents resulting in more than 95 percent of residents receiving a vaccine. Erickson Living and Oak Crest prepared for the vaccination phase of the pandemic months before FDA approval. They teamed with their federal distribution partners to create a protocol supporting one goal: to administer the doses to residents and the employees who serve them as quickly and as safely as possible.
During the pandemic, Oak Crest welcomed 167 new residents to the community. Karen Lovelace was one of them.
"I moved in September. I had a huge house with three levels and a big yard and I thought it was the right time to go," says Karen. "The staff has been outstanding and extremely helpful. I think what I have enjoyed most is the convenience of the community. I love having a bank, a hair salon, and pharmacy. It's all very convenient."
Diana Lohr moved to Oak Crest nearly three years ago and says it was one of the best decisions she has ever made.
"I feel so well taken care of. The way they handled the pandemic is just another reason why I'm glad that I live here," says Diana. "The employees have just been wonderful and the administration has such care and empathy for the residents. We know they care about us, and it shows in how they handled the pandemic."
Residents ready to enjoy world-class amenities once again
With successful vaccines and a better understanding of the virus also comes optimism and hope. A poll conducted by Travel Pulse suggests Americans are ready to move forward with their lives. Thirty-four percent of those polled said what they want most this year is to spend more quality time with loved ones; while 20% would like to travel unhindered, and 16% want to get back to doing things that matter.
For Connie Fliegel that means getting back to the lifestyle that initially attracted her to Oak Crest two years ago.
"Oak Crest has so many amenities, different opportunities for volunteering, clubs, and many other things," says Connie. "Before the pandemic, I was off-campus one day a week at the Parkville Senior Center; I volunteered with an intermissions group; met friends for lunch, and attended my Bible study. I also walked every day and used the fitness center."
According to Oak Crest Sales Director Dan Plakatoris, demand is high for the Oak Crest lifestyle and the community is preparing to meet that demand with new services, amenities, and apartment designs.
"We just completed major renovations in our Village Square clubhouse including a new entrance area, CVS Pharmacy, the expansion of our on-site medical center, a complete renovation of The Fireside restaurant and Lakeside Café, and the addition of a new restaurant, Terrapin Cove, which features outdoor dining," says Plakatoris. 
A complete modernization of the Crestview Station clubhouse will begin this year including the expansion of the Acorn Pub and installation of state-of-the-art access points to enhance internet access, as well as new apartment designs.
"We are proud to meet Baltimore County's demand for the lifestyle offered at Oak Crest," says Plakatoris. "We continue to hear from residents and family members that this service excellence is what sets Oak Crest apart."
Comfort, quality care, and community are just a few of the hallmarks of Oak Crest. Request a brochure or schedule an appointment with the sales team at 410-665-2222 to learn more.
Back